2011 Colorado Rockies: The Myth and Legend of Carlos Gonzalez
August 15, 2011
Jeff Curry/Getty Images
On paper, Carlos Gonzalez is one of the best young players in Major League Baseball.
That all depends, though, on which paper you are looking at.
There are certain teams that play in certain ballparks in Major League Baseball for which home field advantage and home/road splits and home/road performance should never be an issue—teams like the Kansas City Royals, Baltimore Orioles, Atlanta Braves, St. Louis Cardinals and Cleveland Indians.
But for most teams in baseball, the performance of a player or players in the home ballpark compared to road ballparks must absolutely be considered at all times. Baseball is the only one of the four major professional sports (five, if you include MLS, which at this point we may need to) in which all playing fields are not alike, and most players will not perform the same way in every ballpark.
Consider, for example, Adrian Gonzalez. For years, he put up great-not-amazing numbers playing in Petco Park, one of the most hitting-suppressed stadiums of our lifetime (the Astrodome also comes to mind). Before the 2011 season, though, Gonzalez was traded to one of the most offense-happy stadiums in baseball, Fenway Park, and overnight he has become baseball's best hitter.
Why is this stuff important?
Suppose that a team wants to make a big splash by signing a big-name free-agent pitcher in the offseason. Suppose there is a pitcher out there who has been the ace of his team's staff for eight seasons, and is still in his prime.
No-brainer, right?
What if I then told you that the pitcher has spent his career pitching in a pitcher-friendly park in a pitcher-friendly division? What if I also told you that the team looking to make a splash playing in a hitter-friendly park in a division that terrorizes pitchers?
Starting to seem like a riskier move, right?
It should: the scenario I just described was the one that the Boston Red Sox found themselves in a couple of years ago when they pursued and ultimately signed John Lackey, and he has been so bad for the Sox that he is probably going to experience some sort of post-traumatic stress disorder over it.
Which brings me back to Carlos Gonzalez.
To a certain degree, the careers of professional athletes are all about the narratives. We know Michael Jordan was a special basketball player; that he was once cut from his high school basketball team helps craft his narrative. Consider Josh Hamilton's story of recovery and redemption, or Jackie Robinson's story of selfless sacrifice or Sandy Koufax's story of faith before glory.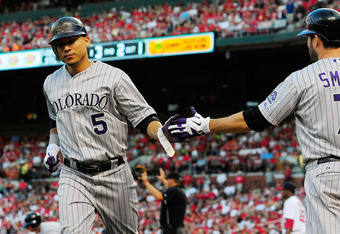 Jeff Curry/Getty Images
The narrative of Carlos Gonzalez is not nearly so compelling, but it is not without its redemption story:
He was originally signed as a 16-year-old out of Venezuela by the Arizona Diamondbacks. After five promising seasons in the minor leagues, he was packaged with five other players in the deal with Oakland that brought Dan Haren and Connor Robertson to Arizona. He had one lackluster season in Oakland, after which Billy Beane experienced some buyer's remorse, and he was subsequently shipped to Colorado in the Matt Holliday deal.
After being passed around twice and then left for dead, Gonzalez resurrected his career in Colorado, and in 2010 became an MVP candidate, for which he was rewarded after the season with a seven-year, $80 million contract.
At the age of 25, Carlos Gonzalez had become one of his league's elite players.
So goes the conventional narrative of Gonzalez's career to this point. But let's see if we can craft another narrative, perhaps one that would be more accurate:
As a minor league player, Gonzalez was very good. He showed good power and speed, and the ability to hit between .280 and .300 consistently. His ability to get on base was more sporadic, and he struck out far more than he walked (200 walks, 522 strikeouts).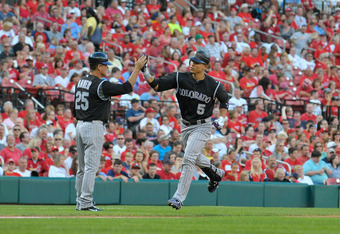 Jeff Curry/Getty Images
His arrival in the major leagues, with Oakland in 2008, may have been a bit premature, and Gonzalez struggled to the tune of .242/.273/.361, with 81 strikeouts in 85 games. He nevertheless showed promise, hitting 22 doubles in those 85 games, but both his power (four home runs) and speed (four stolen bases) were non-factors at the major league level.
After being traded to Colorado, things started to play more favorable to Gonzalez's talents. In a similar number of games (in fact, Gonzalez had 316 plate appearances in 2008 and 317 in 2009), Gonzalez hit 13 home runs, stole 16 bases, and hit a far more respectable .284/.353/.525. All this kid needed was time, apparently, though certainly the change of scenery helped.
During his first season in Colorado, Gonzalez hit .305 at home with a .943 OPS, while hitting just .263 on the road with an .811 OPS.
The 2010 season, of course, would be Gonzalez's coming-out party, as he led the National League in hits (197) while winning the batting title (.336) and leading the league in total bases (351). He also very nearly went 30/30 (34/26) and scored 111 runs while driving in 117.
Carlos Gonzalez had arrived. Except...
The 2010 season really was a Tale of Two CarGos.  Gonzalez hit .380 with a remarkable 1.161 OPS at home while hitting just .289 with a .775 OPS on the road. Of his 34 home runs, 26 came at home and just eight came on the road. He also scored 70 runs at home (leaving 41 on the road) and drove in 76 (leaving 41 on the road), and his total bases home/road split was 221/130.
It would appear that while Gonzalez was fantastic at Coors Field in 2010, he was merely adequate on the road.
And in 2011, the situation has worsened.
Gonzalez is visibly having a come-down year in 2011, hitting just .282/.351/.493 with 18 home runs and 16 stolen bases in 101 games so far, but when you look at his splits, the situation seems dire:
In 51 home games, Gonzalez has hit .327/.396/.561, while in 50 road games he has hit a meager .230/.299/.414. If Gonzalez was merely adequate on the road in 2010, he is far from that in 2011. He enjoys a reputable 21 walks and 34 strikeouts at home, but a miserable 16/46 on the road. His home run splits are respectable at 10/8, as are his stolen base numbers at 10/6, but his runs scored (44/26), RBI (40/25) and total bases (115/72) all insinuate a larger issue:
Carlos Gonzalez is, at best, a good hitter, but certainly not a great one.
To pile on a little bit, in 2010 Gonzalez was rewarded with a Gold Glove award which can be attributed more than anything else to a bit of CarGo-mania having swept through major league baseball.
Gonzalez had the type of assists-to-errors numbers (8-to-1) that used to impress us back when that was all we had to go on, but in 2010 there is no real excuse for relying on those numbers exclusively.
Digging deeper, that Gonzalez had below league-average range factors, negative "defensive runs saved," below average plays-made-outside-of-zone, a negative "ultimate-zone-rating," and was generally seen as unremarkable by a wide variety of defensive measures.
Gonzalez winning the Gold Glove in 2010 bore no relationship to the realities of his defensive abilities, and robbed no fewer than three of the best defensive outfielders in baseball—Angel Pagan, Marlon Byrd and Justin Upton—of deserved recognition, to say nothing for the seasons Andres Torres and Will Venable enjoyed.
And so here we are.
It is 2011, and Carlos Gonzalez continues to be regarded as one of the best players in the National League despite the fact that his numbers are, at best, wildly inflated by playing at Coors Field and, at worst, represent a smoke-and-mirrors game.
The strange thing is that in 2011, we have had almost twenty years of Colorado baseball, and people still fail to look at the home/road splits of Colorado ballplayers.
I guess we just continue looking at the wrong paper.