Fantasy Football Duds: Top 5 Quarterbacks To Steer Clear of in 2011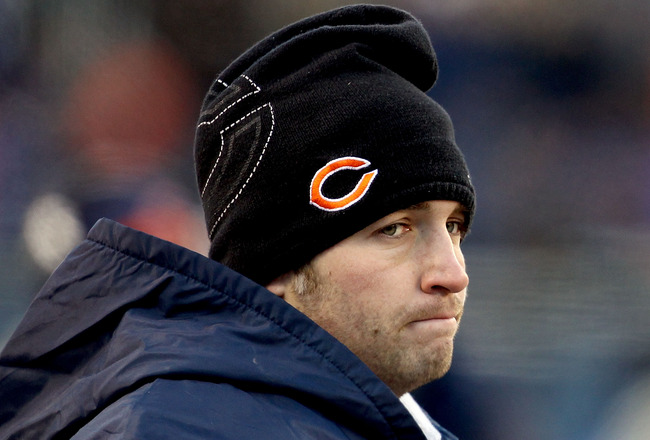 You would do well to steer clear from these top 5 fantasy football duds in 2011.
Jonathan Daniel/Getty Images
If you a looking for a quarterback to lead your fantasy football team in 2011, I present to you the top five fantasy football quarterback duds.
Despite their years of experience in the NFL, don't think twice about going after these guys with any expectations that they will produce huge numbers on your fantasy squad.
If you have any other options, make the move to steer clear from these fantasy flops.
No. 1 Dud: Jay Cutler, Chicago Bears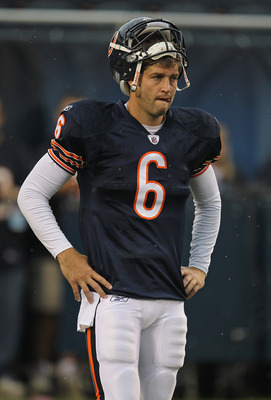 Jonathan Daniel/Getty Images
Jay Cutler leads the list of fantasy duds for two reasons: he has no true No. 1 receiver (his best options are Devin Hester and Johnny Knox), and he has a certain recklessness with the football.
Jay Cutler interceptions are a given in almost every game. He tries to fit balls in the spots where no hole exists. He frequently fires the ball into triple coverage. He doesn't make smart decisions with his passes.
In the Mike Martz system, it is a given that there will be lots of passes, which doesn't help Cutler's chances.
What's worse is Cutler's brazen arrogance that he will not stop throwing interceptions. In a game against the Washington Redskins, a below-average defensive team, Cutler was picked off four times by DeAngelo Hall.
What's more alarming is that after the game, Cutler indicated that he would have continued to pass it Hall's direction if given the chance: "I've played against (Hall) before,'' Cutler said after the game. "There's no reason to shy away from him. That's hard for me to say throwing four picks to the guy, but I still think if we had to play him tomorrow I'd go after him every time.''
The Bears live and die by Cutler as was evidenced last season when Cutler left the game after suffering a knee injury in the NFC Championship. Several fellow players immediately called in to question his "toughness" and fans were outraged.
Update: One thing that is looking up for Cutler and Martz is the addition of former Cowboys' wideout Roy Williams. Williams has never really lived up to expectations in Dallas or Detroit as he has only topped 1,000 yards receiving in one season during his 8-year NFL career. The past two seasons he hasn't even eclipsed the 600-yard mark. Don't expect Williams to save Cutler's fantasy value.
Expect Cutler to throw a lot of picks and underproduce in the yards category.
No. 2 Dud: Kyle Orton, Denver Broncos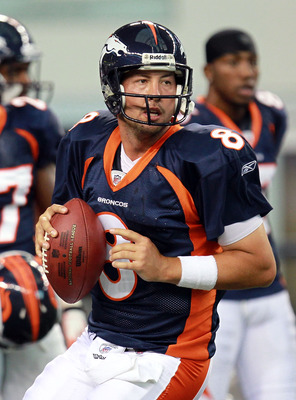 Ronald Martinez/Getty Images
Kyle Orton is the next fantasy football quarterback dud to steer clear of in 2011. Although it appears that Orton has won the starting job over fan favorite, Tim Tebow, Orton still figures to be a poor producer in fantasy football.
The main reason is the new coaching staff in Denver. New head coach, John Fox has a completely different coaching philosophy to his predecessor, Josh McDaniels. Fox is a run-first coach, who will relegate Orton to a game-managing quarterback.
Offensive coordinator, Mike McKoy remains in Denver with Fox, however, he was not the play-caller last season for the Broncos. It was McDaniels. McKoy seemingly is a much more conservative play-caller compared to McDaniels, under whom Orton saw his fantasy value soar.
Also, look for Orton's red-zone touches to decrease if he shows that he consistently is ineffective at scoring touchdowns. Tebow might see some action in the wild horses formation to run the ball into the end zone, further diminishing Orton's value.
If Orton's play significantly declines, Orton may even be benched for the likes of Tebow to appease the raucous fans in Denver calling for Tebow to start.
No. 3 Dud: David Garrard, Jacksonville Jaguars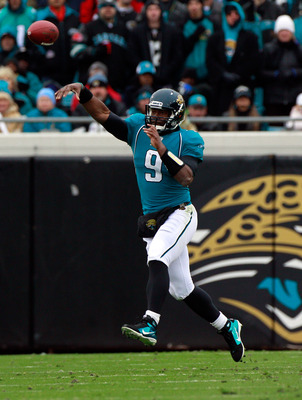 Sam Greenwood/Getty Images
David Garrard is good but not great. He threw 10 interceptions last season and took a beating.
His limitations are obvious to the coaching staff in Jacksonville. In the 2011 NFL draft, the Jaguars selected Blaine Gabbert to bring in as Garrard's ultimate replacement.
Garrard will be on a short lease as the team's starter, and if he continues to make key blunders that cost the Jags games, (or suffers another serious injury), look for Garrard to be watching from the bench in 2011, as Gabbert absorbs the hits Garrard was accustomed to taking.
Stay far away from Garrard in 2011.
No. 4 Dud: Alex Smith, San Francisco 49ers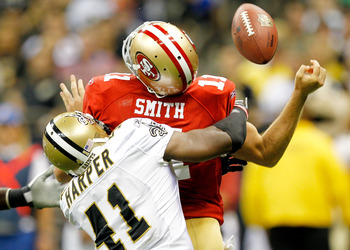 Sean Gardner/Getty Images
Alex Smith's fortune in San Francisco in new head coach Jim Harbaugh's system seems to have already dwindled away.
The 49ers are testing out Daunte Culpepper to bring in to help the quarterback situation in San Fran. Alex Smith was one of the 49ers biggest blunders in recent years when they chose Smith in the 2005 draft over the more polished, Aaron Rodgers.
Rodgers is now leading one of the most explosive offenses in the NFL, and the 49ers continue to waste seasons without a viable quarterback option.
While I am on the 49ers, I don't see the Smith's backup rookie Colin Kaepernick, contributing in this season's fantasy football much either, even if becomes the starter after a few bad weeks with Smith under center.
No. 5 Dud: Joe Flacco, Baltimore Ravens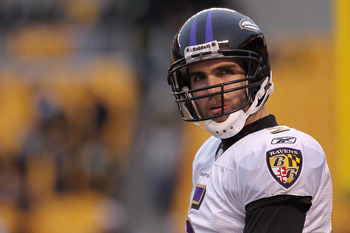 Nick Laham/Getty Images
Joe Flacco has never had a true deep threat in his career. The majority of his passes are for short yardage, and the Ravens lean heavily on running back Ray Rice to move the chains. Flacco lost key weapons this season as he saw Todd Heap, Derrick Mason, and T.J. Houshmandzadeh all exit via free agency this offseason.
This season, there seems to be more hope in Baltimore with the addition of rookie WR Torrey Smith. Smith has the potential to really change things around for Flacco in 2011.
However, fantasy owners beware. Smith is an unproven rookie, and I don't see that the Ravens coaching staff will open up the playbook more to allow for Flacco to look down the field.
Their conservative play-calling has worked in the past, and I don't see them changing that with the addition of a new wide receiver. Look for the Ravens to incorporate a few deep passes more this season, but I believe more of the same will continue for Flacco.
Also, last season, Flacco was sacked 40 times, second in the league, the sieve-like offensive line and lengthy release of Flacco will continue to hurt his value in 2011.
Update: The Ravens upgraded their weapons at wide receiver when they recently came to terms with the 7-year veteran, Lee Evans in a trade with the Buffalo Bills. While Evans has had two 1,000 yard + seasons in Buffalo, he is coming off his worst season in the NFL, making only 37 catches for 578 yards and four scores in 2011.
Keep Reading