Fantasy Football 2011: Why to Love St. Louis Rams RB Steven Jackson This Year
August 14, 2011
Otto Greule Jr/Getty Images
In my last article, I wrote about how much I love Steven Jackson this year, but I thought I would augment that segment with a full article on why Jackson will have a great fantasy year.
Earlier today I did a 10-team mock draft on ESPN.com. I drafted fifth, and with that selection I took Chris Johnson. In the second round, at No. 16 overall, Rashard Mendenhall fell to me. With my third-round selection, I planned on taking a wide receiver, but when I got to that pick, Steven Jackson was still available. Steven Jackson at No. 25? Really?
Of course, when I saw him fall that far down I had to take him, even though I already had two top-tier running backs. In my mind, I had just picked up three top 15 players in the first three rounds and took 30 percent of the league's top 10 fantasy running backs. 
According to my official top-50 rankings which you can find here, Steven Jackson is my No. 10 running back. (By the way, my updated rankings with new auction values should be coming out soon.)
If you figure that there are 10 legitimate No. 1 running backs in a 10-team league, I just left at least two of my opponents without a true No. 1 back (in my mind)—possibly more depending on how many people go RB-RB with their first two picks. 
This is one of the many reasons why I love Jackson this year. Not only do I think he's a decent No. 1 back, but you can draft him like a mid-level No. 2. While he's ranked No. 19 by ESPN, his ADP is probably in the low- to mid-20s. I believe he should be a mid-to-late second-round pick.
If I have, say, the third-overall pick, I can likely get Chris Johnson with the first pick, potentially Hakeem Nicks or Larry Fitzgerald with my second pick and Steven Jackson with my third pick. In this scenario, I have a top No. 1 running back, a top No. 1 receiver and an excellent No. 2 running back in Steven Jackson. 
I believe Jackson's production will improve this year because that offense will likely have a much better year. Sam Bradford was average in his rookie year, but I expect him to make big strides forward in his second year.
With Donnie Avery now healthy and Mike Sims-Walker on board, the receivers aren't great, but Bradford will be working with more than he had last year. This is especially true when considering the improvement of the receivers that did play last season.
While there will clearly be more options for Bradford in the passing game, there will still be plenty of targets available for Jackson out of the backfield. Remember that I never said these guys were great, it's just that they will be better than last year. Jackson will still get his when it comes to receiving.
Jackson is such an excellent back because of his ability to be dynamic. He can do everything on the field well. He is valuable in fantasy football not only because of his ability to run the ball, but also to catch it. He is one of the best receiving running backs in football, and has proved that over the years.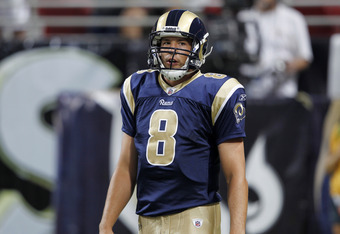 Joe Robbins/Getty Images
In 2006, Jackson caught 90 passes for over 800 yards and three touchdowns. Those are literally unbelievable numbers for a running back, and it shows what he can do when given the opportunity. There is no way Jackson is coming off the field in passing situations, which is another reason why I really like him this year.
While many running backs split carries on a regular basis, Jackson is a true workhorse back. There isn't really anyone to challenge Jackson for playing time, and because of that, he gets all the carries. Because he can run, catch, block and handle goal-line situations, there is no reason for the Rams to bring in anyone else. Jackson's strong grip on his job makes him an attractive option.
Although he is unquestionably the starting running back, he doesn't come without risk. Because he is such a workhorse, he has had a little bit of injury trouble over the course of this career. While he's only missed one game in the past two seasons, he's not immune to injury. 
Jackson has missed 12 games in his seven-year career, averaging out to almost two games a year. It's not necessarily likely he'll miss a lot of time, but if you decide to take Jackson, you should probably handcuff him. Take a look at the backups in St. Louis before the draft and take your pick just in case. Although I'm not counting on him getting hurt, you have to be ready.
Another reason why I expect Jackson to have a big year is that last year was an anomaly of sorts when considering he accounted for over 1,600 yards and only scored six touchdowns. I think this ties into the argument I made earlier about how the offense in St. Louis should improve this year, in the sense that if Sam Bradford can move the offense more effectively, Jackson will have more opportunities in the red zone than he did last season.
Having just turned 28, Jackson is moving towards the end of his stretch of dominance; however, I believe he still has two more good years left. I think 1,700 total yards and 11 total touchdowns is within reach this year, depending on how well Bradford plays. If he does end up with numbers similar to those, he is definitely worth it in the mid-second round.
While many people are down on Jackson this year, I, for one, am ecstatic about the potential of getting him in the third round. Did I mention the Rams play in the worst division in football? Honestly, I don't think I need to.
Follow me on Twitter @MaxMinsker