2011 NFL Predictions: Can New Pieces Take New England Patriots to Title?
August 17, 2011
Jim Rogash/Getty Images
On paper and in theory, you have to like the way Patriots reloaded on both sides of the ball this offseason.  Let's look at the offense, which was superb in 2010 but some minor tweaking was needed.   
In 2010 the rushing attack was bittersweet.  As a team the Patriots were ninth overall with 454 carries, 1,973 yards 4.3 yards per carry and 19 TD.  The best statistic of 2010 was the running backs fumbled the ball just twice all season.  Only one of their fumbles was lost.  Danny Woodhead and BenJarvus Green-Ellis made a nice one-two punch.  The two of them combined for 326 carries, 1555 yards, 4.8 yards per carry and 18 TD. 
What's the bitter side of the 2010 rushing attack?  The rest of the running backs looked old and declining.  The Patriots had no back the Jets feared or respected.  Sammy Morris looked like was done.  He had just 56 yards on 20 carries with no TD and only 2.8 yards per carry.  Kevin Faulk turned 34 and tore his ACL.  Good Lord, he was drafted by Pete Carroll!  He has 12 years worth of wear and tear on his body.  Thomas Clayton barely played and we're not sure if he even belongs in the NFL.  Fred Taylor turned 34 last year (which is 104 in running back years) and it looked like the end of the road for him.  His stats were pretty uninspiring; 7 games, 43 carries, 155 yards, 3.6 yards per carry and no touchdowns.   
Personnel wise, the plan the team implemented during the lockout makes sense.  Target RB as a position of need, bring in some fresh legs, nab a fierce tight end that can block and re-sign the left guard that kicks ass in the run game.  Grab the best offensive tackle available in the draft and stash him away.  The scouting reports say Solder is agile, has quick feet, and is great pulling on the run.  It's kind of risky to rely on a 23-year-old rookie to protect Brady's blind side when he hasn't had a full off-season to learn the pro game.  The smart,safe thing to do is re-up the current left tackle that still has something left in the tank.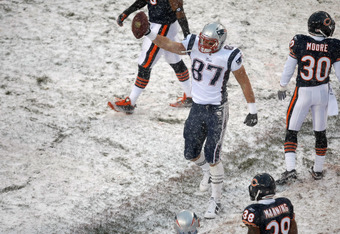 Scott Boehm/Getty Images
The plan for the running backs can work.  In 2009 the team didn't get much production from its tight ends, so they grabbed two impact rookies and a proven vet.  The results were unbelievable.  Rob Gronkowski had 42 catches, 546 yards, 13.0 yards per catch and 10 TD.  Aaron Hernandez had 45 receptions for 563 yards and 6 TD.  Alge Crumpler didn't produce a lot as a receiver, but did a great job as a blocker. 
Tom Brady has plenty of good options to throw to.  Welker is still very good, Branch still has it and Chad Ochocino takes over the No. 1 role for Randy "Straight Cash Homey!" Moss.  Julian Edelman is a more than capable pass catcher.  Brandon Tate is still a question mark, but he does have some talent.  Taylor Price looks like he can make the leap to respectable receiver.  We already know how good the tight ends are and Brady can also dump the ball off to Woodhead if no one is open downfield. 
The passing game, rushing attack, offensive line and backup QB situation are in good shape.  The team can now play any type of offense they need to in order to win games.  No team can win without a good defense, so the question is the Patriots D strong enough to win Super Bowl XLVI???
I think so.  The offense definitely is.