Russell Okung Will Not Be Seattle Seahawks' Greg Oden
August 15, 2011
Otto Greule Jr/Getty Images
I kind of hate the term "injury-prone."
Primarily because it's one of the most empty phrases in sports: Any man whose job involves running full speed within the confines of a 120x53-yard box that he shares with 21 other people whose skill sets include delivering concussion-inducing body checks, for example, is always prone to injury. But also because it implies that getting hurt is some kind of talent.
"Injury-prone" makes it sound like NFL Pro Bowl safety Bob Sanders doesn't just excel at pass coverage and run support, but that he's also great at wrecking his elbows and knees. Or that as skilled as NBA star Tracy McGrady is at sticking 18-footers and finger rolls, he's also mastered the art of rearranging discs in his back to painful places.
"Injury-prone" spawns other empty phrases like "trying to stay healthy," which fuel the belief that injuries are anything more than just bad luck and unfortunate timing.
But for pro athletes who push their bodies through hundreds of workouts, practices and games each year, shouldn't we expect significant injuries to occur? I'll be sore for two days after one workout that doesn't come close to an NFL two-a-day regimen or an NBA training camp session, so isn't it actually a marvel that people like Sanders or T-Mac have only suffered a handful of significant injuries in their careers?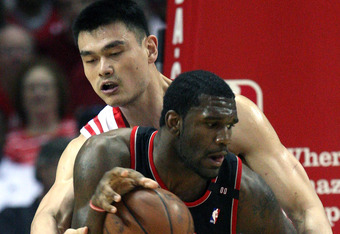 Ronald Martinez/Getty Images
That said, I can't deny that there are some athletes who make a habit of falling down and landing on the injury report.
And it sucks when that athlete is the 7-foot cornerstone of an NBA franchise, or the 22-year-old pitching phenom expected to bring a Major League Baseball city back to relevancy or an NFL team's starting left tackle who is only two years into what everybody hoped was at least a decade-long tenure of dependability and dominance.
Russell Okung is in danger of being slapped with the "injury-prone" label. Which sucks, because the Seattle Seahawks—defending NFC West champions and beginning Year 2 of a rebuilding plan led by head coach/vice president Pete Carroll—have big plans for Okung in both the immediate and long-term future.
The sixth overall pick in the 2010 NFL Draft, Okung has been cast as the anchor of Seattle's offensive line, filling the gargantuan shoes left by future Hall of Fame left tackle Walter Jones (whose durability drew comparisons to Twinkies and duct tape). And while early returns say Okung has the talent to do the job, the 23-year-old is developing a pattern of injuries that is enough to sound an alarm or two.
Okung missed six games during his rookie season with a pair of high ankle sprains; one per leg. Then in the first series of last week's preseason opener, Okung had to leave the field with another ankle injury. The latest ankle tweak is "not nearly as bad as it looked," Carroll later told reporters, and Okung so far hasn't been ruled out of any regular-season games.
But that hasn't stopped a wave of panic to build up steam in Seattle.
Reacting to a piece by Seattle Times columnist Jerry Brewer about Okung, reader Strohns commented, "Wasted pick, wonder what a LT with bad ankles is worth on the open market?" Another reader, ronbay, added, "Okung is Seattle's answer to Portland's Greg Oden—never will be free from injury—sadly a flop for the Seahawks as we Trailblazers feel your pain."
In my last career as an NBA writer, I worked with Greg Oden several times. After initially questioning his commitment to basketball—wondering if he really loved the game, or if he was just a big kid who played ball because everybody told him he should—I eventually found him to be a dedicated player who was (and still is) determined to get over his notorious history of injuries and become a star in the league. And so I was rooting for him, and it wasn't until after his second microfracture knee surgery when I settled into accepting that maybe he was just wasn't built for this. That maybe he was never going to be consistently healthy.
If there is an Oden-like problem with Okung, I'd say it's more of a structural sort than any kind curse on him or the Seahawks.
Consider that Okung was listed at 250 pounds coming out of high school. By the time he was measured at the NFL's pre-draft combine, he was up to 307 pounds. By comparison, All-Pro left tackle Jake Long of the Miami Dolphins weighed 295 in high school, then 313 going into the pros. Marcus McNeill of the San Diego Chargers was 315 pounds in high school, 337 at the combine. Michael Oher of the Baltimore Ravens was 330 pounds in high school, 309 before he was drafted.
So while Long and McNeill only gained around 20 pounds during college, and Oher actually trimmed some of his fat, Okung packed 57 pounds onto his frame. Isn't it likely that Okung's body just wasn't meant to carry that much weight, hence the ankle injuries?
It's common sense that part of the reason Oden (knees) and Yao Ming (feet/ankles) can't stay healthy is that their massive size puts stress on certain joints. Even an athletic freak like Shaquille O'Neal, who racked up a series of lower-body injuries later in his career, eventually suffered the consequence of being a 300-pound man that has to sprint, cut, pivot, jump and land on a regular basis.
Okung isn't in the same boat as Oden or Yao. Not yet, at least. Although ankles do become easier to re-injure with each subsequent sprain, it's not as if Okung is suffering major problems. He's not breaking bones or tearing ligaments.
He could lose a little weight off his current 310-pound frame, take some pressure off his ankle and still be big enough to block NFL defenders. And if players like Darren McFadden and Michael Turner can bounce back from a series of non-serious injuries in their careers to reach Pro Bowl-caliber form at a position as grueling as running back, Okung can rebound to have a long and productive run at left tackle.
Three injuries to the same area of the body is understandably worth a red flag so early in one's NFL career, but it's too early to label Okung as "injury-prone."