Carlos Zambrano Didn't Quit on the Chicago Cubs: They Quit on Him
August 13, 2011
Mike Zarrilli/Getty Images
Everybody's jumping on the bandwagon to bash Cubs pitcher Carlos Zambrano for cleaning out his cubicle and saying he was retiring after last night's loss to the Atlanta Braves. But as usual, the hysterical masses have it all wrong.
The Cubs and manager Mike Quade quit on him last night when they left him in the game when he clearly had nothing. Whether it was to embarrass him or save the bullpen, he should not have been left in for the thumping he was subjected to.
There wasn't even a pitcher warming up until he gave up the second of back-to-back homers in the fifth inning, despite him giving up eight runs and five homers in the game.
He elected to take himself out of the game since the manager wouldn't do it by throwing at Chipper Jones.
He didn't even really try to hit him, because Jones mentioned those pitches were cutters, where a fastball is the customary pitch of choice when throwing at a batter.
Zambrano immediately walked off the mound when he was ejected, and shortly after, was seen smiling in the dugout. He was happy because he accomplished what the manager couldn't.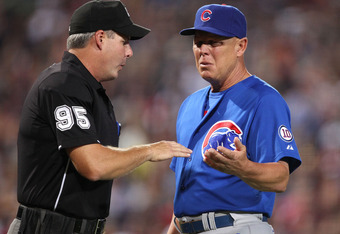 Mike Zarrilli/Getty Images
Why is everybody so angry at him? His history is well-known—he's crazy.
So why was it such a surprise that he said he was quitting and didn't mention anything to a manager that he has absolutely no respect for, and might I add, deservedly so?
When he called for change a few weeks ago and wouldn't elaborate on what he would change, don't you think Quade was No. 1 with a bullet on that list?
Quade has called out rookies or second-year players, but has been blind to the lackadaisical play from so-called stars like Alfonso Soriano and Aramis Ramirez.
Now he feels slighted that Zambrano walked out without even talking to him, and to quote Quade, "Quit on the other 24 guys that are battling their butts off for him."
I would like to hear the names of those guys, because most of them don't reside on this team. They're also not doing a very good job of battling with one of the worst records in baseball.
You can call Zambrano a lot of things, and you can call him a quitter if you want, but he will come back.
He'll say he was frustrated and give his usual apology, and not mean it, just like he winked when he talked about how he pretends to listen to his wife when she talks to him. But that is Carlos Zambrano.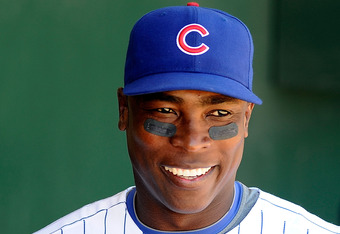 Kevork Djansezian/Getty Images
One thing nobody can say about him is that he doesn't try. Every moment he is on the field he goes all-out, whether it's laboring on the mound, or hitting a grounder to short and running as hard as he can to try to beat it out.
Sure, he acts like a spoiled child at times, but could it be because he is angry with the way this team is playing and it's frustrating him?
Could it be he cares too much?
He hates to lose, or at least it seems that way.
I'd rather have him any day than a guy like Soriano who is always smiling and never gets mad.
Why should he? He has $136 million reasons to be smiling all the time. He doesn't care about winning.
Zambrano does, and for that, Cub fans wants him gone.
No wonder they're Cub fans.