Jim Thome's Legacy Will Be Overshadowed by Steroids Era
August 13, 2011
Hannah Foslien/Getty Images
Could you name the seven players in Major League Baseball history who are in the 600 Home Run Club?  Probably not off the top of your head, but they are: Barry Bonds, Hank Aaron, Babe Ruth, Willie Mays, Ken Griffey, Alex Rodriguez and Sammy Sosa.
And of those names, how many have been linked to, or have confirmed their use of performance-enhancing drugs?
If your answer was three, you're correct (Bonds, Rodriguez, Sosa).  Alarming, isn't it?
The record books are now littered with the artificial numbers that have been shamefully added by the game's elite players since the 1980's.  Look just beyond the names I mentioned on the all-time home runs leaderboard and you'll find another three names: Mark McGwire, Rafael Palmeiro and Manny Ramirez - all players who were "dishonorably discharged" from the game of baseball, making it six of the top 14 home run hitters of all-time having been liked to PED's.
With as much cheating that has gone on in baseball over the last two-plus decades, it's easy for fans to be skeptical about how "real" a player's statistics are. And rightfully so.  But in a day and age when baseball has one of the strictest drug testing policies in professional sports, shouldn't we be celebrating the achievements of "clean" players with a renewed amount of fervor?
We saw it once this year, when Derek Jeter amassed his 3,000th career hit at home in the front of the home crowd in the Bronx.  Few players are able to sustain the consistency that Jeter has.  But what makes Jeter standout even more is the integrity and leadership he showcases as the Yankees' Captain. 
A similar guy who gets overshadowed quite often—and it's probably why he's mentioned so far into this article—is the Minnesota Twins' 1B/DH Jim Thome.
Thome is just two home runs short of 600. If you have been following baseball for any amount of time now, you know Thome has been one of the most powerful left-handed bats to come through the MLB in last 25 years.  But why, if he is so close to this historic number, are we not standing up on our chairs getting ready to applaud him when he hits his 600th home run?
Well, like I said earlier, we as fans are hesitant to believe that any player coming out of the Steroids Era is the Real McCoy.  However, with a guy like Thome, who I feel has flown under the radar for practically his entire career as one of the game's best, he gets short-changed because of guilt by association.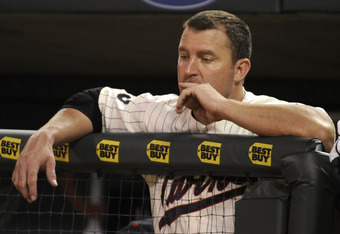 Hannah Foslien/Getty Images
Not only that, but currently Thome plays for a fourth place team in a small-market city.  It doesn't exactly translate into must-see TV.  In Derek Jeter's case, he's playing for the most prestigious baseball organization in existence, the New York Yankees.  I think a couple people are going to want to watch that...yeah.
Thome's early, yet long career in Cleveland (1991-2002) probably hurt him in the same way playing in Minnesota hurts him now.  He's not playing for a contender and probably won't get much media coverage until he actually does hit number 600, and then only for a minute. 
He's never won a World Series, has only finished as high as fourth in MVP voting and has only lead the league in home runs once (2003).
Thome's biggest downfall is something that he can't even control—timing.  He was playing first base at a time when Mark McGwire was doing big things with the bat.  Rafael Palmeiro was also a big attraction, playing in Baltimore at first base.  Chicago White Sox slugger Frank Thomas was a stud too, playing in the same division as Thome all those years in the 1990's.
Thome has always been surrounded by guys doing bigger and better things.  Even in 2002, when he hit 52 home runs, drove in 118 runs, had an OPS of 1.122 and had an average of .304, Thome finished seventh in MVP voting!  That's insane!  If a player has a season like that in 2011, we call him Albert Pujols—another first baseman.  Kind of ironic, isn't it?
With as much as I've set up against Thome, it is all trumped in my eyes when he hits No. 600.  He is the epitome of longevity and hard work.  There is no way a player can hang around 21 years in the majors like Thome has without being a professional hitter and a true student of the game.
Thome seems as genuine and grounded of a player as you will find in the game today, as well.  He's been a fan favorite and, above all else, a big run producer wherever he has played.  He'll finish his career with one of the most impressive offensive outputs in major league history.  I just hope he's remembered well.
In an era where the fans and the game deserves better than the 20 years preceding it, Thome will set a great example for the next generation of baseball players who want to learn about consistency and how to play the game the right way.
You can follow me on Twitter @mcfarlands412 or e-mail me at stmcfarland5@gmail.com