NL Central Pennant Race: 9 Reasons Milwaukee Will Win the Division Title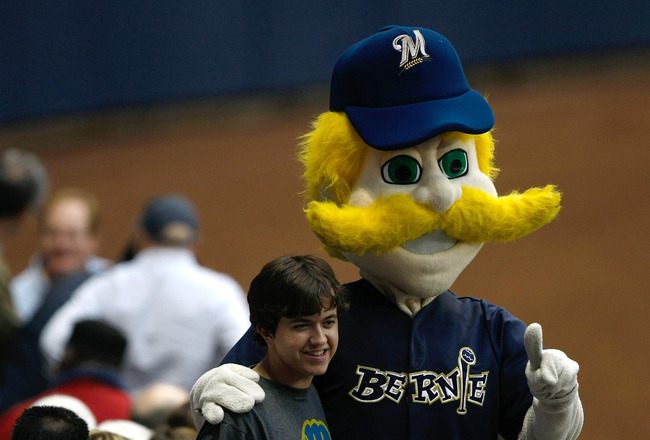 Bernie Brewer, the Sultan of Suds.....
Scott Boehm/Getty Images
For the first half of the season, it really seemed as if there'd be a four-team race right into September between the St. Louis Cardinals, Milwaukee Brewers, Cincinnati Reds and upstart Pittsburgh Pirates.
Since the All-Star break, the Reds and Pirates have cooled off a bit. Now, the race is down to two serious contenders. Consistency will play a big part in who does what. In head-to-head competition, the Brewers have beaten the Cards eight times in 12 meetings.

Here is where the spoilers will have a role. Both the Brewers and Cardinals have spanked the Astros 8 of 12 meetings. Neither team has handled the Reds well.
Cincinnati is 5 of 9 against the Cards and 7 of 11 against Milwaukee. The Cubs are 3 of 7 against the Brew Crew and only 2 of 9 against the Cards.
Pittsburgh Pirates
Pirate Manager Clint Hurdle seeks to step it up against Milwaukee.
Jared Wickerham/Getty Images
The Brewers have owned the Pirates, lock, stock and barrel much of the last decade, including a merciless 20-0 bashing of the Bucs in Pittsburgh in April 2010. The Pirates not only cannot seem to solve the Brewers, but are very likely intimidated by them.
Conversely, Clint Hurdle's squad has played with heart and soul against Tony La Russa's Cardinals, splitting the season series (so far) at three wins apiece.
Yuniesky Bentancourt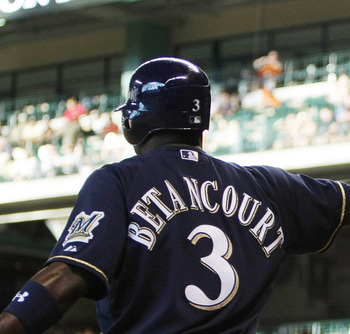 Shortstop Yuniesky Bentancourt
Bob Levey/Getty Images
Shortstop Yuniesky Bentancourt has been Milwaukee's hottest hitter during the last month, hitting a torrid .380, 3 HRs, 20 RBI, and sporting a .935 OPS (On-base Plus Slugging).
Compare that with St. Louis' Ryan Theriot at .197, 0 HRs, 7 RBI, and a .497 OPS. HE's been replaced by ex-Dodger Rafael Furcal, who hasn't been much better.
Since his arrival, Furcal is hitting .234, 2 HRs, 5 RBI, and a .664 OPS.
Nyjer Morgan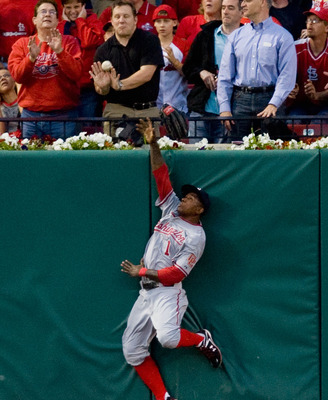 Nyger Morgan leaps for a catch while with the Washington Nationals
Dilip Vishwanat/Getty Images
He's fleet-footed, strange (likes to be called "Tony Plush") and obviously talented, ex-Pirate Nyjer Morgan has gotten hot in center for the Brew Crew, with a .315 average, 0 HRs, 8 RBI, and .748 OPS.
Colby Rasmus had been grossly underachieving the last month at .238, 2 HRs, 4 RBI and .908 in center before being swapped to Toronto. John Jay replaced Rasmus with a .279, 0 HR, 7 RBI, and .687 over the last month.
Zack Greinke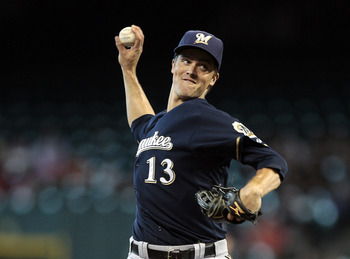 The Greinke deal has paid big dividends for the Brewers
Bob Levey/Getty Images
Zack Greinke has been filthy the last month, going 4-1, 1.38 ERA in 6 starts, with a 1.01 WHip (walks plus hits divided by innings pitched).
Milwaukee surrendered some good-looking prospects last winter to get him.
With Bentancourt as part of the deal, it has paid off handsomely for the Brewers.
Randy Wolf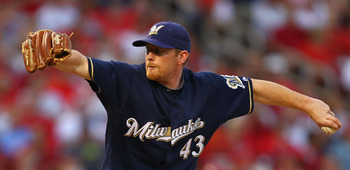 Randy Wolf has been tough during the last month for Milwaukee
Dilip Vishwanat/Getty Images
Veteran lefty Randy Wolf has also been Mr. Reliable at 3-2, 2.88 ERA, and 1.22 WHip. Wolf has also held opposing hitters to a .260 average, while fanning 17 in his last five starts.
K-Rod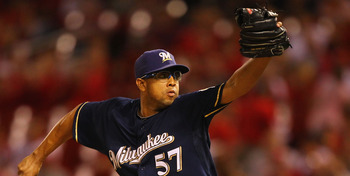 Ex-Angel K-Rod has been a key addition to the Brewers 'Pen
Dilip Vishwanat/Getty Images
In the bullpen, Francisco Rodriguez has been lights-out since coming over from the Mets.
K-Rod is 2-0, 2.25 ERA, a 1.25 WHip, 16 strikeouts in 12 innings and has held opponents to a measly .213 BA.
John Axford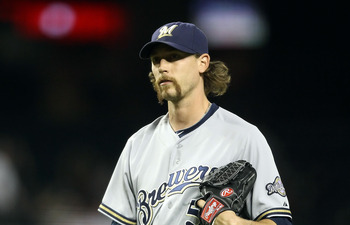 John Axford - lights out in Brewerville
Christian Petersen/Getty Images
Closer John Axford has been the perfect compliment to K-Rod, going 0-0, 1.38 ERA, 10 saves, a WHip of 1.0, and 11 strikeouts in 13 innings pitched during 13 appearances.
Kameron Loe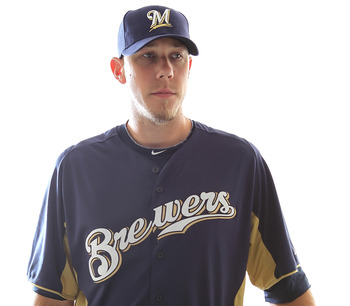 Kameron Loe has been money in the bank for manager Ron Roenicke
Jonathan Ferrey/Getty Images
Kameron Loe, the big 6'8" right-hander has been another hot hand out of the bullpen. He's 0-0, a 1.74 ERA, a WHip of 1.06, 7 strikeouts in 10.1 innings covering 11 appearances.
Takashi Saito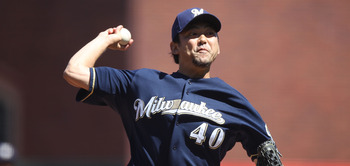 41 year-old Takashi Saito still has gas in the tank
Jed Jacobsohn/Getty Images
Ageless Takashi Saito has also done a fine job the last month for manager Ron Roenicke. Saito is 1-0, with a nice 2.16 ERA in 10 appearances. He's limited opposing batsmen to a .241 BA, covering 8.1 innings of work.
Keep Reading

Milwaukee Brewers: Like this team?