Cleveland Browns: Why Peyton Hillis Should Sit out Against the Detroit Lions
August 18, 2011
Marc Serota/Getty Images
Peyton Hillis left Browns practice early on Wednesday as a small hamstring injury seemed to flare up and force him out of action. Cleveland has their second preseason game against the Detroit Lions on Friday night and the starters are expected to play almost the entire first half. The Browns will have to be careful with Hillis over the coming days, but it may be better for the team if the "Albino Rhino" sits out against the Lions on Friday.
It is easy to see that Cleveland used Hillis in 2010 more than an average team uses their starting running back in any given season. The Browns struggled with inconsistency from the quarterback position and used Hillis as a crutch to help get through the basic game-planning of Brian Daboll.
Hillis is much too valuable to the Browns organization for a preseason injury to take him out of action early. Some of the "easiest" portions of the Browns schedule comes during the first six weeks of the season and the offense will still be working out the kinks in the new West Coast system.
Hillis slowed down at the end of 2010 for two different reasons. First, nagging injuries piled up and eventually forced him to play a little more careful. The second is that opposing defenses simply planned for him as the Browns passing attack slowed to a sudden halt. If Cleveland can find a way to keep some of their offensive intentions hidden from opposing defenses early in the year, the team may be much more likely to find success in simple plays later in the season.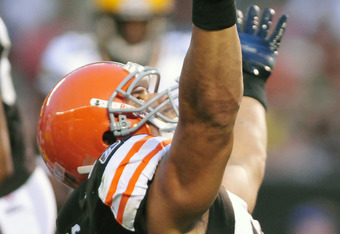 Jason Miller/Getty Images
The Browns also have other halfbacks on the roster that could eat up yardage during Hillis' recovery time.
Montario Hardesty has been waiting for his opportunity to get back on the field after suffering multiple knee injuries over the past two seasons. Hardesty has practiced in full pads on three occasions during the week, but may not be ready for game action as early as Friday.
Armond Smith was also impressive during the teams' first preseason game against the Green Bay Packers on August 13. Smith was on the receiving end of 10 carries for the Browns' fourth-quarter offense and rushed effectively even with the third- and fourth-stringers blocking for him.
Hillis' injury may be nothing to be concerned about at this point in the season, but it is a strong reminder of how quickly Cleveland's offensive dynamic can change due to injury. The Browns will have to be careful with all of their key players during the next few weeks, but don't be surprised to see Hillis on the sideline while preparing for the regular season.