New York Mets: 5 Biggest Surprises About the 2011 Mets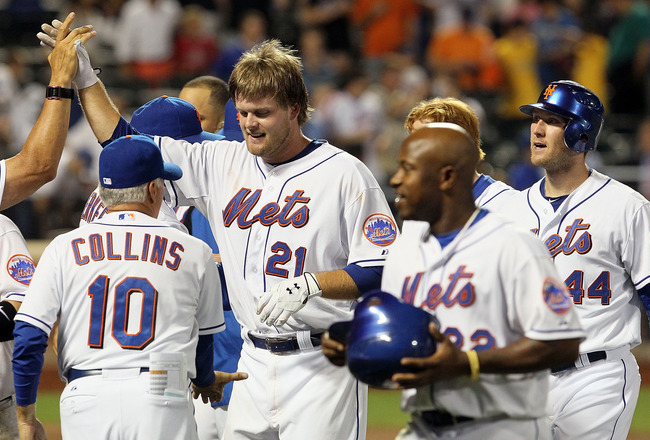 Jim McIsaac/Getty Images
At 58-59 through August 11th, the New York Mets have had, if nothing else, an unexpected season. Although it looks like they are too far out to make a playoff push, the Mets have had their fair share of pleasant surprises from a team with little expectations coming into the year.
Without Johan Santana, their ace for the entire year, and losing many of their key players during the year to injuries, the Mets have not had a World Series-caliber roster, despite having one of the league's highest payrolls.
Nevertheless with new manager Terry Collins, and GM Sandy Alderson, the Mets appear to be heading in the right direction.
Now let's look at what has jumped out the most so far from the Amazins in the 2011 season.
Jason Bay Struggles Again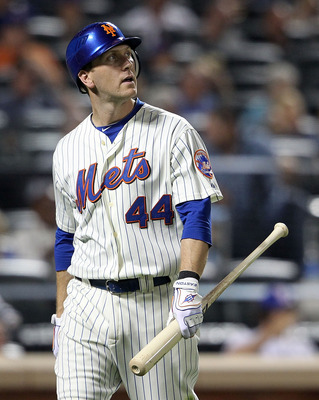 Nick Laham/Getty Images
When the New York Mets signed Jason Bay in the 2010 offseason, they thought they were getting a proven power hitter who would be a staple in the middle of their lineup for years to come.
Instead what they got was a player who has struggled with the big stage of New York and the large dimensions of Citi Field.
Since 2004, Bay had never failed to hit less then 21 home runs in a season. But in 2010 his first season as a Met, Bay hit six. You read that correctly. The Mets' star offseason acquisition hit a minute six homers in his first season with the team and had only 47 RBI.
In 2011, with David Wright and an emerging Ike Davis, many expected Bay to turn the page and implement himself worthy of the $66 million contract.
Unfortunately, that did not happen. Although Bay has increased his home run total to nine (still far below expectations) Bay is still hitting only a meager .248 and is nowhere near the player the Mets expected suspected they had signed.
Jose Reyes's Dominance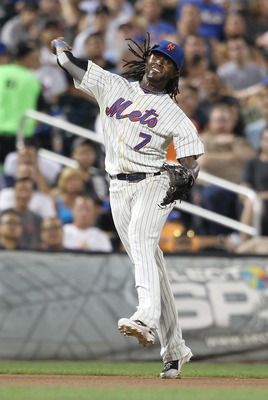 Nick Laham/Getty Images
Jose Reyes has always put up All-Star-caliber numbers throughout his career with the Mets.
But no one could have possibly expected Reyes to be as dominant as he has been this year—his eighth. As of August 12th, Reyes is leading the National League in batting with a .336 average, and has been consistent throughout the season.
Reyes has been a spark plug his whole career with the Mets, but being as consistent as he's been, Reyes has had his most productive season thus far.
Along with Reyes's average, Reyes has 34 steals, a .377 OBP and 26 doubles. He undoubtedly will be in the top five or top 10 in MVP voting this year despite the Mets not being a playoff team.
Reyes is in a contract year and will garner a huge paycheck if the Mets want to re-sign him in the offseason. Despite the fact they could have received several top prospects in return, the Mets did not trade him, showing just how much they value Reyes and covet him for the future.
Justin Turner's Productivity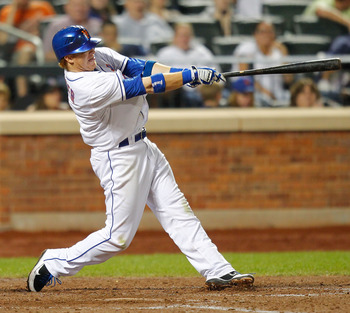 Paul Bereswill/Getty Images
One of the biggest questions going into the 2011 season was, who would be their starting second baseman? After cutting Luis Castillo, the Mets were strapped for options and many believed the race would come down to either Daniel Murphy or Luis Hernandez.
But ever since being called up, Turner has showed signs that he might just be the long-term answer at second base in Citi Field.
Turner won the Rookie of the Month for the NL in May, becoming the first Met ever to win the award. He also became the first Mets rookie to drive in a run in seven consecutive games.
Although Turner's numbers have fallen off a tad, he's still shown tremendous intangibles at the plate, and if he can improve on his defense and become more consistent, the Mets could be seeing Justin Turner suit up for awhile.
Dillon Gee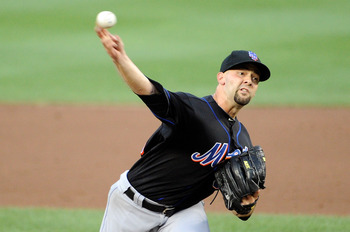 Greg Fiume/Getty Images
The Mets have a somewhat suspect starting rotation, to say the least.
Although all but one (Chris Young) that started the year have stuck around, for the most part, the foursome of Mike Pelfry, Jon Neise, Chris Capuano and R.A Dickey has been unimpressive.
Without Johan Santana in the rotation the Mets don't really have an ace and the team has relied on their offense throughout the year.
One exception has been Dillion Gee. He seemingly burst onto the scene out of nowhere and has been their best starter in 2011.
Gee has a 10-3 record and a 3.93 ERA as of August 12th. After being called up, Gee made an immediate impact winning his first seven decisions—the best start by a rookie in franchise history.
With the Mets rotation having a ton of question marks going into 2012, the Mets will certainly be hoping he continues his excellence and stays healthy.
Terry Collins Keeping This Team in Contention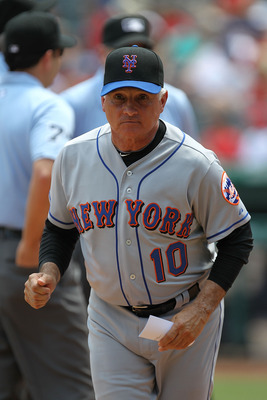 Ronald Martinez/Getty Images
Let's face the facts: the Mets don't, and have never had, a roster capable of being championship-worthy this season. They simply have too many holes on their team to be serious contenders.
In my opinion, Terry Collins has maximized his team's potential, having them hover around the .500 mark this season. The fact that the Mets have been in contention for a playoff spot is thanks to one man: Terry Collins.
Collins' no nonsense attitude has changed the mindset of the Mets locker room—much needed from the lackadaisical approach taken by Jerry Manuel. The Mets have had less heart-breaking losses, actually shown up for most games, and have not been "the same old Mets" this year.
Collins has them competing night in and night out. No matter what the roster, Collins keeps them focused and prepared.
Collins deserves some serious consideration for Manager of the Year, and although he is up there in age, I see Terry Collins being the Mets manager for several seasons to come and leading this team to the success they have so utterly lacked the past years.
Keep Reading

New York Mets: Like this team?