Texas Rangers Drop Ball in Regard to Fallen Fan's Son
August 12, 2011
Bob Levey/Getty Images
There will most-likely never be a more haunting image in professional sports than that of young Cooper Stone watching his father plummet to his death beneath the left field stands at The Ballpark in Arlington. Cooper Stone's father, Shannon Stone, tragically lost his life after attempting to catch a baseball thrown in his direction by Texas Rangers outfielder Josh Hamilton.
While millions of children across the country will have their memories decorated by father-son outings to a Major League Baseball game, Cooper Stone will not be among them.          
In the wake of Stone's death, the Texas Rangers acted in a most gracious manner. The organization, headed by former MLB great Nolan Ryan, took very apologetic measures and extended quite a hand to the family of their deceased fan.
While the Rangers took no direct responsibility for the accident that led to Stone's death, the organization did take appropriate measures to ensure similar incidents would not occur again.
The Rangers set up the Shannon Stone Memorial Fund for Stone's family, and players wore black arm bands in remembrance of their fallen fan.
The immediate reaction of the Texas Rangers organization was quite admirable.
Unfortunately for Cooper Stone and those rooting for a world-class sense of humanity from the Rangers organization, the charity and remembrance has come to a premature end.
Granted, Stone's passing is not something that should be expected to linger for an extended period of time. In any case of tragedy, mourning is to be expected, but extended grief simply is not healthy. The issue at hand is simply that the Texas Rangers have not done enough for Shannon Stone's family.  
The Texas Rangers are a multi-million dollar sports franchise. Their revenues for a given season exceed $150 million. Basically, the Rangers organization sits atop a mountain of cash.
While the Rangers have announced their intentions to donate a "substantial" amount of money to the fund for Stone's family (as per WFAA Dallas), there has been no announcement as to the amount of the donation. Moreover, the Rangers have not announced any plans for anything beyond a simple donation.
Cooper Stone may be a lost fan of baseball. After witnessing first-hand the tragic events leading to his father's death, there should be reasonable doubt to any notion that the young boy's passion for baseball will continue to live on.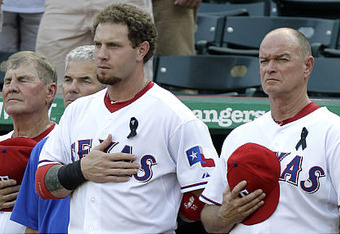 While baseball has forever been a game recognized for bringing together fathers and sons, Cooper Stone is one who may view the game as having the opposite effect. As many children grow into adults and cherish fond memories of taking in a game with their dad, Cooper Stone will have no such memory.
The Texas Rangers played a role in robbing Cooper Stone of childhood memories that all young boys are entitled to. Though not directly, the Rangers' simple lack of safety precautions not only stripped young Stone of priceless memories, but also took his father from him.  
And while the Texas Rangers were quick to respond to the sudden needs of Stone's family, they also squandered an opportunity to raise the standards of fan relations.  
For young Cooper, the Rangers should have done more. They should still be doing more.  
There was once a time in professional sports when the fans weren't merely spectators. Fan interaction was one of the delights of attending a game rather than watching it on television or listening-in on the radio. Player interaction with fans was a staple of sporting events. Great players like Mickey Mantle, Stan Musial and many others were constantly witnessed taking time away from their pregame routines to mingle with fans and talk to the kids who idolized them.  
These days, the players and fans are hardly connected.
The Rangers could have formed a new movement throughout professional sports that focused on greater appreciation of fans. Cooper Stone should have been awarded something along the lines of season tickets for life or personal visits from the players he has regarded as heroes—something more than a big check. A check for the family, moreover—not for Cooper himself.  
Instead, Nolan Ryan and his Texas Rangers come across as playing a wonderful game of damage control—"avoid the lawsuit" if you will.
Whether regarding the death of Shannon Stone, the brutal beating of Giants fan Bryan Stow at the hands of some degenerate Dodgers fans or even the infamous episode of NBA star Ron Artest chasing a fan into the stands, there has never been a proper response by a professional sports organization. The Texas Rangers are just the latest in a long line of teams that have failed when given an opportunity to make a major positive impact in fan relations.  
Rangers fans will continue to pile into The Ballpark in Arlington and spend countless amounts of money on food, clothing and other mementos. The Rangers will feel no direct impact of the passing of Shannon Stone.
Cooper Stone, on the other hand, will live a significantly different life—one without a father who gave up his life trying to make a father-son memory that would be unforgettable.  
It's a shame the Texas Rangers don't feel more of a need to fill young Cooper Stone's void and whole-heartedly attempt to create some positive memories for a boy who will undoubtedly have difficulty doing so for quite some time.