49ers vs. Saints (2011 Preseason): 2nd and 3rd Team Watch List
August 12, 2011
Thearon W. Henderson/Getty Images
It's finally here. Just over six hours left until most 49ers fans will get to watch this 2011 team under a completely new coaching staff.
There will be plenty of intriguing matchups in tonight's battle between the New Orleans Saints and the San Francisco 49ers.
Most of the starters will see anywhere from 10-30 plays on both sides of the ball until they are pulled for the second and third string units. Depending on how some of the backups are playing, some may get more playing time than others.
I've read a few articles here and there in regards to the 49ers depth and how it may effect them moving forward. But I believe that there is going to be more depth than what the national media is leading on. Most of these folks come from the east coast and at times it appears as though there is some sort of east coast biased. The 49ers do not get too much national attention. And when they do, it's more often than not for negative reasons.
Anyhow, enough complaining. Below are a few of some of tonight's backups that should really be looked at closely:
Chase Beeler (Center) 
  Beeler has a lot of work to do now with the acquisition of Goodwin and Snyder taking snaps at center in camp. However, Snyder could move over to the starting guard position opening up the back up center position should Beeler do well enough.
Phillip Adams (Cornerback) 
  Adams is coming off a pretty severe injury from last season. He will be on the bubble and will need to show the coaching staff that he is healed 100%. He has had issues on cutting hard in camp. So we will see soon enough how well he can do in a game situation.
Chris Culliver (Cornerback) 
  Culliver has been extremely impressive in camp. But it was only camp. This will be his chance to really shine in a game situation in front of Harbaugh and company. His skill-set is more well-rounded than what some folks thought when he was drafted.
Cory Nelms (Cornerback)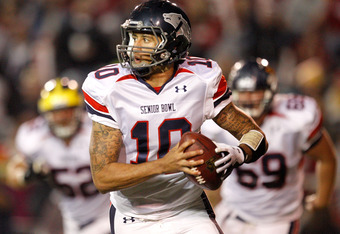 Sean Gardner/Getty Images
  Here is another corner that has shown some brilliant flashes in camp. He is a bit raw around the edges but nothing too major that can't be fine-tuned. Although his chances are slim in him making the team, he could shock a lot of people in tonight's game against the Saints second team offense.
Ricky Jean-Francois (Nose Tackle)
 RJF more than likely has a spot on the roster already. In most depth charts around the net, he projects as the backup tackle. But Francois is a very versatile player and can play any spot along the front three. He should see no shortage of playing time this evening.
Daniel Kilgore (Guard)
 Kilgore had a very good offseason in the transition from the college ranks to the pro's. It seems on the surface like he has a good shot at making this ball club as a backup. He will definitely be someone worth keeping an eye on moving forward. 
Thadeus Gibson (Linebacker)
 Gibson was obtained off of the Steelers practice squad last year and seems to be showing some progress. He will have an opportunity to really show Fangio and Harbaugh what he is bringing tonight. He will be fired up and ready to get after the Saints quarterback whether that be Chase Daniel or Sean Canfield.
Kenny Rowe (Linebacker)
 Rowe was a menace at Oregon. Although he played on the outside, the 49ers would be ill-advised to play him out there. His game would translate better on the inside. With Scott McKillop being cut yesterday, Rowe could certainly find his way on to the roster if he plays good in these next four games.
Aldon Smith (Linebacker) 
  There is no doubt that Smith will make the team. He will, however need to show that he is starter-worthy. He will have to earn his keep and come up from the second team. It is assumed that both Brooks and Haralson will be ahead of him on the depth chart to start with.
*Colin Kaepernick (Quarterback)
 This will perhaps be the most watched player of tonight's game. Kaepernick has already been earning plenty of nicknames by the fanbase. He will need to play lights out in order for any of those names to stick. And should he play better than Alex Smith, it's quite in the realm of possibility that we could see this very young and talented quarterback eventually start in 2011.
Jeremiah Masoli (Quarterback) 
Masoli is a very interesting prospect. At first, the 49ers brought him in as a running back due to his excellent athletic ability and thorough understanding of the game. He will have a long way to go but may wind up being the teams third string quarterback. He played well in camp and now it is time for him to play well in the fourth quarter of these preseason games. Fun fact: Masoli is a San Francisco native and grew up rooting for the Niners. We should all root for him to do well.
Kendall Hunter (Running Back) 
  Hunter had a bad case of the dropsy's in college. He will need to hang on to the ball with all his life tonight. In some ways, he reminds me of Darnell Jefferson from the movie The Program. Hunter has one of the best cutting abilities in his rookie class. His ability to make people miss is filthy. He should break some opposing defender's ankles tonight but will need to hang on to the ball if he wants to earn his keep.
Colin Jones (Safety)

Colin Jones was a staple in TCU's defense last year. His best bet is to go gung ho in all these games and throw a Hail Mary up to make this team as a special teams player. With guys like C.J. Spillman (who was a special teams ace last year) and Chris Maragos gunning for the same job, Jones will need to stand out. 
Madieu Williams (Safety) 
  Williams will most likely have a spot on this team. Although in coming over from Minnesota, there were some concerns with the injury he sustained from his neck. Some Vikings fans claim that he was hesitant to make certain tackles due to the injury opposed to before when he would just go all out. Keep your eye on this throughout the year.
C.J. Spillman (Safety) 
  Spillman was an absolute freak on special teams last year. When the Niners lost McKillop, who was the leader on special teams before he was injured, Spillman stepped in and made play after play. There is limited space on the roster. Particularly with so many safeties competing for the same spots. The cream will rise and the rest will be cut. This certainly bodes well for the 49ers secondary, though.
Taylor Mays (Safety) 
  High expectations and very little result so far. That about sums up Mays' career to this point. Mays better step up in a big way and make some waves on the field in these next four days. Should he do that, it still is curious as to what the Niners plans are for Mays. I suppose it is a wait-and-see kind of deal at this point. So, wait and see.
Alex Boone (Tackle) 
  Boone has definitely been a fan favorite and he has his chance now. In a much more fit body, Boone will look to fine-tune his technique in the next four games. He was considered by some to be a very high draft pick when he came out, but went undrafted due to off the field issues; mainly drinking and getting in trouble. If Anthony Davis is not careful, Boone could snatch the rug right out from underneath him now that he seems to have his head on straight.
Konrad Reuland (Tight End) 
  With the recent hit in Nate Byham going down with a season-ending injury, Reuland (coming from Stanford) will already have an advantage in knowing the playbook. He is nearly as big as Byham and bit more nimble on his feet. The competition for that third tight end spot will be one of the most heated deals in the preseason.
Colin Cloherty (Tight End) 
Cloherty will be the other guy in competition with Reuland. While he is at a disadvantage in knowing all the playbook, he is very athletically gifted. He too, like Reuland and Byham, is a larger-framed player at his position. Cloherty has a bit of time in the NFL, so in some sense the two guys crunching for this roster spot are on relatively even ground.
Kyle Williams (Wide Receiver) 
  It is well documented across the Internet that Kyle Williams is probably my personal favorite on the team. He had his run-ins with injury last year. But he has had a stellar camp. Some fans have suggested that he has some of the softest hands on the team. When the ball hits, it does not make any sound. He is also one of the fastest on the team. He runs great routes. His potential is DeSean Jackson if he can stay healthy. But that is the key for Williams moving forward. Durability.
Ronald Johnson (Wide Receiver) 
  Johnson had a pretty good career while at USC. While he may be taking a pay-cut in moving from Southern California to the pros, he still has a very good shot at surviving any cuts. He too, like Williams, has impressed the coaching staff, teammates and fans in camp. The pros is a whole other ball game though. Some guys can translate their game and some can't. Time will tell with Johnson. 
Kevin Jurovich (Wide Receiver) 
Last but not least is Kevin Jurovich. He is a very hard working blue-collared player. In many ways, he appears to be of the Wes Welker, Danny Amendola variety. Jurovich is another local guy and could be a fan-favorite heading in to the preseason. At the very least, I could see Jurovich making the practice squad. But if he does, there is good chance someone could snatch him up off of there. He would be a solid guy to have waiting in the wings should there be a significant injury on the roster as far as receivers go (*knock on wood*).
All of the players listed here have quite a bit to prove and such little time to prove it in. Some of them will indefinitely be cut and others have the chance to actually earn a lot of playing time... and even in some rare cases, a couple of them may actually start at some point in the season.
Overall, I believe that the coaching staff won't put the most stock in this first preseason game. A lot more will be looked at over the three after this one.
Enjoy the game. And if you are drinking, drink responsibly. Stay thirsty my friends...