2011 NFL Preseason: San Diego Chargers' Future Looks Promising
June 23, 2016
Donald Miralle/Getty Images
Although the end result was a defeat, the San Diego Chargers looked crisp enough against the Seattle Seahawks to once again be a preseason favorite to win the AFC West this year after falling short just a season ago.
The first quarter alone showed just how explosive this San Diego offensive could be with Rivers playing catch with Vincent Jackson on his first two throws, one going for 48 yards.
This first drive showed how important Jackson is to the Bolts offense, Rivers and Jackson looked like they had played together since high school. With Jackson on a one-year deal this season, he is determined to prove he is worth a big contract for seasons to come.
Some reports prior to the game said that Ryan Mathews would not even dress for the preseason opener, but Mathews was in full pads and caught a wonderful swing pass and took a couple carries for a total of 14 yards on the first drive. He is another player with a chip on his shoulder, determined to show he was worth trading up for in last year's draft.
Rivers looked like he should have been a 99 rating on Madden NFL 2012. He showed a nearly flawless performance on his one and only drive going 5-for-6 for 87 yards and a TD.
"That's kind of what we wanted to accomplish, but there are certainly things to clean up," Rivers said. "That can give you a false impression of how easy (it was to score). We still have a long way to go, but that's one drive of the game."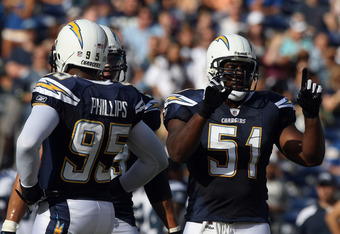 Donald Miralle/Getty Images
Rookie running back Jordan Todman did an exceptional job with the few carries he got averaging 5.0 yards on six carries for 30 yards, his longest going for 12 yards. He looks like a sleek replacement in the future for the departed Darren Sproles.
On the defensive side, San Diego showed that not much was gonna change even though they lost defensive coordinator Ron Rivera to the Carolina Panthers. Undrafted free agent Darryl Gamble will be a great contributor in the linebacker position gathering up seven solo tackles, one sack, and two tackles for a loss. Takeo Spikes made his presence known on his first defensive stand with the Bolts, and rookie first round pick Corey Liuget looked like a great nose tackle who will cause disruption up the middle.
Altogether, San Diego had a great first preseason game even though it was counted for in the loss column. They made some real progress on both sides of the ball, and I know every Chargers fan screamed when they saw Bryan Walters return a 103 yard kickoff return. Way to go Rich Bisaccia! You may save our season with special teams... as odd as that sounds.