Notes from a Fangirl; Seattle Soars out of San Diego Victorious
August 12, 2011
Donald Miralle/Getty Images
After hitting the snooze button on my alarm clock for the fifth time yesterday morning, two things crossed my mind: 1. My boxer Scout is a major bed hog, and 2. FOOTBALL! 
I hopped out of bed, hurriedly brushed my teeth and pulled open my closet.  Towards the very back, a sea of Bolt apparel emerged.  Rivers jersey, Gates jersey, Castillo jersey, t-shirt, sweat-shirt, Snuggie (yes I own a Chargers Snuggie), the possibilities were endless, but as I slipped on my Rivers jersey, I was merely overcome with a mixed sense of gratitude and excitement.  Excited that my five-plus football free months were coming to an end, happy to know that many of my favorite Chargers would be suiting up again this year (hello Malcolm Floyd) and relieved that at week 36 of my pregnancy, my jersey still fit.
The lock-out left a lot of us fans, myself included, in the dark. Would there be a football season? With the free agency frenzy, who was leaving? Who was staying?
After five months of nothing, in a matter of days, we were bombarded with trades, injury reports, a few practices and more questions. 
As a Chargers fan, I can still feel a slight sting from last season. The heartbreaking losses were plenty, almost as plentiful as the penalties and missed opportunities, and the image of the blocked punt against the Raiders still dances in my head. Heartbreak and being a Chargers fan seem to go together.  However, blind optimism fits nicely as well.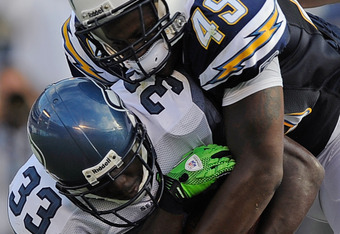 Kevork Djansezian/Getty Images
At game time, my excitement to see the Bolts take the field far surpassed my painful memories of seasons past. It was a new season and a new team, and I was ready to see what they could do.
I am not going to go over the game play by play.  For one, there will be plenty of those articles floating around, and if you head over to my page and read any of my other articles, you will see it just isn't my style. 
I will, however, give you my impressions and thoughts.
Things that impressed me:
1.  Charger rookies Jordan Todman,  Darryl Gamble and Bryan Walters.  All three made waves hitting the field for the first time as the San Diego Chargers and appeared fired up.  Todman went 30 yards on six carries and caught four passes for 21 yards.  Not to be outshined, Darryl gamble completed seven tackles, including one sack, and definitely put a hurt on Seattle's run game.  Last but not least, Bryan Walters returned a kick for a 103 yard touchdown as if to make the statement "Special teams is here to play," which made many Bolts fans sigh in relief.
2.  Seattle. Seattle's Josh Portis went 5-for-9 passes for 69 yards and one touchdown with only minutes left in the game.  He got off to a rocky start but quickly settled in and helped bring the Seahawks to victory. Also of note, Charlie Whitehurst going 14 of 20 for 115 yards.  Seems the only quarterback having a rough go of it was Tarvaris Jackson (see unimpressed).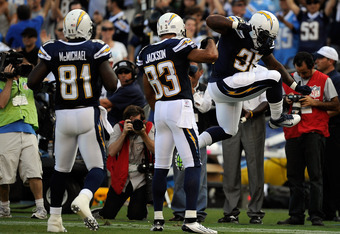 Kevork Djansezian/Getty Images
3.  Rivers and Jackson. With the 48-yard completed pass, Rivers and Jackson proved that their chemistry of seasons past was still alive and kicking.  It was an impressive drive that culminated in a touchdown from Tolbert and many fans were happy to see a poised and confident Rivers making plays. Rivers went 5 for 6, 87 yards and a touchdown while Jackson had a two catches for 54 yards.
Things that did not impress me:
1.  Penalties.  Granted the amount of practice these guys have had has been minimal, it was still a slight reminder of seasons past watching a game of 10 penalties for the Chargers. 
2.  Tarvaris Jackson and Scott Tolzien.  Tarvaris was 3-for-5 with 13 yards and sacked twice while Tolzien was also sacked, coughing up the ball and giving Seattle possession.  Both underperformed in my opinion, but Jackson was the bigger disappointment to me.  Coming out of Minnesota as a back up and performing the way he did begs the question, was he warming the bench all those years for a reason?
3.  Ryan Matthews.  There was speculation as to whether or not we'd even see Matthews on the field for the game, but he showed up for five yards on two carries and a nine-yard pass.  Still working out an injury, Tolbert seemed to be the go-to guy in his place, and with big plays being made by Tolbert and Todman, the expected breakout season for Matthews may be stunted.
Overall, we may have lost the game, but it is just preseason.  I cannot speak for other Charger fans, but the confidence of Rivers in the first drive, the special teams redemption and the rookies have left a feeling of comfort to reside next to the open wounds of last season.  I am excited to see football being played and hopeful for my Bolts.