Minnesota Vikings 2011 Preseason Schedule: August Preview
August 11, 2011
Hannah Foslien/Getty Images
With training camp coming to an end and the NFL preseason games starting up this week, it's time to take a look at the Minnesota Vikings preseason including position battles, weak spots, young players progression, acquisitions and more.
The Vikings preseason schedule includes back-to-back road games at Tennessee and Seattle, followed by two home games against Dallas and Houston.
With these games, coach Leslie Frazier will look to secure some final starting spots and tweak the lineup from game to game in an effort finalize the depth chart.
Quarterback Battle
Entering the 2011 season the biggest question for the Minnesota Vikings was who would be the starting quarterback.
Selected with the 12th overall pick in the 2011 NFL draft, rookie quarterback Christian Ponder was mentioned as the projected starter for the Vikings most of the summer. But as the season neared and the lockout came to an end, Minnesota started exploring the option of signing a veteran quarterback in free agency. Ultimately, the team went with this decision and signed Donovan McNabb.
With camp underway, there has been a three way quarterback battle between Donovan McNabb, Christian Ponder and second-year quarterback Joe Webb.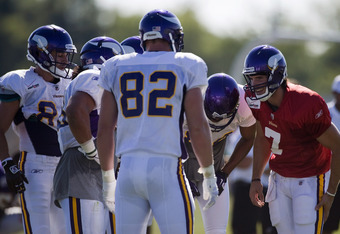 Hannah Foslien/Getty Images
With McNabb handling the bulk of first-team snaps, it's safe to say he's clear cut starter, while Ponder and Webb continue to learn and take lessons from the veteran quarterback.
Perhaps the biggest surprise though, is that when the Vikings released their first unofficial depth chart it was Webb, not Ponder, listed in the No. 2 spot. 
However, both quarterbacks have taken snaps with the second team, and according to head coach Leslie Frazier, both players will have an opportunity to fight for the No. 2 spot in the upcoming preseason games.
Webb, who is more of an overall athlete, has also seen some time at other positions including wide receiver.
Rookie Development
Aside from Ponder, the Vikings have a slew of other rookies in camp with a few standing out but most slated no higher than third string.
Tight End Kyle Rudolph, who was a second-round draft pick for the Vikings out of Notre Dame, is a player who entered camp with high expectations. Rudolph was known for his great skill set, good speed for his size, blocking ability around the edges, and great hands. However, since camp has started a few of these things have been questionable with Rudolph getting ran over at the line of scrimmage, dropping balls in the end zone and taking passes off of the face mask.
Originally projected to get a lot of reps both behind and aside Vinsanthe Shiancoe, Rudolph is currently listed as fourth on the depth chart.
One of the more impressive rookies thus far has been seventh-round pick, defensive end D'Aundre Reed. Reed who is still quite raw, has managed to make a small splash in camp displaying a lot of potential.
Reed has shown good speed for his size, impressed in drill work and even recorded a couple of sacks.
Along with Reed, sixth-round draft pick Mistral Raymond, has also impressed enough to earn a few first team reps at the safety position. The one time walk-on at the University of Southern Florida, Raymond is no stranger to having to earn a roster spot.
Displaying good ball hawking skills and a great willingness to learn, Raymond has at the very least secured himself a place on the team.
Originally thought to be a steal in the seventh round, wide receiver Stephen Burton has been a bit of a disappointment so far.
Burton has dropped a lot of balls and won himself a bone-headed play of the day award when he batted down a 50-yard bomb from Joe Webb which was on target to be caught tight end Allen Reisner, for a reason that is still unapparent.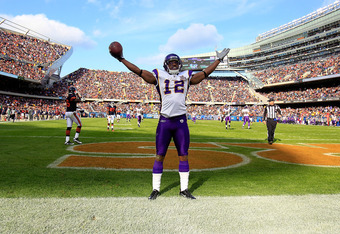 Jonathan Daniel/Getty Images
Ross Homan has been impressive in the battle for weak-side linebacker position and has seen a lot of second team reps.
Weak Offensive Line
Coming off of a rough 2010 season, the Minnesota Vikings knew heading into this season that they had plenty of weak spots and holes to fill. The bad news is, after two weeks of training camp, one of these weak spots still exist in the crucial area of offensive line.
For starters, the Vikings were forced to cut offensive lineman Bryant McKinnie when he showed up to camp extremely overweight and unable to perform. A Pro Bowler in 2009, McKinnie had many solid years for the Vikings but never seemed to have reached his full potential.
Right guard Anthony Herrera, who is still recovering from ACL surgery, has yet to be cleared to practice. Center John Sullivan is still undersized. Signee Charlie Johnson, whom the Vikings got from the Colts in free agency, will be the new starting left tackle.
The Vikings signed Johnson with hopes of improving the line right away, but reports from camp are he is getting beat a lot and has unexpectedly struggled early. Minnesota will look for tackle Phil Loadholt to finally breakout and hopefully be a bright spot this season.
A second-round draft pick in 2009, Loadholt has been living off of potential or the past few seasons and has yet to fully come into fruition. Pro Bowler Steve Hutchinson, who has long been a bright spot on the Vikings offensive line, will likely be solid again this year but at 34 years old, has passed his prime.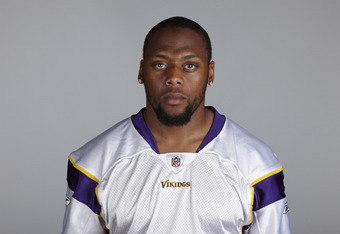 Handout/Getty Images
The Wide Receivers
With the departure of their No. 1 go-to wide receiver Sidney Rice to the Seattle Seahawks, the Vikings already weak receiving core took a major hit.
The good news is Percy Harvin, who battled migraines all last season, is migraine free and seems to have stepped up big as leader in training camp.
If the Vikings can rely on Harvin and get good production out of Bernard Berrian and free-agent signee Michael Jenkins, as well as help by committee from guys like Greg Camarillo, Devin Aromashodu and rookie Emmanuel Arceneaux, they may be OK.
Position Battles
Aside from the position battle for the backup quarterback position between Ponder and Webb, the Vikings have a few other position battles that have been brewing throughout camp.
One battle to watch closely is at the safety position. At the beginning of training camp, the Vikings opened up the safety position releasing their overpaid and under performing starter Madieu Williams to free up cap space.
The starter at strong safety last year, Husain Abdullah seems to have his spot locked down, but Jamarca Sanford and Tyrell Johnson are battling it out for the other safety spot.
In the first depth chart released, Johnson is listed ahead of Sanford, but with Johnson sitting out of practice with a hamstring injury, Sanford could jump ahead on the depth chart.
The Vikings need better production at this position and hopefully one of these guys could be the answer.
Another position battle which seems to be about over is weak-side linebacker. When Ben Leber left the Vikings as a free agent to go the the Rams, the weak-side linebacker position became wide open.
Early candidates for the job included Ross Homan, Jasper Brinkley, Kenny Onatolu and Erin Henderson, brother to star middle linebacker E.J. Henderson
As of right now, Erin Henderson is slated in the top spot to play alongside his big brother in the starting position.
Bright Spots
After a few intense weeks of training camp there have definitely been some bright spots that have emerged for the Vikings.
For starts, cornerback Cedric Griffin, who is coming off of two ACL surgeries, seems to be on track and ready to go for the season opener. This is an insanely impressive feat which has been quietly overcame by Griffin.
Coach Leslie Frazier seems to have handed the reigns of the team back over to star running back Adrian Peterson. Musgrave's offense is one that incorporates the running back way more than previous offenses Peterson has played in, especially in the passing game.
Peterson's energy and excitement seems to be renewed with the teams new look and new offense.