Tennessee Titans and Chris Johnson Prepared to Make NFL History Financially
August 11, 2011
Streeter Lecka/Getty Images
Just three years ago, the Titans were looking to possibly run the table during the regular season, but now they'll most likely make NFL history in a different way.
The long standing Chris Johnson holdout looks to be nearing an end as Titans GM Mike Reinfeldt has said the team is prepared to make Johnson the highest-paid running back in NFL history as long as he reports to camp first.
Johnson stands to make a base salary of around $800,000 this season if a new deal isn't put together by the Titans.
I think we can all agree that Johnson deserves more than that, but being the highest-paid in NFL history might be a stretch for me.
Johnson's production took a major dip last season, and he had numerous games where he was a complete non-factor.
In critical games against Pittsburgh, San Diego and Houston, Johnson was held to under 60 yards rushing.
If you're going to be the highest-paid running back in NFL history, those kinds of games can't happen. Simple as that.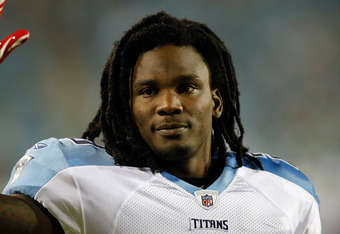 J. Meric/Getty Images
This is a risky proposition for the Titans considering the average shelf-life of an NFL running back. The Titans could really end up putting themselves in a tough spot financially for years to come if Johnson gets injured, his production drops, defenses figure him out, or all all of the above.
However, the Titans really don't have much of a choice in the matter. Without Johnson lining up in the backfield to threaten the opposition, the Titans quarterbacks would have very little chance in throwing the ball.
This could end up being a blessing in disguise. Maybe this whole soap opera will force Johnson to play with a chip on his shoulder to prove to everyone that he's worth being paid the highest amount in NFL history.
Those are lofty expectations, but if he delivers, the Titans could be in for a good season after all.
You can't really blame Johnson for wanting to break the bank because in the end it's still a business. Sometimes that gets lost in the love for the game itself.
On the other side, it's also somewhat disheartening that Johnson couldn't have shown up to camp to help the team and workout with his teammates to get better. Almost like football comes second to the price tag for Johnson.
The Titans have bulked up at running back over the last few seasons with Javon Ringer, Stafon Johnson and 2011's fourth-round draft pick Jamie Harper.
In fact, Harper has a good shot at leap-frogging Ringer on the depth chart to be Johnson's backup. Harper has looked great in training camp and has been displaying his downhill running ability nicely.
To go back to Johnson, if this deal is going to be done, then it needs to get done as fast as possible. It's vital that Johnson starts learning the new system that's being put in place and that he starts getting familiar with his new coaches. 
In other words, Johnson sitting out of training camp is not doing any good for anyone.