Chicago Cubs: Is There a Plan Jim Hendry, Because Winning Now Means Nothing?
August 12, 2011
Brian Kersey/Getty Images
The Cubs won another game Thursday, and I can't help but think how harmful that is for the future of the team. Winning now means nothing!
Last year, the Cubs let a hot finish sucker them into keeping things generally intact, and selecting a manager to run the team who has no business in a major league dugout.
Now that they have won nine of their last eleven games, I'm seeing the same thing happening again, and this madness needs to end now!
Jim Hendry recently said they were only a few moves away from contending next year, and Alfonso Soriano came out in Thursday's Chicago Sun Times saying, "It's good we realize how good we are...because (it gives) more confidence for next year."
It's time to state what everyone realizes except for the Cubs: they're not good.
If the plan is to keep on doing what they're doing, the only outcome possible is failure.
Reed Johnson started for the second game in a row yesterday and is hitting .349. He would be a really nice piece for a contending team, but he serves no purpose on the Cubs other than hurting them by producing.
You would think that Hendry could find a taker, and maybe get the Cubs a decent prospect in return for him (if he knew what a decent prospect looked like).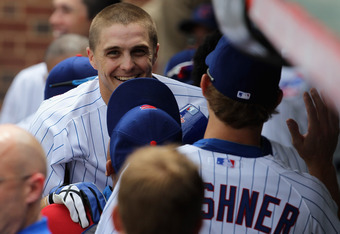 Jonathan Daniel/Getty Images
Not only is he helping them win games, he's keeping the young players on the team from getting playing time from a manager who's trying to keep his job. He's also lowering their draft pick next year with each meaningless win.
"Q" should be told to play Colvin and Campana, but since he seemingly has an aversion to them, you have to get rid of the veterans that he is so fond of putting in the lineup every day.
He keeps mentioning that Colvin has to earn playing time, but how can he when he gets irregular playing time?
How come Tony Campana didn't play on Saturday last week after having a career game on Friday? Didn't he earn it, or does that only apply to veterans?
How can you find out if they're any good if you don't play them? They certainly should not be sitting so a journeymen can get at-bats.
The timing is ripe for wholesale changes.
They should let Aramis Ramirez walk after the season. Let Carlos Perez go instead of re-signing him. Find a taker for Marlon Byrd and his 22 ribbies, because that just doesn't cut it for a starting outfielder.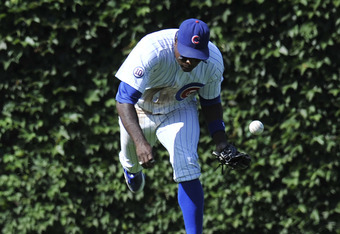 David Banks/Getty Images
And once and for all, get rid of that albatross Soriano. He's a loser. He should not be around any of the young players because he is the worst possible example for them to watch on a day-to-day basis.
It is possible to find a taker for him if you have a general manager with smarts. Does anybody remember the trade Toronto made earlier this year dumping Vernon Wells and the $86 million dollars owed to him to the Angels? They only sent $5 million dollars to consummate that deal, with the Angels assuming the rest of the contract.
In addition, they received two players in return, including Mike Napoli, a catcher/first baseman. He has a .390 OBP this year with a .982 OPS, 18 HR and 42 RBI in only 228 at-bats. Unfortunately those numbers are with Texas, because they unloaded him shortly after the trade for Frank Francisco.
Both contracts they assumed come off their books after this season, so they cleared money to move the team forward.
Hendry meanwhile, had to pay almost all of Kosuke Fukudome's contract to dump him while getting fringe prospects. .
A General Manager has be a salesman and build value in what he's trying to deal. When is the last time Jim Hendry has won a trade other than acquiring the immortal Jeff Baker, who he refused to deal because he plans on bringing him back next year?
That's the problem with the plan. If Jeff Baker is part of it, there is no plan, and there never has been with Hendry in charge. He keeps doing the same thing year in and year out and expects a different result. We all know that's the definition of insanity, and he's driving Cubs fans nuts.
It's time for the owner, Tom Ricketts, to back up his introductory speech when he took over the team saying that the "No. 1 goal is to win the World Series and to be the best franchise in baseball." 
You need a plan to accomplish that, not magic beans. This fairy tale has been a nightmare for far too long.