What the Cleveland Browns Proved in 2010 to Make 2011 More Exciting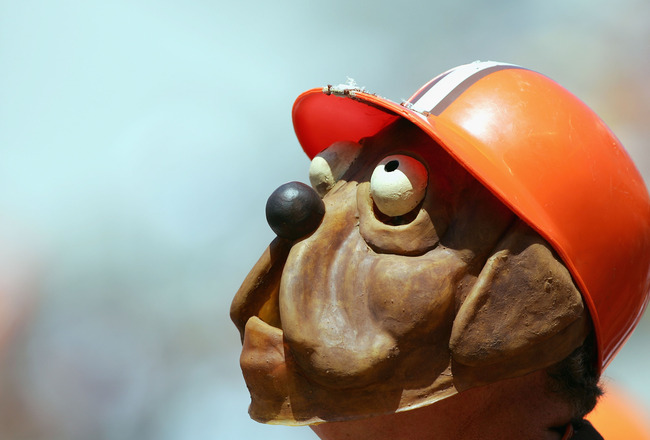 Harry How/Getty Images
I'm excited for this Browns Season. Are you?
7 Reasons to Be Excited for the Cleveland Browns 2011 Season is an awesome article—very good and informative—but I'm noticing a few other things that are making me very excited.
Last year we saw some signs of promise in a team that otherwise would have been as forgettable as all the others. Unlike other losing years, every week in 2010 it seemed like the Browns had a chance to win.
Great news for this season because almost all of the 2010 team is back!
Here are some positive signs that this year is going to be epic.
7 of the Browns 11 Losses in 2010 Were "Almost Wins"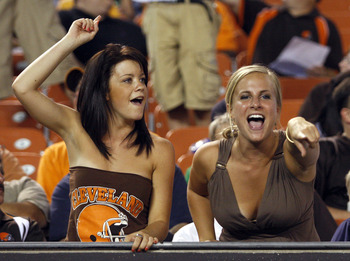 Justin K. Aller/Getty Images
Almost winning a game was exciting for us Browns fans. Just being in it felt amazing.
Unlike the losses in 2009, which were virtually all blow-outs, in 2010 we saw losses where one score could have won or tied the game. That's a drastic improvement for the Browns!
To put it into perspective, the Browns total points scored and allowed in 2009 were 245 to 375. That means the Browns lost the season by 130 points.
The Browns total points for 2010 were 299 to 332. We only lost the season by 33 points. Amazing!
There is nothing like feeling as though you are in the game all the way into the fourth quarter, rather then knowing you don't stand a chance 30 seconds into the first quarter.
Joe Haden
Mike Ehrmann/Getty Images
If Joe knows where you're going, he's taking your football.
There is a reason why this guy was a first round pick.
Haden's late season performance against Jacksonville was proof that he was a good pick.
In seven games he racked up six interceptions, one forced fumble and has broken up over 20 passes.
It's nice to have a guy like this in the backfield.
A Drastically Improving Defensive Line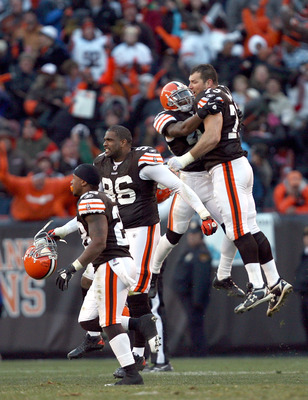 Matt Sullivan/Getty Images
In 2009 the Browns allowed 375 points, in 2010 that number dropped to 332.
It may seem like a small difference, but it's actually a large improvement compared to other seasons.
It looks like the 2010 draft picks are working well. The Browns second-round pick T.J. Ward has become a beast on the line, leading the 2010 Browns season in tackles with 123.
Plus, with some veterans at defensive end to help keep the Browns younger talent in check, I'm assuming we are going to see less points allowed this year than last.
Petyon Hillis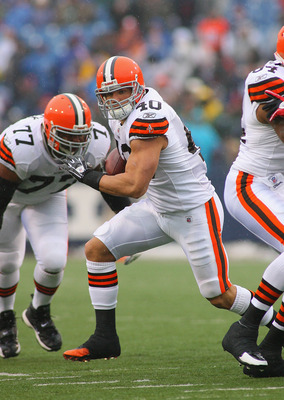 Rick Stewart/Getty Images
Where did this guy come from?!?*
This almost unknown running back had some big shoes to fill following Jamal Lewis, but on September 19th, 2010, against Kansas City, all of Cleveland became believers.
With over 1000 rushing yards last season, Hillis has become a sign of hope for the Browns offense. He provides plays when the Browns need them and provides the fans with some excitement when we want it.
Oh yeah, there is that whole cover of Madden thing, too. We can only hope he avoids the curse.
*Answer: Arkansas
An Offense Thats Works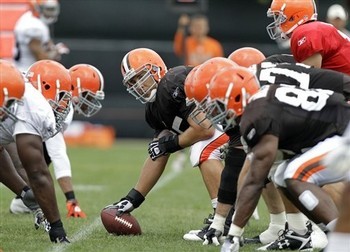 In 2010, the Cleveland Browns added almost 1000 more yards on offense than in 2009.
That's great news!
The Browns also added over 50 more points than in 2009.
That's even greater news!
Every coach and player in the Browns offense seem to be ducking the question of whether or not they are going to be better this year than last, but the people at camp think this is the best offensive line the Browns have had in years.
Creating that extra half second is going to be the difference between a punt and a touchdown. We have a good punter, but I'd rather him stay on the bench.
Young Guys That Want to Have Fun Playing Football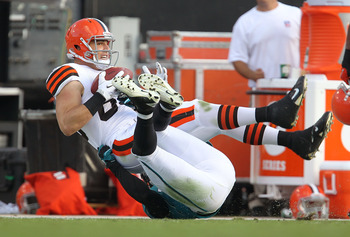 Mike Ehrmann/Getty Images
The Browns are young—mostly under 25-years-old young—and that is usually a cause for concern for most NFL followers.
Not me, though.
This young team has talent and they are going to prove it to us by pulling off some of the dumbest, riskiest and most ridiculous trick plays in all of the NFL. This team is going to make Sport Center's Top Ten Plays on a regular basis. That's what good young players do.
A Coach That Will Let Colt McCoy Go for It!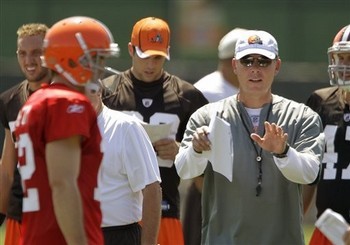 Which quarterback from the 2010 draft had the best rookie season? Sam Bradford.
Sam Bradford played for the St. Louis Rams.
Who was the St. Louis Rams quarterback coach in 2010? Pat Shurmur.
That's good news for Colt McCoy. McCoy has a better caliber of receivers to work with than Bradford, plus he's got Hillis who can slam the ball up the middle. For McCoy, it's like having bulldozer with a wrecking ball attached on the back.
What's great about the offensive line is that they are now going to be able to provide more time for McCoy to line up a pass, and McCoy has proven that he is accurate. That means more passing yards, more points scored and more games won.
It's going to be an incredible season.
Joshua Cribbs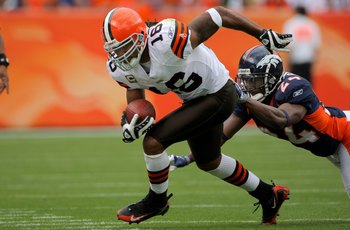 Doug Pensinger/Getty Images
I don't even need to write anything here to explain the awesomeness of Joshua Cribbs, but Bleacher Report says I have to.
So here it is:
Pay The Man!
It Doen't Feel Like Next Year, It Feels Like This Year
The Browns have Talent. The Browns have great coaches.
Place your future bets now!
Come January, the Browns are going to be the team everyone is talking about.
Keep Reading

Cleveland Browns: Like this team?