Baltimore Orioles: Questioning Buck Showalter's Decision Making
August 11, 2011
There is no doubt in my mind that the Orioles are one of the most disappointing teams in Major League Baseball this year.
When you bring in players such as: Vladimir Guerrero, Derrek Lee, Justin Duchscherer and J.J. Hardy (via trade), the expectations for your team will surely rise.
That is, of course, unless you are the Baltimore Orioles.
There are plenty of reasons why the Orioles have struggled this year, but I would like to turn everyone's attention to the so-called "savior" of the Baltimore Orioles organization, Buck Showalter. 
Can anyone honestly tell me that in the time Showalter has taken over this team, you have seen progress within the Orioles organization? Because I surely have not.
Day in and day out, I continuously watch players like Matt Wieters and Vladimir Guerrero fail to run as hard as they can down the baseline. How is Buck Showalter OK with this? In my opinion, I don't care who you are, if you don't give your best effort, then there is no reason you should be playing the game.
Speaking of Vladimir Guerrero, why is he still batting clean up? He is batting .274, with nine home runs and 36 RBI. I know he may be heading towards the Hall of Fame and he has had a great career, but the manager should always put the team first. This being said, there are five players in the Orioles lineup that have more runs batted in and home runs. Statistics don't lie, it's time to move Guerrero down in the lineup Showalter.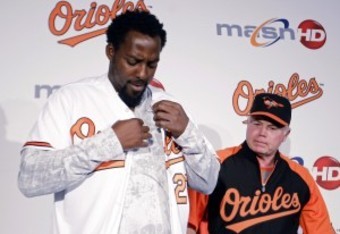 There is one last issue I will address, pitching management.
For example, last night, August 11, Tommy Hunter was pitching a gem until the seventh inning. Hunter ran into some trouble in the seventh inning, so Showalter decided to relieve him and put Jason Berken into the game. Berken has been up and down from Triple-A Norfolk all season due to his inability to get lefties out. So why did Showalter put him in the game against the proven left-handed hitter Juan Pierre? Who knows! For every bad pitching decision Buck (Showalter) makes, his excuse is: "Who else is there." In case you didn't notice Buck, you have two left-handed pitchers in Troy Patton and Mike Gonzalez that you left in the bullpen who have been more consistent lately.
Pierre wound up getting a base hit and tying the game at 4-4. If Nolan Reimold, the Orioles left fielder, didn't save the game with a walk-off home run in the 10th inning, Showalter would be under a lot more heat.
The Orioles need to find an emotional manager who makes decisions on what is best for the team. I'm begging you Peter Angelos, fix this organization!