Derek Cameron Wake: His Story and Why He Will Lead the NFL in Sacks in 2011
August 12, 2011
Doug Benc/Getty Images
If you watched the Miami Dolphins last year then you definitely know the name Cameron Wake. Cameron Wake is the Miami Dolphins extremely talented pass-rushing specialist. In 2010 he used his incredible athleticism to take down 14 quarterbacks; that number will rise in 2011.
He has an incredible knack for beating lineman and double teams. He is a bull rusher who uses great speed, power and leverage. He's relentless and doesn't take plays off. If you count all of the holding penalties that he drew last year he could have easily amassed over 20 sacks.
At one point last season Cameron Wake was leading the NFL in sacks, and by a comfortable margin too.  This number is even more impressive considering that three years ago he wasn't playing any professional football.
Cameron Wake was undrafted in 2005 out of Penn State University; a school renowned for the talent that it puts out at the linebacker position. Wake, however, wasn't as fortunate as some of his predecessors. He didn't play any professional football for two years, but never gave up on his dream.
Working a 9-5 job in Maryland as a mortgage broker was not enough for the now acclaimed pass-rushing specialist. Determined to live out his dream, Derek Wake took a job as a personal trainer for minimum wage to gain gym access so that he could get into pro football shape.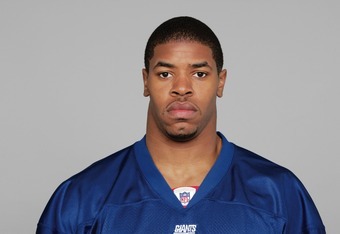 NFL Photos/Getty Images /Getty Images
It obviously worked, because in 2007 he got a contract with the BC Lions of the Canadian Football league.  This is where his birth name Derek Wake would disappear, and the defensive terror we now know as Cameron would be born.
Due to a mistake in BC, coaches and his own agent called him by his middle name, Cameron. He thought that his dreams didn't come true as Derek, so he would give Cameron a try.
He had immediate success. In his first year in the CFL Cameron Wake would become the first player to be rookie of the year as well as defensive player of the year. He followed up with another defensive player of the year season, and decided it was time to give it a shot in the bigs.
A handful of teams worked him out, but it would be the Miami Dolphins that would give Cameron Wake the shot he worked so hard to get. He impressed, and would be given a spot on the roster in 2009.
Cameron spent his first year for Miami in a minimal role; only playing decent minutes in a handful of games. In that time he managed to amass 5.5 sacks and 23 tackles. Cameron worked relentlessly; he practiced harder then ever and knew that this had to be time to make his dreams come true. Studying, learning and working so that he could show everyone what he knew all along he could be.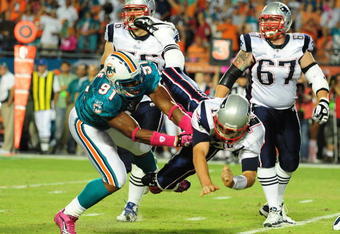 Scott Cunningham/Getty Images
The next year would be different. Everything he had worked so hard for was finally paying off. He was given a starting position playing as an outside linebacker.
Cameron Wake never looked back.
He had a massive 2010 campaign, compiling 14 sacks and 57 tackles. He brought a relentless pass-rush to a defense that was one of the leagues best. For his efforts he was given Pro Bowl honors and a starting position on the AFC team.
This year his situation is even better and the once upon a time undrafted kid is ready to reach his full potential. He is on a defense with an extremely deep defensive line in front of him to occupy blockers. He has second year pass rusher Koa Misi opposite him to take some of the heat off.
Wake will also have the opportunity to play with Jason Taylor, who was once a defensive player of the year and a talented pass-rusher himself. There is no doubt that the former superstar will shed some of his knowledge on the breakout star.
All that aside, Cameron Wake will lead the league in sacks because of the person he was and is today.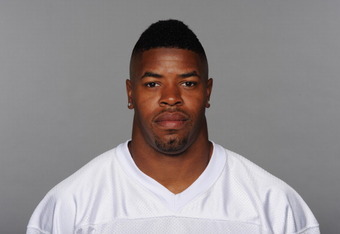 Handout/Getty Images
There are plenty of great rags to riches type stories in the NFL. James Harrison was cut from multiple practice squads and finally got his shot. Clay Matthew was a walk on at USC and is now a feared pass-rusher.
Those don't compare to the story of Derek Cameron Wake.
The rejection of being undrafted and then being cut from the New York Giants took its toll. He suffered through the restlessness of the rate race; knowing all along that he was meant to be out on the battlefield.
Then working for minimal pay at a gym, fighting with everything he had just to get another shot.
He has worked harder than anyone and knows that his time is right now; he can not and will not let it pass him by.
So the man coming out of the tunnel every Sunday won't be the undrafted kid from Penn State. It won't be a mortgage broker from Maryland or even a personal trainer. Derek Wake is gone.
The man coming out of the tunnel fighting for every chance to rip a quarterbacks head off will be Cameron Wake; a player who will be recognized one day as the best pass-rusher in the NFL.