San Diego Chargers' Marcus McNeill out for 2 Weeks Following Knee Surgery
August 11, 2011
Justin Edmonds/Getty Images
With the start of the preseason less than eight hours away, the San Diego Chargers were dealt another injury setback by one of their key players.
Offensive tackle Marcus McNeill will not be on the field with the Chargers' first-team squad as they get ready to take on the defending NFC West champion Seattle Seahawks.
According to The San Diego Union-Tribune and NFL.com, McNeill underwent an arthroscopic left knee surgery to remove bone spurs.
McNeill is expected to miss two weeks of practice and next Saturday's game against the Dallas Cowboys.
The two-time Pro Bowl left tackle protects the blind side of Pro Bowl quarterback Philip Rivers. McNeill missed five games to start the 2010 season (serving a team sanctioned four-game suspension), having held out during training camp due to a contract dispute.
In order to salvage the chance of getting a long-term contract extension, McNeill reported to camp and signed his restricted free-agent tender worth $444,705. McNeill went on to start the rest of the season at left tackle for the Chargers.
McNeill got his wish.
Chargers general manager A.J. Smith rewarded him with a five-year contract extension worth $48.5 million, with $24 million guaranteed, that would keep McNeill in San Diego through the 2015 season.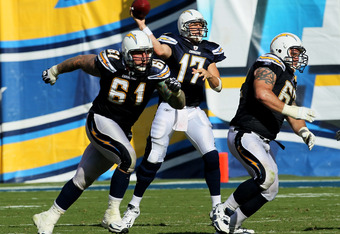 Stephen Dunn/Getty Images
In McNeill's absence, third-year offensive tackle Brandyn Dombrowski was moved from right tackle to left.
Dombrowski will once again find himself guarding Philip Rivers' blind side.
Dombrowski has been taking the snaps with the first-team offense in practice and will get the start in Thursday's preseason opener at home versus the Seattle Seahawks and next Sunday's road game against the Dallas Cowboys.
McNeill is expected to be at full strength by the start of the regular season at home against the Minnesota Vikings; however, Dombrowski will provide added insurance should anything happen to McNeill during the season.
In other Chargers injury news, running back Ryan Mathews, who has been hampered by a strained upper leg muscle during training camp, may see limited action on Thursday night's preseason opener.
There has been no word on whether tight end Antonio Gates or linebacker Larry English will play either.