Detroit Lions: Which Holes Have the Lions Failed to Address?
August 11, 2011
Doug Pensinger/Getty Images
With the rash of training camp injuries the Lions have had to this point, talking about the holes in the team may feel like piling on.
But the moment before the Lions' first 2011 preseason game is probably a good time to dump some cold water on those that believe Detroit's is a flawless roster.
Okay, maybe nobody is quite that optimistic.
But I have heard the words "Super Bowl" mentioned on this board a couple of times. I don't think that's bad, but it's kind of like the playoff predictions laid out in 2009. You absolutely should go into the season with lofty expectations, but that doesn't mean they're likely to come to fruition.
That's especially true this year. The Lions are more talented this year than they've been since the 1990s, and defensively, this might prove to be the best group the Lions have fielded since their glory days in the '50s.
That said, groups that are more talented than this fail miserably every year, often because their one weakness detracts from every team strength.
I'm not prepared to say the Lions will have only one weakness this year. There is no way of knowing how well the Lions' draft picks and free agency signings will pan out.
I can, however, say that there is only one hole the Lions have failed to address.
Power running back? Addressed in the draft. The fact that Mikel Leshoure is down for the season doesn't change the fact that the Lions addressed the position.
Cornerback? Eric Wright and Chris Houston will man the corners. Neither is Nnamdi Asomugha, but they're both better than the players on the roster already.
Wide receiver? Between Derrick Williams' resurgence, Titus Young joining the team, Demario Ballard being a super UDFA and Stefan Logan showing reliable hands in camp, it seems the Lions now have more receiver help than they know what to do with.
Linebacker? Addressed in a big way in free agency with Stephen Tulloch, Justin Durant, and Bobby Carpenter.
Offensive line? Left alone. Whether it's a hole or not this year depends on who you ask (fans and media say yes, coaches say no), but there is absolutely no question it needs a long-term overhaul.
I don't know if the Lions' offensive line is so bad that it will detract from the rest of the team, but it certainly has that potential.
The Lions have been playing chicken with the offensive line for the last couple years. By most accounts, the line's current construction is acceptable for the time being. There are some veterans on the way out the door, and some younger players with question marks, but with spit, duct tape, and luck, it ought to hold together for one more year.
That's a risky proposition, certainly, because everybody knows the Lions' offensive line needs an overhaul. It's just a matter of how long they can wait to do it. Obviously it was a priority for the Lions' front office to wait until Jeff Backus' mammoth contract comes off the books before sinking more money into the line.
However, because they've waited this long, they're in an advantageous position to find Backus' successor. Backus is one of the highest-paid players in football, and his contract is just about through.
Furthermore, if the Lions spend a first or second-round pick to replace him next year (and they probably should), the new rookie wage limitations will prevent the Lions from having to break the bank on a new LT, which may allow them to bring Backus back at a reduced rate for depth and mentoring.
Of course, that is a scenario based on everything working out perfectly. That has already been thrown into question with Backus suffering a pectoral injury. There is very little quality depth behind Backus, because the man's greatest claim to fame is his durability.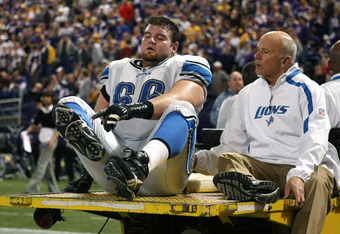 Elsa/Getty Images
Now, the Lions have been trying to take a sort of stealthy slow-build strategy with the offensive line thus far, which sort of goes hand-in-hand with them drawing the line's current construction out. It seems that the best case scenario for the Lions' front office is to let mid-round picks and reclamation free agent projects step into the roles soon to be vacated.
Specifically, it's obvious that the Lions would like for former fourth-round pick Jason Fox to step in and replace Backus at left tackle, and that they would like for Tony Ugoh, Johnny Culbreath and Corey Hilliard to step into expanded roles eventually.
That sounds good under ideal conditions. Let the projects develop on the bench while the veterans play out their contracts.
Problem is, the Lions are facing less-than-ideal conditions. Backus is injured, which should bump Jason Fox up on the depth chart. Fox, however, is also out with a minor injury. Hilliard is doing well, but his play is expected to bump out the disappointing Ugoh. Culbreath has potential, but won't be ready for game action for at least a year, probably two.
Injuries have been an issue for the Lions for years at every position except left tackle and center. Ironically, those are the two positions that most need replacement now.
It's also notable that, unlike the rest of the line, the Lions have no young project player poised to replace Dominic Raiola. Raiola's contract runs for a few more years, and he does a fantastic job running the offense and recognizing defenses. He likely has a future in coaching when his playing days are over, because he has been a student of the game for his entire career.
Still, Dylan Gandy is the only other player on the roster with the ability to snap the football to someone other than a kicker or punter. And Gandy is talented, but at 30, he's not exactly a long-term developmental solution.
The Lions have been trying to build the rest of the team regardless, trusting that the line would be at least above-average overall if it remained healthy.
The problem is, that hasn't happened, and although this is reactionary, we may be seeing a potentially clever O-line rebuilding plan hitting a wall. The Lions are likely still planning to let the line's current set burn itself out, only to let the second string eventually take over as starters.
Problem is, the Lions have neither the assurance that the starters will last long enough to let the kids develop, nor that those young players will actually develop into the players the Lions think they will. If it works, the Lions look like absolute geniuses.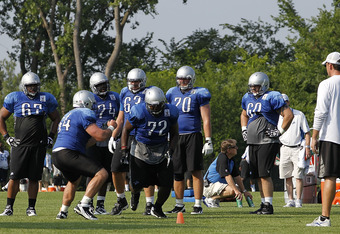 Leon Halip/Getty Images
If it doesn't, the whole unit is in danger of falling apart, and the Lions will be in an uncharacteristic scramble to rebuild a unit that they let implode.
Of course, those are both extreme-case scenarios. Most likely they'll fall somewhere in the middle, with some young players working out and the veterans more-or-less holding their own, but the big question is, where does that leave the Lions in 2011?
The good news is that while the line is hobbled, none of the injuries appear to be threatening to regular-season action. That is to say, nobody is likely to miss games. That's a good thing, since it's a little frightening seeing Culbreath and Hilliard taking first-team snaps at the tackle positions.
But will these injuries linger? Will they affect the regular season performance of these players? Will they recur?
The Lions have waited as long as is physically possible to make real, significant changes to the offensive line. The unit as it stands (aside from Rob Sims, who should become a fixture) is mostly running on fumes. The Lions were hoping they could ride those fumes and coast into next season to refuel.
That could still work, but this training camp should make us all a little bit wary of what happens if they fall a couple miles short.