Philadelphia Eagles Preseason: It's Vince Young's Time to Shine
August 11, 2011
Hunter Martin/Getty Images
Alas!
We've weathered the wet spring of El Nino and climbed amongst the piles of waste of what is the recession, only to find that our one true love, our one meaning-for-being, our godly sport, Football, was being held captive.
We screamed, we blogged and we trolled on the ESPN website from our BlackBerries as we re-charged their failing batteries.
We argued with the guy sitting next to us in coach, while arguing about his favorite team's coach.
Then we waited and waited, hoping for any sign of life, a pulse.
We texted while driving, smoked too many cigarettes, yelled at an old woman for turning down the TV just before the next episode of SportsCenter was about to air.
We watched full games of baseball.
We did all these things...things to show how much we cared about this sport, this...Football.
Or at least I have.
Regardless of whether you think the lockout was a big deal, it doesn't really matter anyway.
The reality is, we've lost nearly no real time away from practice, except for some of them new kids and old folks who don't like to practice anyway.
Be that as it may, the Eagles have made some great moves through free agency. In the 10 years I've been following the team, this was most certainly their best free agent signing class.
We have already heard stories from fans and non-fans about some big shot quarterbacks and defensive guys who aren't supposed to work out well in Philadelphia, but of course, all those fans aren't fans of Andy Reid.
Reid has a lot on his plate even just this preseason as he attempts to whittle his roster down to the league mandated size while trying to figure out what great talent he must let go.
I fully expect him to be able to work with new QB Vince Young as well as some of the new rookie backs in order to get them into NFL playing shape.
Right now, they're just in college shape, except Vince Young; it seems he's come into Philadelphia after eating half a lineman.
Large girth mammals aside, this team has added a lot of new additions, on both sides of the ball.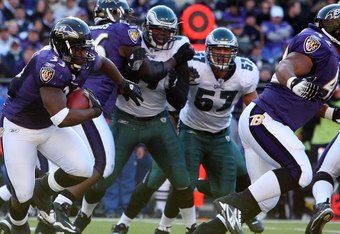 Jim McIsaac/Getty Images
If there ever was a coach out there who could turn all this talent into trophies, it is Andy Reid.
Don't call them the "Heat of the NFL," for the Miami Heat don't have a real coach; the Philadelphia Eagles do.
Eagles fans will get a little sampling of what's to come this season when they stare at their televisions tonight at 7:30 p.m. EST when the Baltimore Ravens come into town to spread a little Philly love.
Likely starter Michael Vick will see very limited time, which is OK for Eagles fans; we don't want him to get hurt...
 
And, we do want to see Vince Young.
Despite not fairing so well thus far in his young NFL career, Young did show signs of hope last season.
Young is the definition of a prototypical NFL quarterback: tall, great arm, not too skinny, somewhat quick on his feet.
Andy Reid is hoping to mold him into that prototypical NFL quarterback.
Whether or not he is second or third string on the QB depth chart, we should get to see a lot of Vince Young over the upcoming few weeks.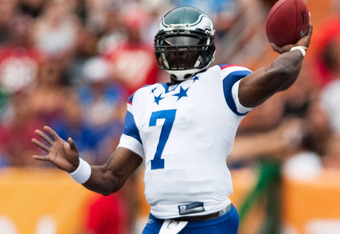 Kent Nishimura/Getty Images
A steady workout program with a group of motivated men to hang around with should take care of any weight issues Young might be having.
Emotional issues?
Yeah, the Philadelphia Eagles organization is good at dealing with that, too.
Preseason game or not, there will be multi-million dollar football stars out there tonight.
Ladies and Gentlemen, it's time for football once again.

Daniel Kablack is the editor and founder of BigEastVoice.com - An online newspaper with the latest events in Big East athletics, he also covers the Philadelphia Eagles and Philadelphia Phillies.
You can follow BigEast Voice on Twitter at http://www.twitter.com/bigeastvoice