Big Ben's Cross: Crusading Toward Redemption and Pittsburgh Steeler Title No. 7
September 12, 2011
Streeter Lecka/Getty Images
"Big Ben Roethlisberger QB of 6 Time Champion Pittsburgh Steelers—Humiliated by Ravens"  was a headline I thought about using for this article. Then I was reminded by Coach Bill Cowher's old saying after a loss, "It's not how you start, it's how you finish that matters most."  I couldn't agree more.
The finishing starts with No. 7 though, Team Captain, Big Ben Roethlisberger—who knows a thing or two about humiliation. It's the point of this article to show why Ben's Christian worldview will help to sustain both him and the talented Pittsburgh Steelers towards another Title shot.
What Big Ben really believes about himself is critical, because as the QB, and Captain of the offense, he is the emotional and spiritual leader of The Steelers—Ben is in charge of putting points on the board—winning football games. So where Ben's confidence level sits through the next 15 games is mission critical. 
If Ben Roethlisberger is confident, it will transcend to every player on The Steelers—offense and defense. Sure, The Pittsburgh Steelers have other leaders, but in the end for this Steeler team—they ride on Big Ben.
Being a Christian is the most positive philosophical asset Ben Roethlisberger can offer his teammates. As a Christian you have to learn to face negatives head-on, and then block-out the things you don't control—hand those things over to Jesus, as they say. Ben knows this big-time.
Maybe some of you don't think this "spiritual stuff" matters? Take a look at Tiger Woods—he has yet to recover his championship winning game, because he has yet to face his dilemma head-on. I don't care how many caddy's or swing changes Tiger goes through, his game will not recover until he faces the need to redeem his life from God's vantage point.
As a Christian myself, I can think of no greater statement of humility then professing Christ as Lord and Savior, especially in a world that is not particularly fond of people being called "sinners" as a moniker by evangelical Christians.
For those who are of the Christian faith like Big Ben, we all understand about "carrying our cross" daily.  I imagine it's difficult when you are star QB like Ben Roethlisberger, because playing for a storied franchise, such as The Pittsburgh Steelers adds a lot of pressure and temptation—carrying The Cross of Christ can get a bit heavy at times, enough to want to lay it down. The problem is, trouble always seems to follow these "brief" respites. So it was with Big Ben in the recent past. 
If you remember, last year the city of Pittsburgh and Steeler Nation didn't really know what to expect from their Big Ben. Many wondered; was Big Ben repentant, was he fixable, would it be worthwhile to keep him, or, should he be traded, thought some. 
I have to admit, I too started to doubt his credibility, I felt playing in the lime-light of the NFL soured some of Ben's earlier humility. Then I realized how easy it is to be critical of others, we could all use some replays in life, and Big Ben Roethlisberger is no different. 
As we all awaited Big Ben's NFL suspension to be lifted I think most of us were a bit nervous for him. I remember contemplating Ben's awkward situation; it made me think of my own set of imperfections. Personal hardships whether earned, or brought on by circumstances beyond our control, can be used in one of two ways: We can be bitter, and lead a failure prone life, or begin to build a humble championship character—only time would tell in Ben's case I thought.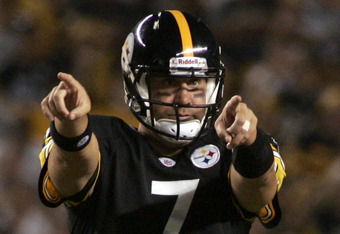 Justin K. Aller/Getty Images
Then it happened. Big Ben walked on to the playing field and seemingly never looked back. The city of Pittsburgh and Steeler fans everywhere were relieved to watch Big Ben grow and embrace personal responsibility. We saw Ben walk-out his Christian faith, game by game, ultimately helping to lead his team to The Super Bowl. Although, The Pittsburgh Steelers winning ways stopped one game short of another championship, we witnessed a team lead by young man who grew in character, and no doubt a closer relationship to The Savior—Priceless.
Now here we are a year later, and what a difference a year can make.  Expectations are high in the city of Pittsburgh for a return trip to the Super Bowl irrespective of yesterdays humbling loss.  Once again to borrow from Coach Cowher, "it's not how you start its how you finish that matters."  Ben Roethlisberger is a finisher. I believe Big Ben will use his hard lessons in life to lead The Pittsburgh Steelers to another Title—and most importantly, The Crusade of personal redemption.
.