Are Atlanta Braves' Eric O'Flaherty, Johnny Venters and Craig Kimbrel Overused?
August 10, 2011
Scott Cunningham/Getty Images
We all know just how dangerous the Braves trio of Eric O'Flaherty, Johnny Venters, and Craig Kimbrel are. Kimbrel leads the league in strikeouts per nine innings (amongst pitchers with meaningful innings). Venters is borderline unhittable. O'Flaherty has been dominant in his own right, even if he's the only one of the three to sport a WHIP above 1.00.
The Braves bats have picked up lately. This is partly due to the resurgence of Dan Uggla and his 30-game hitting streak. The Michael Bourn trade and Jose Costanza's unlikely play also has a good deal to do with it. But keep in mind that the Braves have been producing runs even without stars Brian McCann, Chipper Jones and the mysteriously-benched Jason Heyward.
So what does that add up to? It means that the Braves are getting late into games with leads, and then leaning heavily upon the scariest 7th, 8th, and 9th inning pitchers in baseball. The odds of the tomahawks winning the game if they have the lead after six innings are astronomically high, and this is part of the reason Atlanta is leading the Wild Card. 
But is that a problem? The Braves have one terrible reliever in Scott Proctor, a few decent relievers in George Sherill, Anthony Varvaro, Cristhian Martinez and the Holy Triumvirate. But you wouldn't trust any of those other guys with a one-run lead, and neither would I. So that means that O'Ventbrel gets more use than any of us would like to see.
They've thrown 177 innings between the three of them, with Venters having thrown an astonishing 67 innings. That's scary. Making the playoffs is of course the priority, but without these three guys, what chance do the Braves stand?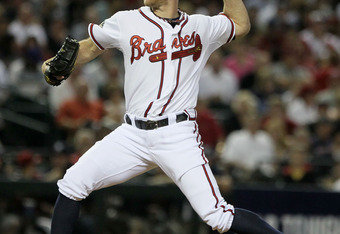 Jeff Gross/Getty Images
When rosters expand, some minor league aces will get called up, but that won't alleviate this problem. You dance with the one who brung ya, and that's the three dominant relievers. 
What it adds up to is simple: we can't keep pitching these guys. They need rest before their arms fall off. That falls on several people. We need our starters to pitch deeper into games. We need our offense to give us bigger leads so that starters can do that. We need better pitching from Sherill, Varvaro and Martinez (who have been decent, admittedly). 
Most of all, we need Fredi to stop putting our three studs in the game so much. If it means a loss, so what? Is that really such a problem? I'd rather lose one here or there and run the risk of a close playoff race than the alternative: losing E'OF, Venters or Kimbrel. They are irreplaceable. 
This is a problem right now, and it will be a problem later too if it isn't fixed. Here's to hoping that someone important is paying attention.