MLB: Future Hall-of-Famers on the Boston Red Sox, Jays, Orioles and Rays
August 9, 2011
Elsa/Getty Images
We are discussing the players on each team in the American League East who will have an excellent chance of becoming Hall-of-Famers if they continue to produce at their current levels. Some have already achieved certain Hall-of-Fame status.
Today, it is the Boston Red Sox.
Boston Red Sox
1. Jon Lester
Admittedly, it is premature since Lester is only 27 years old, but if he can continue to be as effective for the next seven or eight seasons, he is a Hall-of-Fame shoo-in.
Lester has great ability as his record shows. He has a 72-30 record for a .706 percentage. Only Spud Chandler has a higher career mark (.717) since 1901.
Red Sox fans would love it if Lester finished his career with a higher won-lost percentage than Whitey Ford (.690).
An important factor is that Lester is left-handed. Most southpaws have had problems pitching in Fenway Park with its short left field wall, which makes Lester's achievements even greater.
Chances of Making Hall – 75 percent.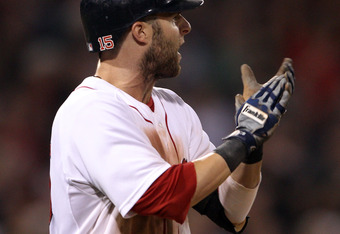 Elsa/Getty Images
2. Dustin Pedroia
Similarly to Robinson Cano, if Pedroia can continue at his present level for seven or eight more seasons, he is a shoo-in for the Hall-of-Fame.
Although he has less natural ability than Cano, Pedroia is one of those players who gets every ounce out his talent. He is one of the great players in the game.
Pedroia has batted .306/.375/.463, which is close to Cano's 307/.346/.491 and Hall-of-Famer Roberto Alomar's 300/.371/.443.
In 2007, Pedroia was the Rookie of the Year. The following season, he was the American League MVP.
Chances of Making Hall – 75 percent.
Valdimir Guerrero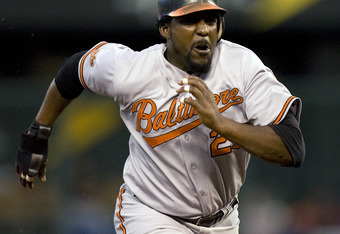 Ed Zurga/Getty Images
There is little doubt that Guerrero is nearing the end of a Hall-of-Fame career.
In 2004, he was the American League MVP and was voted one of the most feared hitters in baseball in a 2008 poll of all 30 major league managers
He has batted .318/.380/.555, averaging 34 home runs, 113 RBIs and 57 steals over a 162 game season.
Chances of Making the Hall – 95 percent.
Evan Longoria
The only player on Tampa that has an outside chance of making the Hall-of-Fame is Evan Longoria. He has hit .274/.356/.508, which are not Hall-of-Fame numbers.
Longoria is only 25 years old, which means that most of his career is ahead of him, but he must step up the pace significantly for any chance of making the Hall-of-Fame.
Chances of Making the Hall -- 50 percent
The only Blue Jay who stands out among the crowd is Jose Bautista. The problem is that Bautista didn't start to produce offensively until last season when he hit 54 home runs at the age of 29.
If he can continue to excel for the next five years, he might have an outside shot at the Hall-of-Fame, but his career totals will not be good enough.
This season, Bautista in hitting over .300 (.315) for the first time in his career. His lifetime batting of .253/.357/.479.is lacking, but if he dominates the next few years, he can make it close.
Chances of Making the Hall – 25 percent.