Fantasy Football 2011: How to Draft at Each Position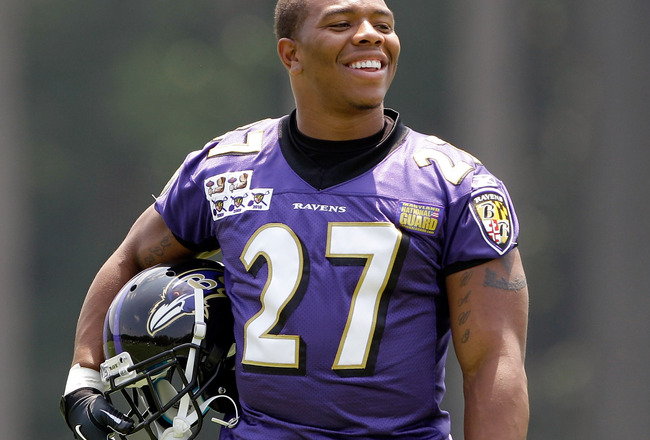 With a new FB and a depleted backfield, Ray Rice has plenty to smile about
Rob Carr/Getty Images
Now that the NFL Lockout has cleared and the dust has settled (for the most part) on the free-agency period, it is time to begin our beloved Fantasy Football seasons. Our drafts are right around the corner, and anxiety builds each day.
Are you a first-timer and want to make a splash your rookie season? Did you finish at the bottom of your league last year and are tired of the jokes? No matter your situation, I've got some advice that can help you top the tables this year.
Draft Strategy: Quarterbacks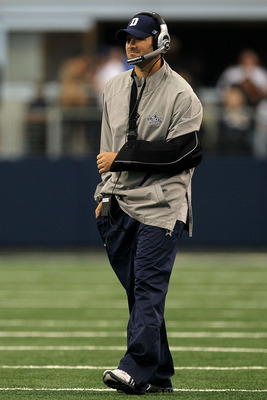 Tony Romo is back on the field and ready to put up some big numbers
Stephen Dunn/Getty Images
Your first few selections depend heavily on your draft order, but your strategy for drafting a QB should apply to any situation. My No. 1 rule for drafting a QB is to wait. Yes, the top six QBs this year (Vick, Rodgers, Manning, Brady, Rivers Brees) are going to put up some big numbers, but do yourself a favor here and let your opponents squabble over them.
The quarterback position in Fantasy Football is the deepest of all positions. Yes, there is some drop off when you draft a second-tier QB, but it is nothing compared to the drop off at running back and wide receiver. You are best suited using your first 4-6 picks on RBs and WRs because there are fewer productive options available to fill up more slots on your lineup.
In many leagues you could start three RBs or WRs in a given week, and if you draft well early, you will have productive players at each spot. With only one QB spot, it should not be the focus of early picks.
Good second-tier guys this year like Romo, Schaub, Roesthlisberger, Ryan and Freeman are going in Rounds 4-6 in early drafts and are poised to put up comparable numbers to the Top 6. If I were you, I would set your sights on this group.
Another reason to wait is that every year there is a guy who comes out of nowhere to light up the scoreboards that you can pick up in free agency. Two years ago it was Matt Schaub, last year it was Josh Freeman. In their respective years these consistent slingers weren't touched in drafts but were swallowed up after a few weeks of impressive performance.
This year guys like Sam Bradford, Mathew Stafford, Ryan Fitzpatrick and David Gerrard are guys who will probably be skipped over in the draft that could put up good numbers.
Draft Strategy: Running Back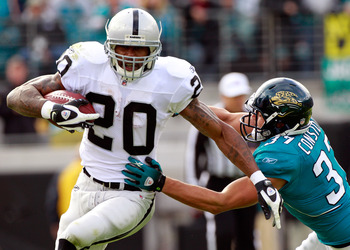 There's no catching D-Mac this year
Sam Greenwood/Getty Images
As I said in the last slide, your early picks will depend on where you get slotted in the draft, but either way running back draft strategy has one big no-no: stay away from committees. There are only a handful of teams remaining that employ a one-back system and these select few are fantasy gold.
Adrian Peterson, Chris Johnson, Ray Rice and Arian Foster will be the first four names taken in almost every draft and with good reason. They are productive and they get all the carries. The early picks are no-brainers, but it is in the middle rounds where this strategy should play out.
Matt Forte, DeAngelo Williams, Ahmad Bradshaw and Knowshon Moreno are all backs being drafted far too high (Rounds 2-4) considering the crowded backfields they are a part of. In that same range are better buys like Stephen Jackson, Darren McFadden, Peyton Hillis and LaGarrett Blount.
Using the same strategy in later rounds (4-6) we see good buys like Shonn Greene, Cedric Benson and Jahvid Best surrounded by stinkers like Felix Jones, BenJarvis Green-Ellis and Jonathon Stewart. It's not to say these backs will have bad years, but in Fantasy Football drafting is all about odds. Running backs that have secured a safe spot as the No. 1 guy have a better chance at putting up big numbers than guys who will be sharing their carries next year.
The only downside to backs like this is that with an increased load of carries comes and increased risk of injury. To hedge this risk, draft the backup to your early picks in the late rounds (12-16). Toby Gerhart (MIN), Javon Ringer (TEN), Montario Hardesty(CLE) and Rashad Jennings (JAC) may seem like throwaway picks in late rounds, but if they get promoted due to an injury to their respective starter you will be in safe hands.
Draft Strategy: Wide Receiver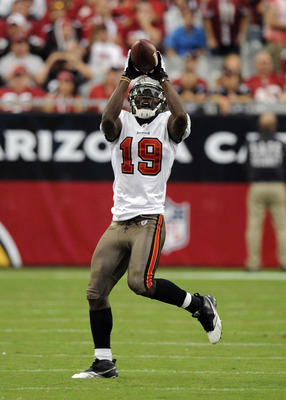 Mike Williams will benefit from being the only horse in the stable for a good QB this year
Harry How/Getty Images
Drafting well at wide receiver has two rules. The first rule is that, if you can help it, try to only draft No. 1 guys. Wideouts from teams like the Saints, Patriots and Eagles may seem like safe picks, but these teams tend to spread the ball around to their arsenal of weapons and your stud can get left out regularly.
The other thing to consider when deciding between WRs is their quarterback. The two Santonios (Moss and Holmes) are terrific talents but are going to have trouble getting good balls thrown their way this year. These two rules are easy to follow in early rounds, but the middle and late rounds are where championships are won.
Let's say we are in the fifth round and you have gone RB/WR/RB/QB with your first four picks and it is time to snag your second WR. You will probably be looking at guys like Mike Williams (TB), Marques Colston, Jeremy Maclin and Santonio Holmes. Which of these guys meets both criteria?
Holmes, like we said, has a dud at QB so he is out. Colston and Maclin have good QBs but violate the first rule and will likely have inconsistent performances this year. Mike Williams, however, is the go-to receiver for a good QB and is the best pick out of this fifth-round bunch.
Draft Strategy: TE, DEF, K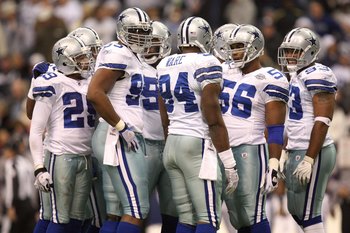 A new DC and an easy schedule make Big-D a sleeper DEF.
Ronald Martinez/Getty Images
Tight End
Drafting at the tight end position can be tricky and can throw your draft strategy for a loop. Since there are so few productive TEs to go around, getting a big-time guy can put you a step ahead of other teams. What usually happens is that once one person takes the dive for the top TE, a run of TEs follow.
Depending on where you are in the draft order compared to the team that started the run, this might hurt your team. This is why, in years past, I have been the one to start the run. This year, Antonio Gates and Dallas Clark are the two top dogs yet again this season. Reaching a bit (fourth round) for one of these guys isn't as bad as it seems because if you start the run, it pushes back all of the picks at the other positions as everyone scrambles to not get left with Chris Cooley or Owen Daniels.
Defense
With defenses, I spend more time looking at their upcoming schedules than their past results. Each season I end up swapping out my DEF many times, opting for a well-performing unit with an easy stretch ahead. It is much easier to predict a bad offense than a good defense and this strategy has worked very well for me in the past.
Last season I picked on Carolina, Buffalo, Cleveland and Washington all year and did quite well. Sure, the Jets seem like a good pick, but they will face the gauntlet this year with games against New England (twice), Dallas, San Diego and Philly. Looking ahead at the first three weeks of the season, trendy DEF pick Philadelphia will have a tough stretch against St. Louis, Atlanta and the NY Giants while the lower-ranked Dallas defense gets wannabees NY Jets, San Fran and Washington.
Kicker
Kicker is the easy pick. If you take a kicker any higher than your last pick then you don't deserve to play the game. Sure, a good kicker is important to scoring points but there is almost no way to tell who is going to be a high scoring kicker at the beginning of the year. Pick a guy who had a lot of attempts and a good percentage last season and prepare to swap out this position often. Guys get hot, guys come out of nowhere, guys get cut… the scoring is too inconsistent to put much thought into it. So don't.
Players To Buy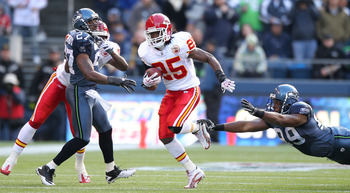 Rocket-heeled Jamaal Charles will compete for most yards this year
Otto Greule Jr/Getty Images
Each year I make a list of players to aim for in my draft, as well as a list of guys to avoid. I keep and eye on roster changes, injuries, offensive lines and other factors to try and tip myself one way or another on a player. I am no expert and this is by no means a comprehensive, round-by-round list. It is just a few guys I have a hunch on and why.
Ray Rice: Willis McGahee left and top FB Vonta Leach arrived. Rice is set for a career year catching and running.
Vincent Jackson: According to recent interviews, his head is in the right place (finally) and will have a huge year as Phillip Rivers does his thing.
Josh Freeman: Uber-consistent and available in middle rounds.
Vince Young: ONLY if you take Vick. He will fill in well as Vick gets dinged up as usual.
Jamaal Charles: Going to get a larger share of carries this year. Will compete to lead the league in yards.
LeSean McCoy: Mid rounder on a potent offense. Led RBs in catches last year.
Darren McFadden: New coach loves him and will (rightly) run the offense through this beast. Big year for D-Mac.
Steve Johnson: Talented No. 1 WR available in later rounds. Good value here.
Julio Jones: Only if you pick him late. Tony Gonzalez: "Best incoming receiver I've ever seen, not even close."
Larry Fitzgerald: He will drop some because of last year, but no Boldin/Breaston will see him get all the looks from QB Kolb.
Percy Harvin: The new No. 1 in town since Rice left. Finally got a good QB in McNabb.
Brandon Pettigrew: Good for TE No. 2. Dropped weight and a healthy Stafford has his potential very high.
Rob Gronkowski: Brady favored him later in the year. No reason to think this trend doesn't continue.
Players To Avoid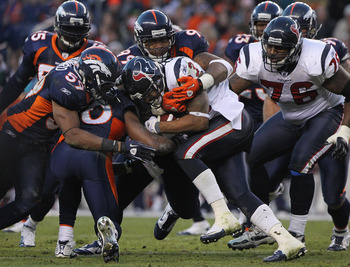 One-hit wonder Arian Foster will not repeat his success from last year
Doug Pensinger/Getty Images
Players to Avoid
All Broncos: New coach is "defensive minded" and Tebow will start some games this year. Avoid this tumultuous team at all costs.
Arian Foster: His top notch FB left. Feels like a one-hit wonder to me. Take Rice instead.
Chris Johnson: This goes for any player dumb enough to hold out while losing $30K a day under the new CBA. He will probably have a good year, but big contracts following holdouts rarely produce motivated players.
Dwayne Bowe: Matt Cassell is not a real QB. WR additions don't help either.
Matt Cassell: see above.
Brandon Marshall: Stabbings, shrinks, lack of QB talent... no thanks.
Antonio Gates: His foot still hasn't healed from last year. Shoot for Clark or Finely.
Keep Reading