San Francisco Giants' Lineup for Game 1 of the 2012 World Series...Yes, 2012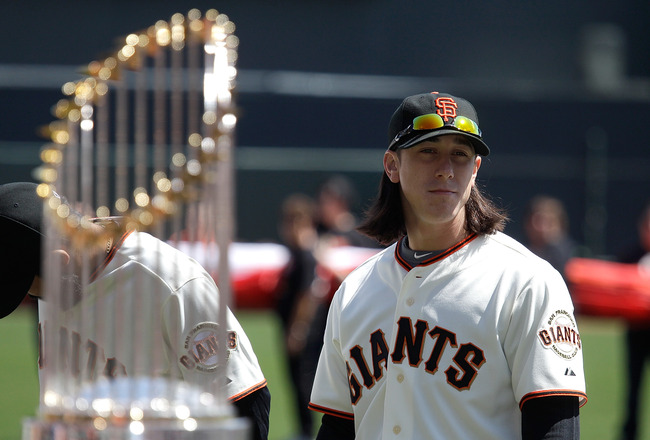 With Multiple Cy Youngs, Lincecum Eye's Multiple Titles
Pool/Getty Images
Assuming the Giants can survive this slump and win the NL West, most Giant fans have a good idea what the 2011 postseason lineup will look like. What has been lost through a tumultuous season, one in which the Giants have lost two of their best hitters and have rarely looked like the defending World Champs, is that the core of the Giants team is homegrown, well coached, fearless and ready to do whatever it takes to help the Giants win multiple championships over the next decade.
With Buster Posey's recovery going well, take a quick break from the dog days of 2011 to peer into the bright future of this potential dynasty, where six of eight position players were drafted and developed by Giants, and the key components of the pitching staff all came up through the ranks.
Hitting Leadoff : Gary Brown (CF)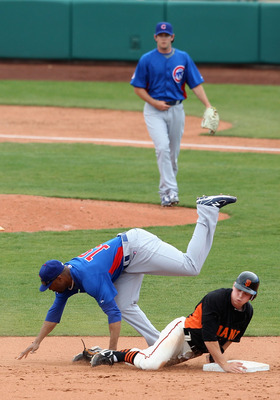 Christian Petersen/Getty Images
The Giants No. 2 prospect and ranked in the top 50 of all Major League prospects, Gary Brown and his plus-plus speed leads off for this team. After hitting over .300 for San Jose in 2011, Brown was invited to Big League Camp in spring training and almost made the team. After starting the year in Fresno and batting .385 with an OPS close to .900, Brown was brought up in early June to help the top of the order.
After platooning for a month and a half, Brown won the job outright and was the starting outfielder for the final two months of the season. Batting .292, with an on base percentage close to .400, Brown's ability to use his electric speed to steal bases and extend base hits provided a major spark at the top of the Giants' order.
In the 2 Hole: Freddy Sanchez (2B)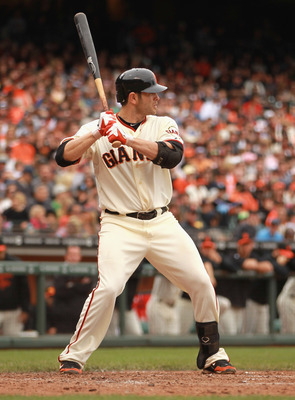 Ezra Shaw/Getty Images
After a disappointing 2011 where a shoulder injury that required surgery sidelined him for the final half of the season, Sanchez worked incredibly hard in the offseason and came into 2012 stronger than ever. Hitting .309, scoring over a 100 runs and winning a gold glove, Sanchez had one of his best all-around seasons of his career.
In the 3 Spot: Pablo Sandoval (3B)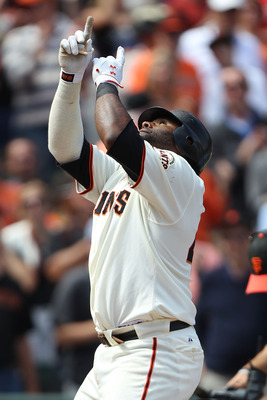 Jed Jacobsohn/Getty Images
Battling injuries, Sandoval was still able to put up formidable numbers in 2011, finishing the year with a .317 avg, 17 HR and 60 RBI in just 116 games. Entering his fourth full year in the big leagues, Sandoval showed up for camp in 2012 in even better shape than he was in 2011. Ready to join the conversation regarding the best pure hitters in Major League Baseball, Sandoval put up MVP-type numbers in 2012, hitting .328, with 28 HR and 112 RBI.
Hitting Cleanup: Buster Posey (C)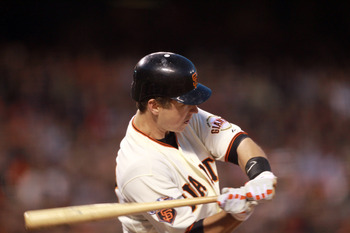 Ezra Shaw/Getty Images
After sustaining a horrific injury, shattering his ankle in a collision at the plate with Scott Cousins early in 2011, Posey was forced to spend the rest of 2011 and the first part of 2012 rehabilitating. Working harder at his conditioning and craft than he had ever worked before, Posey reported to spring training in phenomenal shape. After a slow start in the month of April, Posey started to find his rhythm in May and was back to his 2010 form by June. Posey finished 2012 with a .298 avg, 21 HR and 104 RBI.
Hitting in the 5 Hole : Carlos Beltran (LF)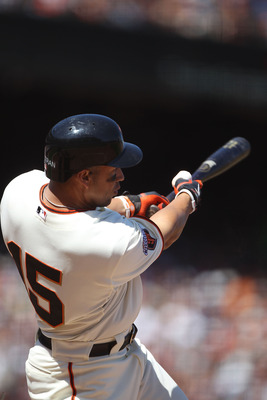 Jed Jacobsohn/Getty Images
After helping the Giants in the stretch run of 2011, Beltran weighed his options and decided to return to the Giants in 2012. Part of the deal the Giants and Beltran worked out during contract negotiations was that Beltran would move to right field, making it easier for him to patrol the outfield and make throws. Beltran loved the benefits of hitting at AT&T Park for a whole season as his average, doubles and triples all went up, finishing with a .291 avg, 18 HR and 92 RBI.
In the No. 6 Slot: Brandon Belt (1B)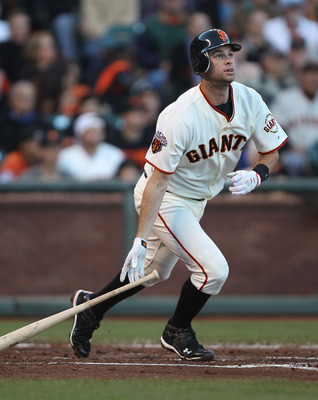 Jed Jacobsohn/Getty Images
The up and down nature of Belt's 2011 actually ended up being a positive for him, as he continued to feasting on AAA pitching down in Fresno, and showed much improvement every time he was called up to the big leagues.
Winning the starting role in spring training, Belt's 2012 started a little slow, but Bochy stuck with him. By late May Belt got hot and stayed fairly consistent, finishing the season with a .281 Avg, 15 HR and 59 RBI. Belt also played a phenomenal first base, putting him in consideration for the Gold Glove.
Batting No. 7: Nate Schierholtz (RF)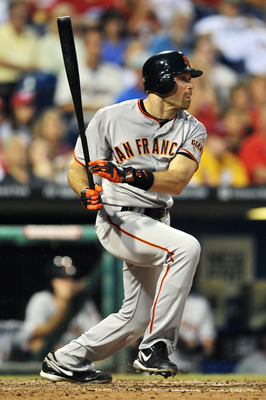 Drew Hallowell/Getty Images
With constant improvement year after year, Schierholtz entered 2012 with a lot of confidence. Finishing 2011 with a .270 BA, nine HR and 50 RBI in 135 games, the Giants felt like 2012 could be the year that Schierholtz could become a top tier player.
Unfortunately the All-Star year never materialized, but Schierholtz did echo his play in 2011 finishing with a .277 Avg, 11 HR, and 52 RBI. These solid numbers, along with his lockdown defense in right field, proved to be more than enough to keep him in the No. 7 spot in the batting order.
The No. 8 Spot: Brandon Crawford (SS)
Thearon W. Henderson/Getty Images
Getting a taste for the big leagues in 2011, in fact hitting a grand slam in his first game, Crawford showed a flair for the dramatic at times, at the plate and in the field. Showing up for spring training in 2012 with a quiet confidence that he should make the club, he did, and earned the starting role.
With expectations set around a .250 avg and a relatively flawless defense, Crawford exceeded expectations on both accounts, hitting .255 with 10 HR, and showed improved decision-making abilities and maturity beyond his age at shortstop.
The No. 9 Spot: Tim Lincecum (Gm 1), Matt Cain (Gm 2), Madison Bumgarner (Gm 3)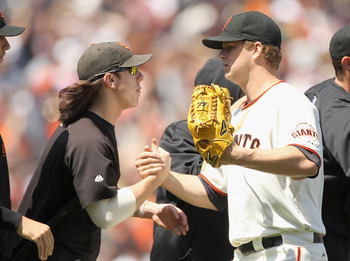 Ezra Shaw/Getty Images
Lincecum, Cain and Bumgarner flourished in their first year of real run support. Not having to throw every pitch like it could be the difference in the game proved to be very rewarding for the Giants' starting rotation, as Lincecum and Cain both won 20 games, while Bumgarner won 15.
Unfortunately, Lincecum and Cain took votes away from each other as neither one won the CY Young even though they were both deserving.
Keep Reading

San Francisco Giants: Like this team?