2011 NFL Predictions: 6 Trades That Could Still Happen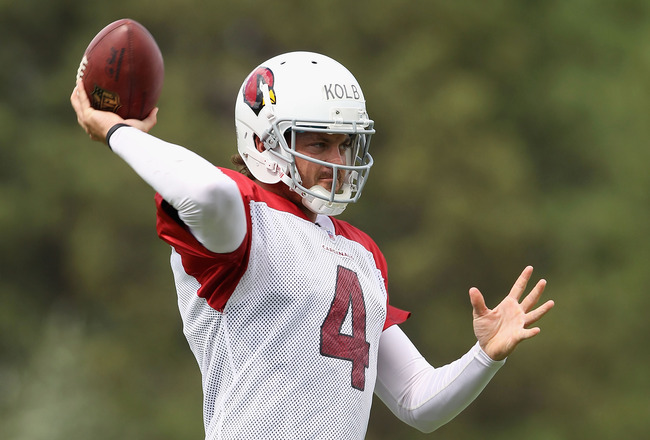 Christian Petersen/Getty Images
To say that this off-season has been unusual would probably, neh, would be an understatement. Teams have had to move quickly to sign free agents and make trades.
In fact we've seen teams not act like themselves. For instance the Washington Redskins added by subtracting and when it came to signing free agents opted for youth and value over vets and high prices. The Eagles who usually follow the above prescription went in the opposite direction and seem to have placed all their chips at the center of the table.
After Miami balked at the asking price for Kyle Orton it seemed like most of the trading for this off-season was over.
Like I said though, this hasn't been your usual off-season and I'm going to go out on a few limbs here and makes some pretty bold predictions about possible trades to come along before the season kicks off for real.
Asante Samuel out of Philly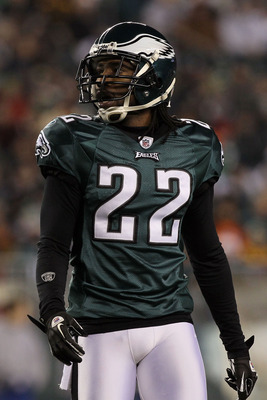 Jim McIsaac/Getty Images
Andy Reid seems to have a pretty good problem in Philadelphia right now and that is he has too many Pro Bowl caliber cornerbacks.
However, the incumbent, Asante Samuel isn't too pleased with the recent additions of Dominique Rodgers-Cromartie or Nnamdi Asomugha.
In fact the moment Nnamdi signed with the Eagles there were rumors that Asante could be traded to clear up more cap space. Asante himself said that he thought it was a 50/50 chance of that happening.
The Eagles, like the Patriots, like to horde draft picks and if they can snag a couple for Asante don't think that they won't. They've also shown that they're not afraid to trade within the division so fleecing the secondary challenged Cowboys could be a move Reid is bold enough to make.
Odds of this trade happening? I'm going to agree with Asante here and say it's 50/50.
Larry Fitzgerald to the Minnesota Vikings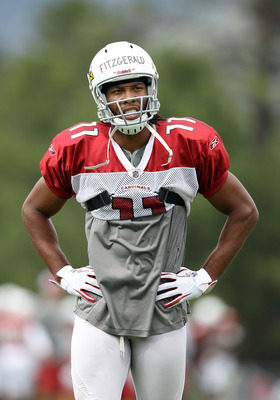 Christian Petersen/Getty Images
Don't kill me on this one Cardinals' fans and please wait until you read my odds at the bottom as well.
It is no secret that Larry Fitzgerald loves his hometown team the Minnesota Vikings and like many of us did he dreamed of playing for his favorite team.
That in and of itself doesn't mean that the Cards would trade their franchise receiver, however a recent interview Larry's father (Larry Sr.) gave with ESPN Radio L.A. did raise a few eyebrows (hey you can read my article about that here http://bleacherreport.com/articles/793297-nfl-rumors-larry-fitzgerald-to-the-vikings).
It got many people speculating that if the Cards can't come to an extension agreement by the trade deadline they should just ship Larry up to Minny and at least get something for him instead of watching him go there in the off-season and end up with nothing.
Honestly I don't buy into any of that and I think Larry will stay a Cardinal long after this season is over.
Odds of this trade happening? I give it 0.1% chance only because if this off-season taught me anything it's that anything can happen, but I highly doubt this does.
Carson Palmer to One of 10 Teams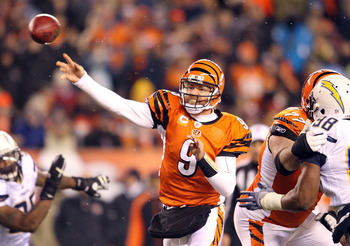 Andy Lyons/Getty Images
The Bengals have moved on and the Carson Palmer era in Cincy is over and it would appear that the Andy Dalton era has begun.
However there are still, roughly, 10 teams in the league that are very questionable at quarterback and as the preseason gets under way and the regular season begins some of these teams with those question marks at quarterback might start to get a bit jumpy.
Sure we're past the point where Palmer could make a difference this season but if one of these teams was looking to draft a quarterback next season but not willing to start said quarterback Palmer could be a nice stop-gap for that team.
I get the hardball owner Mike Brown was playing with Palmer and I applaud him for calling his bluff, but if you've got teams willing to give you a draft pick or two for Palmer than you should absolutely make the deal, because at this point you're only punishing your team and fan base by allowing this player to retire instead of getting rid of him and getting something instead of nothing.
Odds of Palmer unretiring and getting traded 60%.
Tim Tebow out of Denver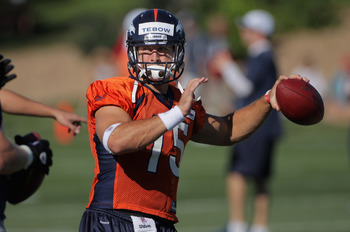 Doug Pensinger/Getty Images
Last year the Denver Broncos went out on a limb and drafted Tim Tebow in the first round of the 2010 NFL Draft, when many "draft experts" had him rated between the mid second to third round.
Denver made a gamble and it paid off in jersey sales.
Then at the end of the season Kyle Orton got hurt and then benched and Tebow came in and made a spark and got the fans excited.
The writing was on the wall that Orton would be shipped out of Denver and the Tebow era would begin.
Funny thing happened though, Orton wasn't shipped out and the Tebow era never got off the ground and has stalled at the second string quarterback spot.
Now Tebow doesn't come off as the type of guy who would demand a trade out of Denver but it would appear that new head coach John Fox doesn't trust Tebow to run the offense either.
So what do the Broncos do?
Well first off they've got a mess on their hands. They're stuck with a quarterback they were suppose to trade but couldn't pull the trigger and now he's once again their starter, and oh yeah his contract expires at the end of the season. If I'm Orton I'm making the Broncos pay a ton to keep me.
Then they've got their second year quarterback who was all set to start, his receivers were all set for him to start, and the fans were all set for him to start, except he won't be starting now.
Tebow tried to put on a brave face but he even said that he felt like the starting job was snatched from him.
Like Kolb and Vick last season I don't think the Broncos can continue to carry both QBs on their roster.
One will have to go and honestly I think it's Tebow.
The Broncos want to win and Kyle Orton gives them the best chance mostly because Tebow still needs a few more season to work on being an NFL quarterback.
Odds of this trade happening? As of now I'd say it's an even 50/50, if Kyle Orton signs an extension I'm going with 100%.
Lee Evans Shuffles out of Buffalo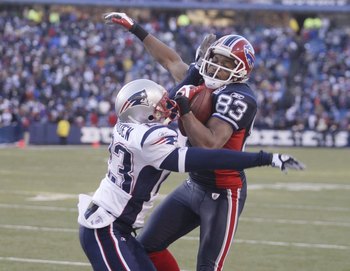 Rick Stewart/Getty Images
Lee Evans is entering his seventh season with the Buffalo Bills and unfortunately for him his sixth wasn't that great.
He only had 37 catches all season and the Bills had some younger receivers emerge into the spotlight.
Now with the addition of Brad Smith from the Jets and looks like the writing could be on the wall for Evans' departure.
I don't think the market is going to be too great for Evans but if the Bills could muster a draft pick for a receiver that might not get that much playing time on their roster it could be a good move for a rebuilding team.
Odds of Evans being traded, probably around 75%
Matt Flynn Might Have the Highest Trade Value He'll Ever Have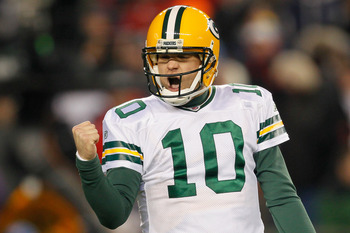 Jim Rogash/Getty Images
Matt Flynn had a spectacular game against the New England in week fifteen of last season.
He went 24 of 37 with 251 yards, three touchdowns, one interception, and a passer rating of 100.2%.
With teams like Arizona and Seattle overtrading and overpaying for other teams' back-ups it would appear that the market for lightly used QBs is at an all-time high.
Flynn becomes a free agent next season and if he has any other decent to good cameos this year than he'll probably test the market and might get several offers.
If you're the Packers why not make a few phone calls to teams in need of a quarterback and see what you can get?
I mean after all he's probably gone at the end of the season and who cares if you hurt your back-up quarterback's feelings by putting him on the trading block?
They've got nothing to loose here and like the Patriots they could get richer in draft picks by giving up a player they'd probably never play.
Odds of Flynn being traded 50%.
Keep Reading