"New York Jets? This Is Your Captain Speaking": Mark Sanchez
August 9, 2011
Patrick McDermott/Getty Images
So Rex Ryan made Mark Sanchez the Captain of the Offense.  And not just for a game.  But for the entire year.  This is kind of a big deal.  I love how Mark immediately realized that his role model in this endeavor is the ultimate Captain—Derek Jeter.  To Sanchez's good credit, he has understood from the beginning that being the starting QB of an NFL franchise is a 24/7 job.  You couldn't find a better example of being a good citizen on and off field than #2.  Maybe Mark and Rex will shoot a Visa commercial now!!! 
Anyway, this is a big year for Sanchez.  It's no exaggeration to say this is a turning point in his career.  I've been watching his interviews, press conferences and practice footage over the last few days.  Something has changed in his demeanor.  There's a seriousness and focus and an overall command of the team I've never seen before.  He's grown up.  And I'll tell you exactly when I think it happened.  But before I do, we need to take a look back at the last time the Jets took the field.  That awful day in January against the Steelers in the AFC Championship game.  To refresh your memory, here's a look back at that game and what I wrote about the Jets in the aftermath.  (http://bleacherreport.com/articles/584868-afc-championship-game-the-aftermath-and-what-lies-ahead-for-the-new-york-jets).  Re-read it.  It's the set up for everything I'm going to talk about here.  I'll wait.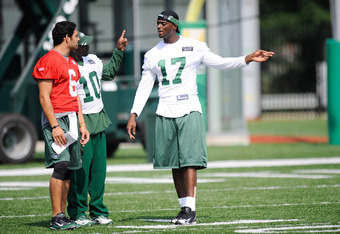 Patrick McDermott/Getty Images
Everyone knows that the Jets lost in the last three minutes of the AFC Championship to the Steelers.  Unfortunately, the emotionally (I believe) and physically exhausted Jets defense just could not get the final stop to turn the ball back over to the offense.  Why do I bring up this painful memory?  Because of Showtime's Inside the NFL.  I'll explain.  I've seen almost every postgame press conference Ryan and Sanchez have given.  The thing that mystified me for days was Mark's demeanor at that post game presser.  It wasn't like others where he'd been despondent (Buffalo 2009 comes to mind) or clearly mad at himself (Atlanta 2009).  It was almost more like he was crestfallen...like he felt like they never even had a chance.  Go watch for yourself.  It's at the Jets website. 
I wrote that piece the day after the Jets loss.  But I just couldn't make any sense of that press conference.  I puzzled over it and puzzled over it for days.  Until Wednesday, when I watched Inside the NFL.  I don't know how, but for some reason Showtime every week seemed to have footage of the games that nobody else appeared to have.  (And believe me, I'm a junkie, I watch everything.)  The only thing I can conclude is that they have some kind of arrangement with NFL Films for exclusive footage.  It happened too often last year with other games and was too great of stuff for it to be coincidence. 
So what happened on ITNFL the Wednesday after the AFC Championship?  Showtime had exclusive footage of the Jets sideline in the last 2-3 minutes of the game.  And what they showed was revelatory.  Sanchez and the entire offense were huddled together planning their exact moves for when they got the ball back.  There was no doubt in their minds that the defense would make the stop and they would get the ball back and drive down the field to score.  Remember—they were only down by five.  And you could see on the faces of the receivers especially that this was going to happen.  They, together with Mark as their leader, would MAKE it happen.  My jaw dropped when I saw that.  No wonder they were collectively so crestfallen and in shock.  They never even got a chance.  And this is no knock on the defense.  Many a time the defense had bailed out the offense.  It just wasn't to be on that January night.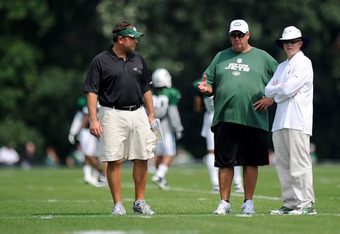 Patrick McDermott/Getty Images
I think what Sanchez was feeling after the game that night was disbelief.  Watching them plan their attack on the sideline and then having the defense give way was nothing short of unthinkable.  Not after finally having mastered the art of the last minute comeback in earlier games in the season.  Mark kept saying that it was just too bad that they didn't even get the chance.  They came up just short.
Sanchez is a self-admitted Lakers fan.  The message that no one is guaranteed anything in pro sports must have been doubly hammered home when the Lakers were humiliatingly swept out of the NBA playoffs by the Dallas Mavericks this spring. 
I think Sanchez now understands on a visceral level something he probably was only dimly aware of before:  In professional football, and especially in the playoffs, every single drive matters.  Every single SNAP matters. 
Which leads me to what I consider to be the Jets biggest, most important move of the offseason:  The hiring of Tom Moore.  I can barely believe how lightly covered this has been in the media.  Everyone got sidetracked by the Nnamdi Asomugha flirtation and the other free agent comings and goings.  But it is impossible to overstate the importance of this hire for the Jets.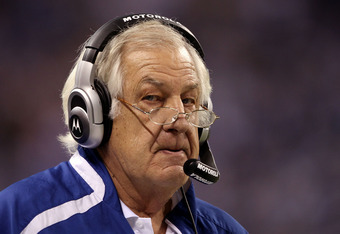 Elsa/Getty Images
In my piece linked to above I talked about how I thought the offense had to take a giant leap forward this year for the Jets to truly get where they want to be—hoisting the Lombardi trophy.  I recommended bringing in an offensive mind or two to take a fresh look at the play calling and execution.  Never, in my wildest dreams, did I think they would bring in the offensive guru of one of the greatest quarterbacks to ever play the game.   This is an amazing move on a number of levels.
First—Rex Ryan is not given nearly enough credit for a serious dedication to soliciting new ideas and fresh points of view.  When he was hired, he came in and blew the doors wide open after the secretive Mangini regime.  Good ideas are welcomed and can come from anywhere.  Step right up and speak if you've got one.  Example: Mark Brunell's importing of the bat drill from his time with New Orleans.  The results of that drill yielded an immediate improvement in Sanchez's ball security in the pocket.  Especially when plays broke down. 
Second, do not be fooled by Rex's larger than life good ole boy persona.  He is very, very smart.  He also possesses an ability to take a clear eyed inventory not only of those around him, but of himself.  I respect that tremendously.  Rex will tell you that his team is ground and pound till the cows come home.  And that will always be a good trait for a football team, especially when the weather turns inclement.  But Rex is also a realist and he knows that the Jets have got to start putting more points on the board and not just in the last panicky few minutes of games.  In one of his first news conferences back, asked about the philosophy for this season, he admitted that they'd probably be airing it out more.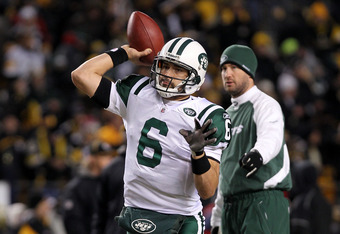 Nick Laham/Getty Images
And that's where Tom Moore comes in.  Mark Sanchez is unbelievably fortunate to be in this organization.  He is about to get a master class in offensive football and how to play the quarterback position.  Imagine being Mark and being able to sit with Tom Moore and have him teach you how to break down film the way a sure-fire first ballot hall-of-famer like Peyton Manning does.  It's like Leonardo da Vinci giving you private art lessons.  I wrote earlier about how the Jets organization needed to go all in to give Mark every tool possible to succeed.  They are not messing around.  Chad Henne must look at this Jets organization and weep.  I'm not the least bit worried about Mark not maximizing this opportunity.  Not only he, but the entire offense is more than a little awestruck at their good fortune.
However, I would argue that the hiring of Tom Moore is an even bigger development for someone else.  Brian Schottenheimer.  Hear me out.  This is master class in offensive coordinating for Brian as well.  I think Brian has had arguably the hardest coaching job in the building the last two years.  Brian can see Mark's potential.  And I know he is longing for the day when he can call plays for Sanchez the way he used to work with Drew Brees back in San Diego.  But he has had to balance so many things.  Like the win now expectations of the veteran players.  Trying to call plays that a neophyte pro QB can execute that also give his experienced receivers a chance to shine.  Keeping Rex happy with a productive running game.  New York media and fans constantly second guessing him.  And constantly teaching, coaching and keeping Mark's head right in the classroom, on the practice field and on game day. 
When Tom Moore talks about the potential he sees in Sanchez, you'd better pay attention.  Brian needs to forget about soothing the egos of the rest of the offense.  His only goal this year should be an absolute mind meld with Sanchez and vice versa.  Mark needs to know what the play is going to be even before it comes through his headset.  Brian doesn't need to worry about placating various personalities on the offense anymore.  Mark has assumed complete command on the field.  If Jets West 2 didn't prove it to you, just watch how he has been teaching Jeremy Kerley in practice.  In a lot of ways, this locker room reminds me a lot of the self-policing locker room in New England back in the Bruschi/Harrison/Vrabel days.  You have potential divas in Santonio Holmes and Plaxico Burress, but I don't see anything less than 100% effort on their part going forward.  Dustin Keller is Mark's secret weapon and will keep those receivers on their toes.  You run sloppy routes, the ball will get checked down to Dustin.  And do not underestimate the ability of Nick Mangold and LaDainian Tomlinson to keep order.  They have Mark's back like you cannot believe.  Watch the sidelines.  You'll see. 
So what does all this mean for Brian?  This is the year where he and Mark have to dance in perfect unison.  Mark's rookie year could best be summed up as "Hand off the ball and try not to fumble."  You would have expected a bigger improvement in offensive production last year, but mystifyingly, the Jets often found themselves struggling to put points on the board.  Occasionally, you would see flashes where Brian and Mark would be in sync and it was beautiful to watch.  But I stand by my opinion that overall Brian was hamstrung between wanting to turn Mark loose (throwing the ball with all the ups and downs that entailed) and sticking to the running game to keep Rex happy.  Hiring Tom Moore is Rex's way of saying to both Brian and Mark: go for it.  Air it out.  No more settling for threes. 
This year, I say the goal is: every offensive possession needs to end with 7 on the board.  That's ambitious.  But the Jets need to do everything possible to end the season with home field advantage.  I don't think a sweep of the Pats is realistic.  That rivalry has replaced the Pats-Indy rivalry of the 2000s.  But it is 'game on' with the Jets and Pats now.  You can circle your calendar right now for October 9 and November 13—the two showdowns with New England.  That is some appointment television.
Even if they end up in the wild card again, (because there is no in between—you either beat the Pats and win the division or you're a 5 or 6 seed), I'm not that worried about them going on the road.  I like the swagger this Jets team has going into another venue.  It's a kind of a swashbuckling, "the Jets are coming to town, hide the women and children" vibe. It's a big deal nowadays when they come to your home stadium.  Still, it'd be nice to win the division. 
Rex's stated goal each year is to win the Super Bowl.  There is no guarantee that the Jets will even make it back to the AFC Championship again this year.  Their schedule is brutal.  But the Jets have doubled down on putting the pieces in place to win.  They're all in.  As fans, you can't ask for anything more.
So, let the season begin.  In the immortal words of Bart Scott, "Can't wait!"