St. Louis Rams Running Back Preview: Which Role Will Each Running Back Fill?
August 7, 2011
Otto Greule Jr/Getty Images
The St. Louis Rams are going through camp, and likely the season, with three main running backs: Steven Jackson, Cadillac Williams and Jerious Norwood. 
All three bring something different to the table, and all three will be expected to play a certain role throughout the 2011 season. So what can you expect from each of the three running backs?
Steven Jackson
Don't expect much to change for Jackson from last season to this season. His carries may take a small hit due to the additions of legitimate backups, but he'll still be the workhouse do-it-all kind of running back everyone in St. Louis has fallen in love with.
Expect 20 to 25 touches a game and a more well-rested version of Jackson in the fourth quarter, a time last year when he would appear completely exhausted. Jackson should benefit from the inclusion of offensive coordinator Josh McDaniels' spread offense. The offense will greatly improve the passing game, opening up running lanes that Jackson wasn't given last season.
Expect him to also receive plenty of opportunities catching passes out in the flats, especially considering how effective McDaniels' offense has been at stretching the field.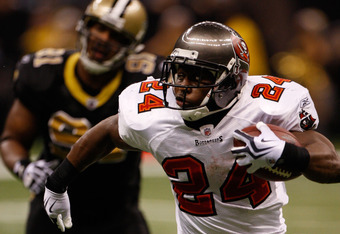 Chris Graythen/Getty Images
Basically, expect Steven Jackson to keep playing like Steven Jackson.
Cadillac Williams
The Rams' newest running back, Williams will be expected to be the true backup to Steven Jackson. He doesn't provide any sort of flash or explosiveness, but he is an upgrade over former backup Kenneth Darby. He runs hard—not fast, but hard.
Williams is solidly built at 5'11" and 217 lbs., and he is very difficult to bring down, making him a useful weapon in short yardage situations. He will be the guy who is getting a large majority of carries when Jackson is on the sidelines taking a breather. He has only had one season where he finished with an average above four yards per carry, and that was his rookie season (4.1 YPC).
Therefore, Williams isn't going to dazzle you, but he will get the job done, and Ram fans should be happy to have Williams as a backup.
Jerious Norwood
To understand the kind of role Norwood could ideally play in St. Louis, look no further than what Darren Sproles did for the last few seasons in San Diego.
Norwood has speed, and a lot of it. If he is in fact completely healed from the knee injury that derailed his 2010 season, expect him to take over the roles of kick returner and punt returner immediately for the Rams.
Last year, Danny Amendola handled return duty for the majority of the season, but there has been talk that it would serve Amendola's near and distant future better if he focused all time and energy on being a receiver.
Norwood could pick up a small number of carries per game, but his offensive production will likely revolve around catching passes out of the backfield or in the slot—a role that nicely suits his capabilities. He is dangerous in the open field and has serviceable hands, which, when mixed with his speed, make him an electric player when utilized properly.
Don't expect Norwood to pick up too many touches per game, but rest assured, Rams fans: The team finally has added a home-run threat, which it never had last season.
This article was previously posted at RantSports.com.