Texas Rangers: Will Alexi Ogando, Matt Harrison Make C.J. Wilson Expendable?
August 8, 2011
Ronald Martinez/Getty Images
While it may seem like sacrilege to consider letting homegrown ace C.J. Wilson leave via free agency at the end of the season, it just may be the best course of action for the Texas Rangers to pursue.
Wilson is integral atop the Texas rotation and is a highly popular player, but the Rangers are fully aware that the lefty will be one of the gems of a shallow free-agent class, and as such, will likely command an exorbitant contract from a free-spending contender.
Of course, the Rangers may step up themselves, ponying up the cash to retain the hurler who is in the midst of his seventh season with the ball club.
However, there will be competition for Wilson's services, as several teams may look to fortify their rotation with a veteran left-handed presence.
Wilson, the Rangers' fifth-round pick in the 2001 draft, will be 31 in November, and will likely receive offers of five years in the range of $75 million to $90 million.
With the Yankees' starting rotation in dire straits, one can be sure that they'll be interested in the talented lefty. If they fall short of the World Series this season, it's highly unlikely that they'll head into 2012 with a staff headlined by CC Sabathia followed by numerous question marks. A left-hander of Wilson's caliber could find great success in Yankee Stadium.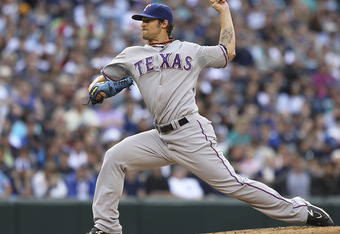 Otto Greule Jr/Getty Images
In his second season as a starter, following five years in the Texas bullpen, Wilson is 10-5 with a 3.35 ERA, a 1.227 WHIP and 8.1 strikeouts per nine innings. That follows on the heels of a successful first season as a starter, in which he went 15-8 with a 3.35 ERA and a 1.245 WHIP.
While he is pitching similarly to the way he did last season, he has lowered his walk rate by one full base on balls per nine innings in 2011. His 93 walks in 2010 were the highest total in the American League, a category in which he would gladly give up his league-leading ranking.
The Yankees won't be the only potential suitor, either. There will be several teams with the need for a top-of-the-rotation left-hander. With a 2012 free-agent class lacking in top-shelf starting pitching, Wilson will attract significant attention if he hits the open market.
This story could play out in various ways, however. Texas could potentially offer him a contract extension during the season, locking him up before he has the opportunity to test his available options. They could also pursue a similar strategy after the season concludes, banking on his desire to remain in Arlington.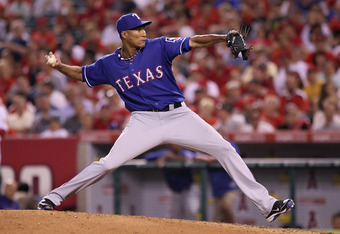 Jeff Gross/Getty Images
Texas are not a team short on capable arms in their rotation though, so they'll have to do some soul searching, and decide if retaining C.J. is worth the potential cost that the team will incur to do so.
Last year's late-season setup man, Alexi Ogando, transitioned to a starting role in spring of 2011 and has been stellar, pitching like an ace, and making the AL All-Star team. At 11-5, he leads the rotation in victories, as do his 2.88 ERA and 1.051 WHIP. Ogando has been a revelation, and represents a stroke of genius by the organizational brass.
Considering the emergence of 25-year-old Matt Harrison as a tough, left-handed starter, the Rangers may have significant options when it comes to planning their starting staff for 2012.
Harrison, after winning a rotation spot with a solid spring training, has developed into a dependable starter for Ron Washington's squad. Though he's only 9-8, he sports a 3.08 ERA, a 1.279 WHIP and a solid 2.9 walks per nine innings. He's not the strikeout pitcher Wilson is, but his adjusted ERA+ stands at 140, compared to Wilson's mark of 129.
Not only has Harrison matured into a reliable southpaw during his first full season as a big-league starter, but he's significantly cheaper than Wilson will be next year. While Wilson will make many millions of dollars next season and beyond, Harrison is currently making only $429,000 and won't be a free agent until after the 2014 season.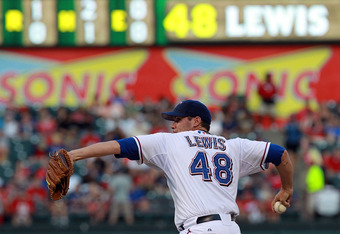 Ronald Martinez/Getty Images
Looking forward to next season's Texas rotation, Harrison would be joined by Ogando, veteran righty, Colby Lewis and fellow left-hander, Derek Holland. Assuming Wilson signs elsewhere, the Rangers would still have two talented lefties, and two hard-throwing righties in Lewis and Ogando.
Those four hurlers combined aren't even making $5 million between them this season. Though Holland and Harrison will both be arbitration eligible next season, Lewis has a $3.25 million team option for 2012, and Ogando isn't arbitration eligible until 2013.
Texas isn't hurting for money in light of their major television contract with FOX Sports Southwest. That doesn't mean that they're willing to lavish a large contract on Wilson, when they may have other, far less expensive options.
Nolan Ryan and the Texas organization have worked hard to transform the Rangers into a club laden with pitching talent, after years of being known as an offense-centric system. Several of their top prospects are high-end pitching talents, displaying significant promise as they progress through the minors.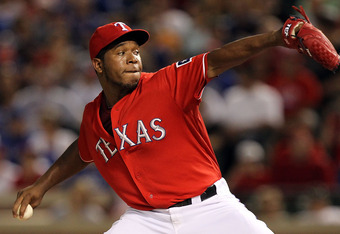 Ronald Martinez/Getty Images
They're particularly deep in left-handed hurlers, with Martin Perez, Miguel de los Santos and Michael Kirkman headlining the crop of young arms at various stages in their development.
There also exists the possibility that the Rangers may opt to transition their fireballing closer, Neftali Feliz, back to the rotation where he began his professional career. During his five years in the minors, Feliz was primarily a starter, and was projected by many to be a future ace.
Prior to 2010, he was regarded as the No. 9 prospect in the game by Baseball America.
After displaying utter dominance out of Texas' bullpen during a short stint in 2009, and his Rookie of the Year campaign in 2010, Feliz has faltered in 2011, falling far short of the standard he set for himself during his first two seasons. He's been hittable, his command has abandoned him and his strikeouts are down significantly.
Despite his recent troubles, the Rangers are still high on him, and some within the organization feel he may offer more value to the team as a starter. If he is still capable of reaching the lofty heights predicted for him, he would undoubtedly serve his club better near the top of their rotation.
Recent moves have lent more credibility to such a potential transition for Feliz. Prior to MLB's trading deadline, Texas completed deals to acquire talented relief artists, Mike Adams and Koji Uehara. Though both have been primarily setup men, in San Diego and Baltimore respectively, each is capable of closing games, and the Rangers could potentially try either of them in the role.
Adams and Uehara will both be under team control through 2012. Either could potentially step into the closer role, allowing Feliz the freedom to return to the Texas rotation, where many feel he belongs. 
A move of this nature could possibly set up a 2012 starting staff of Ogando, Feliz, Harrison, Lewis and Holland, all for less than Wilson will likely command on the free-agent market.
Since the Rangers are currently embroiled in a tight divisional race with the Angels, their minds are occupied with far more pressing issues than Wilson's impending free agency.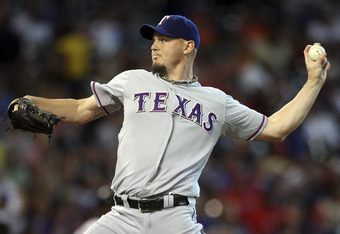 Bob Levey/Getty Images
However, as the season's schedule progresses toward October, the time for a decision on the matter draws ever-nearer.
Though Wilson has been a faithful, dedicated servant to the Texas Rangers' cause for seven seasons, it could be time to sever ties with the lefty and turn to other arms within the organization.
With the free agency of Josh Hamilton looming after 2012, and Nelson Cruz following the 2013 season, the Rangers may find it necessary to cut costs in their starting rotation, and opt for cheaper arms than Wilson's.
In doing so, they may save themselves millions, yet not necessarily sacrifice the quality pitching they have recently grown accustomed to.