Philadelphia Eagles: Power Ranking the Most Important Players to the Eagles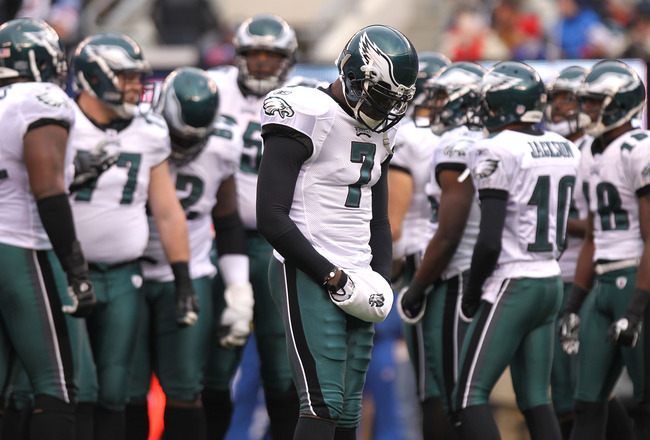 Nick Laham/Getty Images
The Philadelphia Eagles are a team filled to the rim with talent.
Many players on the roster are well respected throughout the league and have made a name for themselves throughout the years.
Even though some players may be "rated" higher than others, each player has an amount of importance to the team that may be more severe than some of the other players.
This list will be a power ranking of the top 10 most important players on the Philadelphia Eagles' roster.
Enjoy and feel free to give me any feedback on your opinion!
10. Dominque Rodgers-Cromartie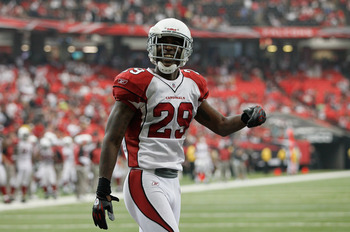 Kevin C. Cox/Getty Images
This pick comes with some uncertainty, only because I don't know the role he will be playing in 2011.
DRC was involved in the Kevin Kolb trade, and the Eagles are hoping he isn't a bust. He is a quick corner with 13 interceptions in three years but will be playing on a team with Nnamdi Asomugha and Asante Samuel.
Now there are still rumors that Samuel will be traded, and DRC will be the No. 2 corner, but then there are rumors saying Samuel will not be traded, and he will remain an Eagle. That means either DRC will switch on and off to SS or will play option and come in to cover the slot.
Either way, DRC will be an Eagle next season for sure and will need to prove he was worth the trade. He is important to the Eagles because he provides that safety knowing if one of the top two corners on the team get hurt (banking Samuel stays), he will be a solid backup.
9. Jaiquawn Jarrett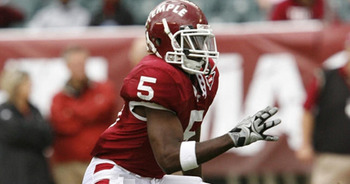 I know putting a rookie on this list is kind of stupid, but he has a lot of pressure on him this season.
Jaiquawn Jarrett is a rookie out of Temple University who will be filling in for Quintin Mikell at strong safety. Mikell was a solid player and made a lot of plays, and yet, the Eagles still had trouble in the secondary.
Jarrett had nine interceptions in college in his four years, and the Philadelphia native will look to be a steady starter in 2011.
If Jarrett comes out of the gate shaky and let's some balls get by him, then teams will know the Eagles' weakness and take advantage of that every game. He has a lot to learn in little time and needs to make a quick transition to the NFL.
Watching Jarrett on film shows he is a hard-hitter, much like Brian Dawkins.
Jaiquawn isn't one of those highly-rated players I referred to, but he does have a level of importance to that defense.
8. Ryan Harris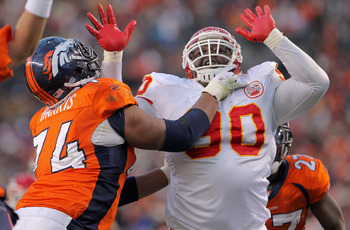 Doug Pensinger/Getty Images
Michael Vick is a lefty; that means he will need to have confidence in a good right tackle.
The Eagles recently signed Ryan Harris to a one-year deal and will give him the year to test the Eagles waters. Last season, the Eagles had a tough time keeping that o-line healthy, and it proved to be their kryptonite.
As many teams found out, the one way to stop Vick from being comfortable in the pocket is to blitz heavily.
Ryan Harris will be protecting Vick's blindside and will hope to stop all the pressure forcing Vick to turn the ball over.
So at best, the Eagles are getting a young, athletic lineman who has been a very good starter in this league. At worst, they've got some depth if Winston Justice gets healthy and plays well.
Either way, I think we'll all sleep a little better at night knowing that we at least have some new blood for the competition at RT.
7. Jeremy Maclin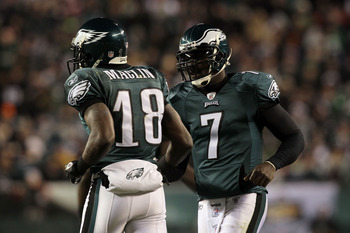 Jim McIsaac/Getty Images
Maclin had a great season last year with 70 receptions, 964 yards and 10 touchdowns.
The reason he is an important player to the Eagles is because when teams often put double-coverage on DeSean Jackson, Maclin is left one-on-one and has the advantage due to his speed.
His great hands and quick feet make for another deadly weapon for Vick and another player to be accounted for on the defense.
If Maclin were to miss an extended amount of games for any reason, the Eagles would be hurting. The Eagles often rely on Maclin for those short but quick gains but still has the ability to turn an eight-yard reception into a 28-yard gain.
6. LeSean McCoy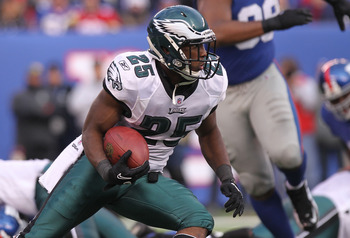 Nick Laham/Getty Images
Regardless of what people say, teams can't win a Super Bowl without a running game.
The Eagles have always been a pass-first team under Andy Reid. That has come back to hurt them in recent years because if the opposing team is shutting down the game through the air, the Eagles were practically done.
Now prior to McCoy, the Eagles had Brian Westbrook, another talented and speedy back. If the Eagles would've used him more, then they might've made it to more than just one Super Bowl out of four.
McCoy is a great player, and when the Eagles rely on him, he always comes through.
What I love about him is how he can be having a rough game with about only 40 yards on the ground through the third quarter, then still have the stamina to bust out a 60-yard touchdown late in the fourth; which he did a lot in 2010.
McCoy has the ability to bring the Eagles' game to a whole new level and add some wins to the win column.
5. Jason Babin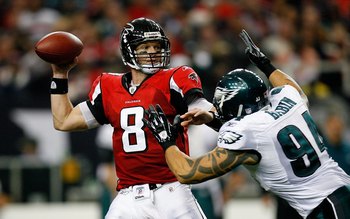 Kevin C. Cox/Getty Images
One-year wonder or future All-Star?
Many people don't know that Babin was already an Eagle, just back in 2009. He was then acquired by the Tennessee Titans last season where he flourished under Jim Washburn and has a career-high 12.5 sacks.
Now, Washburn is on the Eagles, and so is Babin.
The Eagles used to be known for having one of the scariest defenses in the league because every game, they would blitz you into submission. Ever since the passing of Jim Johnson, that Eagles defense hasn't been the same.
But now, it's 2011, and the Eagles are making a plethora of moves on defense to restore their reputation. With Trent Cole, Cullen Jenkins, Antonio Dixon and Jason Babin on the same line, I'd expect the Eagles to rack up the sacks big-time next year.
Babin is important because he brings flare and can really help this team on their journey to Indy.
4. Nnamdi Asomugha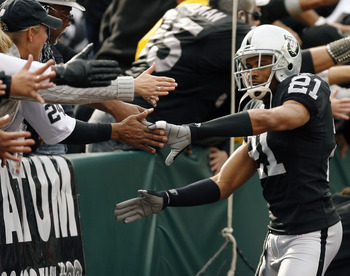 Robert B. Stanton/Getty Images
The Eagles stole this free-agent goldmine and was the highlight of this year's free agency.
Nnamdi Asomugha is one of the best corners in the league and is a shutdown player. Teams feared playing him because of his ability to completely close a receiver out of a game.
Asomugha was a big investment for the team and will need to impress in 2011.
He was brought in along with Dominique Rodgers-Cromartie and will most likely be playing opposite Asante Samuel—another top 10 corner.
Asomugha will be important for the Eagles because he is on of the best in the game, and the Eagles really struggled last year defending the deep ball.
3. Alex Henery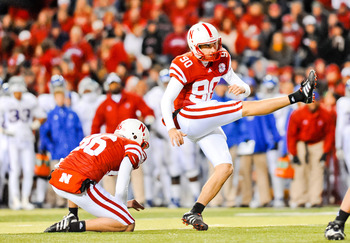 Eric Francis/Getty Images
Before you jump down my throat, hear me out:
The Philadelphia Eagles let the beloved David Akers sign with the 49ers. He is one of the best kickers in the NFL and probably the best kicker in the Eagles franchise.
The Eagles drafted Alex Henery in the fourth round to replace Akers and will have big shoes to fill.
Everyone knows the Eagles have a poor red-zone offense and usually wind up kicking a field goal. In fact, Akers led the league last year with most points (143). This tells you the Eagles obviously rely on their kicker.
Alex Henery is a solid replacement and will mean a lot to the team.
Here's a list of his college awards and honors:
First-Team All-American Place-Kicker (AP, Rivals.com, CBSSports.com, SI.com in 2010)
Rudy Award Finalist (1-of-3)
Lou Groza Award Semifinalist (2009, 2010)
First-Team All-Big 12 Place-Kicker (AP, Dallas Morning News, Kansas City Star, San Antonio Express-News, Rivals.com in 2010; Dallas Morning News, Rivals.com in 2009)
First-Team All-Big 12 Punter (Kansas City Star, ESPN.com in 2009)
Second-Team All-Big 12 Punter (Coaches in 2010)
Second-Team All-Big 12 Place-Kicker (Coaches, Phil Steele, Fort Worth Star-Telegram in 2010; AP, Coaches, Fort Worth Star-Telegram in 2009;
AP, Kansas City Star, Dallas Morning News, San Antonio Express-News in 2008)
Honorable-Mention All-Big 12 Punter (AP in 2010; Coaches in 2009)
Honorable-Mention All-Big 12 Place-Kicker (Coaches in 2008)
Lou Groza Award Star of the Week (2010 at Oklahoma State, 2009 vs. Va. Tech, at KU)
Ray Guy Award Watch List (2009, 2010)
Nebraska Special Teams MVP (2008, 2009, 2010)
Nebraska Team Captain (2009, 2010)
Big 12 Special Teams Player of the Week (three times in career)
Second-Team Academic All-Big 12 (2010)
School Record Career Scoring (397 points)
School Record for Most Consecutive Made Field Goals (18, broken vs. Missouri, 2010)
School Record for Most Field Goals in a Season (24 in 2009)
School Record for Most Field Goals in a Career (68)
School/Memorial Stadium Record Holder for Longest Field Goal (57 yards vs. CU, 2008)
Guy Chamberlin Trophy
One word: Impressive.
2. DeSean Jackson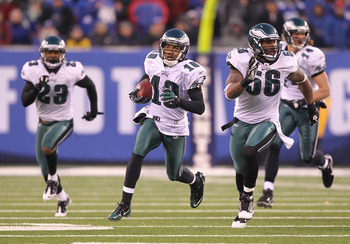 Al Bello/Getty Images
Think I'm wrong? The Eagles are 1-4 when Jackson is out of the lineup.
That may not sound like it's a big deal because it's only five games, but being 1-4 when a player is out tells you something.
He's had back-to-back 1,000-plus yard seasons and is only entering his fourth year.
Jackson brings a lot to the table and is one the fastest receivers in the NFL. While he may too quick to showboat into the end zone or start some drama in the locker room, the bottom line is he is good.
Think about how many big plays he's had; he's a game-changer.
Everyone remembers the game-winning punt return he had against the New York Giants last year, and if not, here it is. http://www.youtube.com/watch?v=_-aU3MCC_OM
The point is he is capable of making plays like that, and that's what makes him such an important player to the Eagles.
1. Michael Vick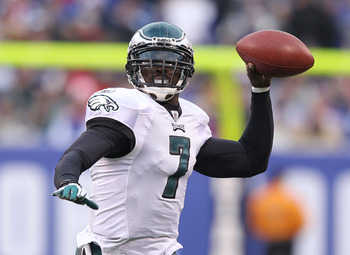 Al Bello/Getty Images
Many people probably won't agree with me on this, but I stand by it 100 percent.
Michael Vick is the most important player on the Eagles simply because if he gets hurt or misses a few games, then the Eagles chances of winning plummet greatly.
Now, I'm not saying Vince Young can't lead the team to a win if Vick is out, I'm just saying Young is not the same player as Vick by any means.
Michael Vick is one of the most exciting players to watch in the league because of his ability to make anything happen at any given time. Will he scramble for 40 yards down the field? Will he bomb a perfect pass for a touchdown? You never know what he will do, and that's what people love.
Vick is electrifying, and I feel is the most important player on the team.
He means most to the Eagles, and with him under center, the Eagles have their best shot at making a Super Bowl run.
Now, feel free to bash this article or give me positive feedback if you agree!
Keep Reading

Philadelphia Eagles: Like this team?