Atlanta Falcons GM Thomas Dimitroff Has a Big Fan in ESPN's John Clayton
August 7, 2011
Mike Ehrmann/Getty Images
ESPN Radio's John Clayton sounds like a teenage girl in love when he talks about the Atlanta Falcons these days.
Clayton's leg probably tingles for the Dirty Birds just like Chris Matthews when he thinks of President Obama.
"(The Atlanta Falcons) are dynamic," fawned the adoring Clayton Sunday afternoon on ESPN Radio."The owner is great. The coach is great. The general manager is great. The quarterback is great."
If Clayton would have had more time, he would probably sent verbal bouquets of love to the groundskeepers too.
Yeah, it was a mutual lovefest on ESPN today as Clayton was joined by Atlanta GM Thomas Dimitroff.
Definitely not unrequited love here, folks.
"And I agree with your statistical mind there, John (Clayton)," said Dimitroff. "I'm always marveling at the way you come up with some of your brilliant information because I think it's right on the dial with regard to our situation."
Seems the Atlanta Falcons GM has a pretty high opinion of himself these days. I mean after that big Sports Illustrated feature and all that praise from Clayton.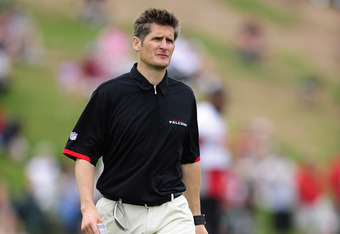 Paul Abell/Getty Images
"Within reason, every player we coveted throughout the offseason fell into our laps," says Dimitroff. "We accomplished everything we needed to accomplish in our minds...I believe we can play with any team in the National Football League this season and oh, by the way, with Michael Turner and hopefully with our new toy Jacquizz Rodgers, we've added more explosiveness to our offense."
That's some mighty big talk coming from the team that managed to stay one step ahead of the New Orleans Saints all last season.
Dimitroff says his QB Matt Ryan gives him admiring glances these days too.
"Matt is really interested in what we're doing with the building of the team. I'll see him from afar and he'll give me a thumbs up with each new signing."
Isn't that sweet.
Dimitroff and Clayton were both gushing over first-round draft pick Julio Jones, the wide receiver from Alabama.
"Julio Jones for us has the ability like Roddy White to run after the catch," says Dimitroff. "We need to get more of that. When people are rolled up on Roddy or people are doing tricky things with Tony Gonzalez underneath...now we feel we can open it up.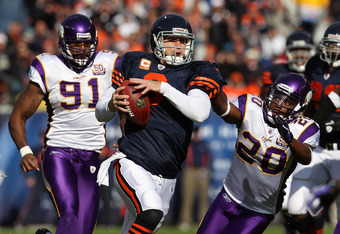 Jonathan Daniel/Getty Images
"We feel like we are moving in the direction of having the explosive playmaking element and we hope people are second-guessing themselves when they come into Atlanta to play for us. We need teams saying when they come into play us, 'Wow, we have to face this team again? How are we going to defend them?' "
Yeah, those nasty Dirty Birds aren't wasting any time shooting from the lip all right.
By the way, Clayton didn't seem nearly as impressed with the offseason work of Saints GM Mickey Loomis and head coach Sean Payton.
In fact he didn't even say word one about any of their accomplishments.
You see Clayton is so madly in love with Dimitroff and the Dirty Birds these days that I guess the Saints signing of Darren Sproles, Aubrayo Franklin, Olin Kreutz...well, I guess it escaped his attention.
Well, hell. It was an an unintentional slight I'm sure.
Welcome, folks.Things are just getting warmed up. The war is just beginning down in the NFC South, ya' see.