Pittsburgh Pirates: Don't Give Up the Ship! Why There's Still Hope
August 7, 2011
Justin K. Aller/Getty Images
Just 120 miles north of Pittsburgh, there is a city on the shores of Lake Erie who can teach the Bucs a lesson.
In the War of 1812, Commodore Oliver Hazard Perry led his battered American naval fleet to defeat the British Armada that was invading Lake Erie. His crew was outmatched, overpowered and being defeated easily until Perry Flew a flag that has come to define the city of Erie.
Hastily made in an effort to inspire the Americans, a tattered blue flag replaced the usual colors and simply read, "Don't Give Up The Ship."
For the Pirates, their ship is sinking just as fast as many of Perry's ships that day. A stretch of games against the contending likes of the Cardinals, Braves and Phillies saw the Pirates go a disappointing 3-7, however, that could all be forgotten after a home series versus the Cubs and Padres, right?
Fifty-two runs later, the Pirates are now four games under .500 and essentially eliminated from NL Central contention when one looks at the Bucs' record against Milwaukee.
Enter the eternal optimist's/Perry opinion.
The Pirates have historically played far better in September than the rest of year thanks to their farm system. Once the roster expands to 40, the Pirates will be able to stockpile their bullpen and bring up players we have never heard of (ex. Zack Duke in 2005) and watch them win seven to eight games.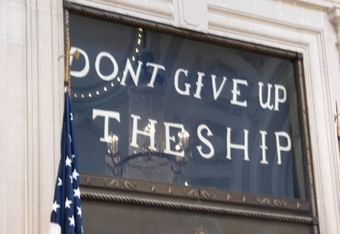 The Pirates have also been hit hard with injuries and are looking to regain some depth and talent fairly soon. Ross Ohlendorf may not have the best stuff, but he could add some depth and rest to an aching rotation.  Jose Tabata may not be the best player, but he had speed to help the Pirates' small ball strategy.
But how to fix the pitching? This strong suit of the Bucs was their bread and butter all year and now it looks more flawed than Congress' handling of the debt ceiling. Ohlendorf is nowhere near enough of a fix.
Enter Ray Searage. Follow him on Twitter and you'll learn he is far from pressing the panic button. He is one of the best at his profession and more than likely, he has one or two tricks left up his sleeve. 
Overall, is this situation good? Of course not.
A nine-game skid like this is atrocious. But it can be fixed. It's time to set down the Jolly Roger for a few games (not like it was waving much to begin with) and raise the Hazard Flag of Hope.