NFL Trades 2011: 4 Worst Moves So Far and 1 That Didn't Happen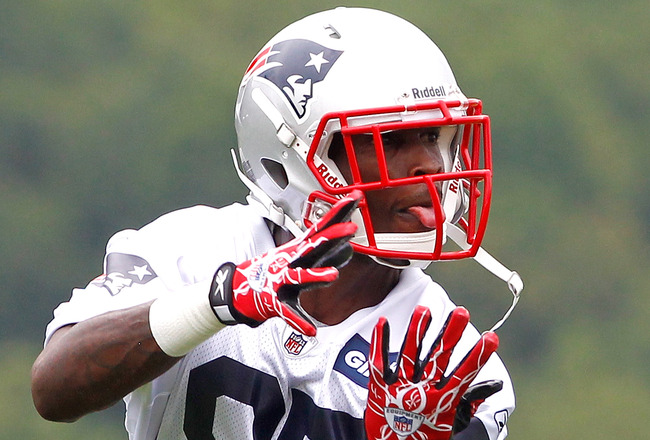 Jim Rogash/Getty Images
With the short time that teams have had in between the end of the lockout and the beginning of training camps has had teams signing and trading players at a rate we've never seen in the NFL.
In one weekend we saw more signings than we see in a week in a normal offseason.
Because of the haste some teams have made some foolish signings and others have made some foolish trades.
Kevin Kolb to the Cardinals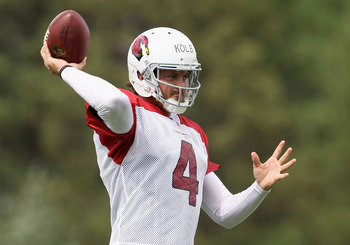 Christian Petersen/Getty Images
It was no secret that the Arizona Cardinals were in need of a quarterback when future Hall of Famer Kurt Warner retired.
It was no secret that when Kevin Kolb was put on the trading block, the Cardinals were just waiting to make a run at him.
The original asking price for Kolb was a first-round draft pick, which was lunacy, especially considering Kolb only started seven games and has a losing record.
However the Cardinals may have paid a steeper price to obtain the quarterback.
They traded away a second-round pick (which was probably more than enough) but also threw in (just for the heck of it I guess) Dominique Rodgers-Cromartie.
Rodgers-Cromartie has gone to a viable Super Bowl contender and the Cardinals have maybe received the second coming for Frank Reich.
The Bengals Trade Away Ochocinco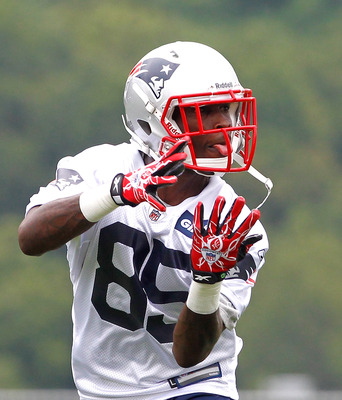 Jim Rogash/Getty Images
So far the Bengals have lost their franchise quarterback and wide receiver this offseason.
It looks as if rookie Andy Dalton will be the starting quarterback for the Bengals and he could have used Chad Ochocino.
The Patriots made the wise decision to grab Chad at a cheap price to give Tom Brady another weapon.
Jabar Gaffney for Jeremy Jarmon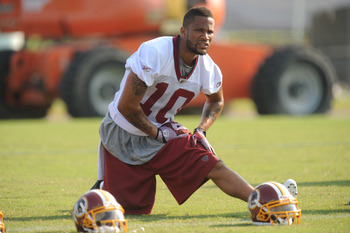 Mitchell Layton/Getty Images
The Denver Broncos traded away one of there top two receivers in Jabar Gaffney for an unproven defensive lineman, Jeremy Jarmon.
Jarmon wasn't going to amount to much in the Redskins 3-4 defense but might be a bright spot with the Broncos.
However, Gaffney was one of Kyle Orton's favorite targets and since it looks like he will be the starter again in Denver.
The Dolphins Deal for Reggie Bush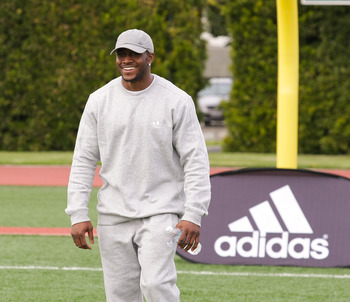 Noel Vasquez/Getty Images
Reggie Bush is a dynamic athlete, that's for sure. However the Dolphins had one of the best running back tandems in the league for the past couple of seasons in Ronnie Brown and Ricky Williams.
Well instead of trying to re-sign those two the Fins sent a couple of draft picks to New Orleans to get Bush.
The thing is they might have paid too much considering there weren't too many teams wanting to deal for him. The Dolphins could have been able to work out a deal for him, or just waited until the Saints cut him.
Kyle Orton Not Traded to the Dolphins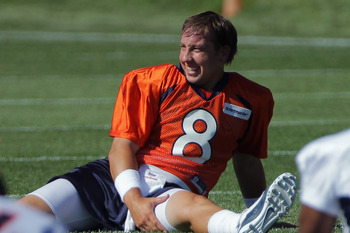 Doug Pensinger/Getty Images
The thing is Kyle Orton should be the starting quarterback in Denver. However the Broncos looked like they were ready for the Tim Tebow era to begin and seemed to have burned the bridge with Kyle Orton.
They were all set to trade him to the Miami Dolphins and somehow the trade fell through.
This is bad for the Fins because now they find themselves once again quarterbacked by Chad Henne.
However, now that Orton is back in the Denver camp, new head coach John Fox seems to like what he sees in Orton and even before the Tebow era could get going in 2011, it may have been grounded for good.
So now what Denver is left with is a scorned starting quarterback in the last year of his contract and a young quarterback who just had a blow to his ego.
If they can't make this mess work they might not have a viable starting option for next season and would have lost Orton and gotten nothing.
Keep Reading