Fantasy Football Outlook: The Playermakers on the Sleeper-Loaded Denver Broncos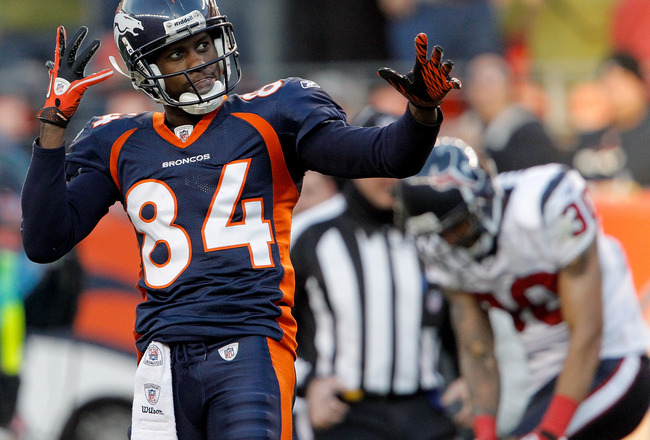 Wide receiver Brandon Lloyd is set to surprise in fantasy football leagues again.
Justin Edmonds/Getty Images
Fantasy football is a game that often conflicts our sense of loyalty as passionate, NFL fans. Should you take a stab at the great value of Philip Rivers as he surprisingly slides to the late third round in your draft? Only if you want to have two very awkward Sundays a year.
As fans entering the draft room for one of the most popular pseudo-sports in America, we often put our on-field feelings aside and take the best available players. But that doesn't keep us from slightly over-drafting the guys on our own team.
This is a brief outlook at the fantasy options for Denver Broncos fans. Use it as a guide to keep your fan-hood in line when you enter the draft room. While it would be ill-advised to dedicate your entire fantasy draft to selecting the Broncos' real roster, if these guys are available at the right price, we'll all be jumping on them.
Knowshon Moreno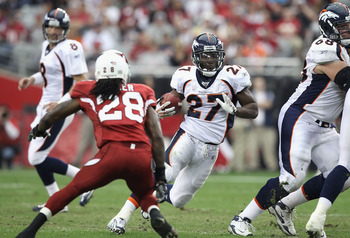 Christian Petersen/Getty Images
Everybody has to be wondering if Knowshon Moreno is finally going to take off this year. As things stand now, he is the highest rated Denver Bronco in ESPN's standard fantasy rankings, coming in at 38. But don't let that fool you.
In most drafts, both mock and live, Moreno ends up sliding. Early reports out of camp that Fox wanted to find someone else for the running game have caused a drop in Moreno's value, as did the signing of Willis McGahee.
Yet Knowshon is the clear cut number one option in Denver and figures to be featured in John Fox's run-heavy offense. So is his slide justified?
He is coming off of two disappointing seasons, but has lost a substantial amount of weight and has been performing well in camp. Moreno is still an injury risk, but last season could be chalked up as a typical running back sophomore slump.
Moreno is a great value at 38, particularly for Broncos fans, and is very under-the-radar. Unless you have other Broncos fans in your league, you might want to ride the slide a little bit and pick him up in the fifth round. But if you aren't the type to take chances, he should cost you a fourth-round pick.
Brandon Lloyd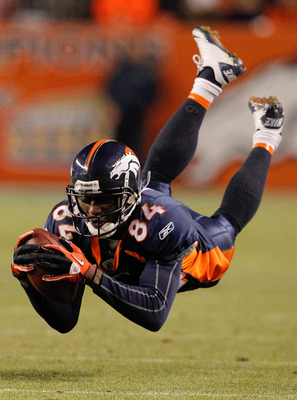 Justin Edmonds/Getty Images
Early reports out of camp indicate that John Fox is very impressed with Brandon Lloyd and his skill set. For those who were paying attention to fantasy football, or Broncos football last year, this should come as no surprise.
Last season Brandon Lloyd was the No. 1 receiver in fantasy football. This year, he is ranked in ESPN as the 46th player available.
While he is not likely to be the best fantasy receiver again this year, having Kyle Orton return as his quarterback really should boost Lloyd's value. Also, offensive coordinator Mike McCoy is carry over from the Josh McDaniels era, which makes Lloyd seem even more appealing.
Lloyd's ranking is inexplicably low. It's worth noting as well that ESPN has Lloyd ranked higher than most other fantasy football sites. However, people are starting to notice this rankings anomaly and are grabbing Lloyd a round early.
If you want to get him, you should be prepared to take him, at the latest, in the fifth round. If he produces remotely like he did last year, he'd be worth at least a third, so Brandon Lloyd figures to be one of the few truly predictable steals in your fantasy draft this year.
Kyle Orton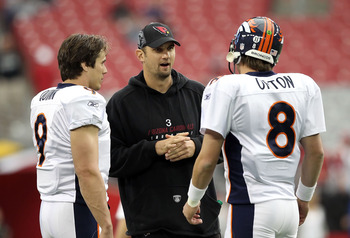 Christian Petersen/Getty Images
For now, Kyle Orton is the Denver Broncos quarterback. And in terms of fantasy steals, he should be amongst the biggest.
He ranks 136 on ESPN's player list currently. Last year until Tim Tebow was given the reigns for the final three games of the season, Orton was one of the top three quarterbacks in fantasy football.
While Josh McDaniels' departure indicates a less pass-happy offense, Orton is reportedly crisper and more accurate than ever in camp. Even if he was going to perform as a top five to 10 quarterback, he would be worth a third or fourth-round pick.
Yet Orton can be had now for a 10th-round pick or later. Grab him as your back up a round too early, and hang him out there as trade bait when he starts to perform well (just like Brian Xanders).
Basically, treat Kyle Orton like the Denver Broncos actual front office does. With complete disrespect. Just don't be surprised when he starts winning you games.
Orton continues to be one of the most underrated players in the NFL, and that translates into fantasy gold for your team.
Tim Tebow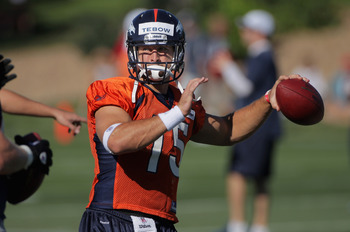 Doug Pensinger/Getty Images
Now that Tebow isn't a starting quarterback, his fantasy value is almost non-existent. Until he was deemed a back up, he was one of this year's biggest sleepers.
His skill set makes him a great fantasy quarterback because he gets points in the air as well as on the ground. In the final three weeks of last season he was the most productive fantasy quarterback, and he helped a number of teams to fantasy championships.
You won't have to spend earlier than your final pick to get Tim Tebow, but if you're a gambler, it might be smart too. If Kyle Orton gets hurt and Tebow comes in, or at some point John Fox decides to change his mind and go with Tebow, his fantasy productivity ought to be very good.
But again, know that he's a stretch to play this year, and isn't worth anything earlier than your last pick. That is, unless the news in the fluid Broncos quarterback situation changes.
Willis McGahee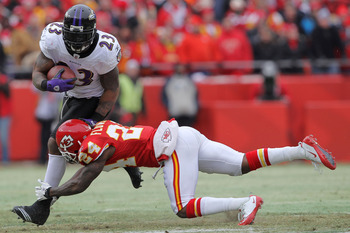 Doug Pensinger/Getty Images
"Whatchu talkin' bout" Willis McGahee is a new addition to the Broncos roster via free agency, but figures to see some carries in John Fox's run heavy offense. He should see a lot of carries, but will clearly be the number two back behind Knowshon Moreno.
Still, if Moreno gets hurt (as he has in the past) McGahee's value could shoot back up.
In Baltimore, he acted as a goal line vulture last season, frustrating Ray Rice owners. His role in the Broncos offense is uncertain right now, but he will probably be used in similar situations. He is a 235 pound back, whereas Moreno has slimmed down to 200 pounds.
McGahee is 29, but the Broncos signed him to a four year 10 million dollar contract. That indicates that they intend to use him on the field.
He ranks 102 on ESPN's list of fantasy players right now, which is a pretty good value on him. Taking him a round early would not be a bad idea, particularly if he retains his goal line vulture role. Just don't expect McGahee to be putting up a lot of yards.
Eddie Royal/Eric Decker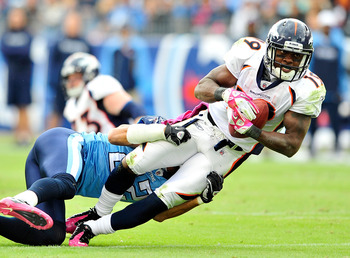 Grant Halverson/Getty Images
While neither Eddie Royal nor Eric Decker warrant a draft pick, one of them will likely emerge as a viable option as the Broncos number two receiver during this season.
They are players to keep in mind right now, but not to go out of your way to get a hold of. Do not spend a draft pick on either of these guys, but be aware of them on waivers. Whichever one emerges as a viable option should be snagged up in the first three weeks of the season and then treasured on your fantasy roster.
Keep Reading

Denver Broncos: Like this team?