Should the Green Bay Packers Trade Matt Flynn?
August 7, 2011
Ronald Martinez/Getty Images
Now that the blizzard of offseason moves in the NFL has died down into haze of slow-falling flurries, the Green Bay Packers have also finished making business decisions and are ready to get back to football.
However, the weather is still warm in Titletown and the Packers still have one player left with good trade value, but his name hasn't been mentioned in months.
Matt Flynn threw for 251 yards and three touchdowns while Aaron Rodgers sat out with a concussion against the Patriots last season. He made some crucial mistakes that cost the Pack the game, but he also impressed the nation.
Many people thought he'd be the next Kevin Kolb and one of the many teams looking for a quarterback would bargain with the Packers to grab him when the lockout ended, but while Kolb is now the Cardinals starting QB, Flynn remains a backup in Green Bay.
Ted Thompson claims that Flynn will remain with the team for the final year of his contract, but he has also hinted that he would listen to trades offers and deal if the price was right.
My guess is that he took a few phone calls, but none seemed to be worth what could be the best backup QB in the league.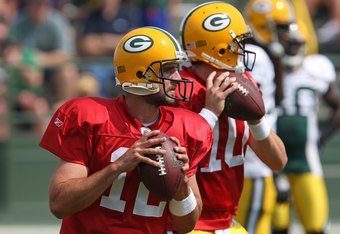 Jonathan Daniel/Getty Images
It is unlikely Flynn will be traded during the season, but the Packers may be forced to let him walk when he becomes a free agent next year even though he says he's happy where he is.
Flynn is like a homeless man's Aaron Rodgers as he proved against one of the NFL's best teams. He's a confident and intelligent player in the pocket and has good mobility. However, his arm strength and accuracy are questionable.
So should the Packers get something for his skill or do they need him too much this season that it will be worth watching him run free when his contract expires?
It's obvious that the defending champions don't have a lot of needs and a new need would be created if Flynn were dealt. At best, the Pack could possibly get a second-round pick for him.
The Packers lost both games that Flynn played in last season and still snuck into the playoffs as a sixth seed. But what if Rodgers is forced to sit for three or four games in 2011 and a playoff berth hangs in the balance?
Flynn can do just enough to keep the offense afloat in Rodgers' absence and although Mike McCarthy has faith in third-string Graham Harrell, he won't be able to win games if he's pushed into the starting role.
Many Packers fans didn't even want to watch that matchup with red-hot New England because they were expecting a blowout, but those who did tune in were pleasantly surprised even if their hopes were crushed in the end.
Rodgers' recent concussions have been worrisome in the least, but with Flynn ready to step in when called upon, faithful cheeseheads can rest easy this season.
The Packers will not give him up unless they receive an offer they can't refuse and, now that most teams have their quarterbacks, no such offer will be coming their way.