5 Necessary Additions to Improve Fantasy Football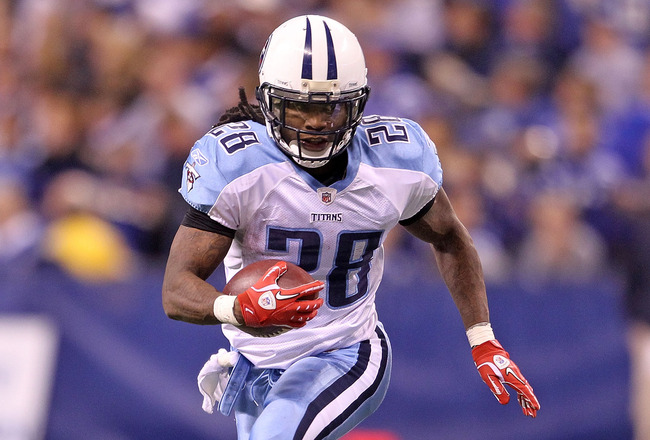 Andy Lyons/Getty Images
There is no doubt fantasy football is one of the most irrational sports games in existence.
We obsess about the monotony of stat lines instead of the action on the field. We cheer for guys we don't like on teams we can't stand. Most fantasy players have no issue picking up a player who will destroy their favorite team if it means getting the win that week.
But let's not get ahead of ourselves: fantasy football is fun. Few things foster better trash talking, work distractions and overall male bonding than organizing a fantasy football league.
Despite these positives, the game is not perfect.
From adjusting some scoring rules to adding a few new players to the roster, here are five additions that would improve fantasy football.
Bring the O-Lines into Play!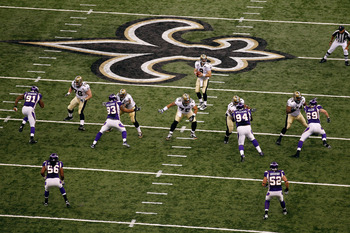 Chris Graythen/Getty Images
It's criminal that the players most responsible for the success of a team's offense don't contribute to fantasy score lines.
Here's how I'd set this up: teams would draft offensive line groups—much like they do with entire defensive and special teams units. Points would be given for rushing plays over 10 yards and passing plays over 20 yards. Points would be deducted for allowing sacks and drawing penalties (which I'll get into in just a minute).
The scoring numbers would be set to give them equal standing to defensive units and kickers. This may not be important enough to dominate games, but important enough to decide close ones.
I'm not going to lie and say that adding offensive lines to fantasy teams will turn lineman into household names, but at the very least there would be some extra respect given to the men holding down the line.
Smells Like Team Spirit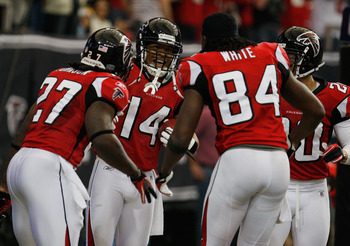 Scott Halleran/Getty Images
While fantasy football is a sport of individual players, there should be a way to add value to players whose teams can find a way to win.
This can be done with multipliers. The points for a player would be adjusted based on whether their team wins or loses.
If the player's team wins, the player would get 120 percent of their points that week. If they lose, they only get 80 percent of their points.
As an example, a player earning 10 points in a game would earn 12 points if his team won and eight points if his team lost.
The change would adjust both drafting of players and the placement of players from week to week.
Think of this draft day scenario: Are you going to take a more talented player from a team that might lose a lot this season (like Chris Johnson or Maurice Jones-Drew) or do you take a more stable player from a winning team (like Jamaal Charles or Michael Turner)?
Additionally, winning odds might shift rosters week-to-week. If receiver A slightly out-gains receiver B, but receiver B's team is more likely to win that week, who do you slide in as a starter?
You're Interfering with My Point Count!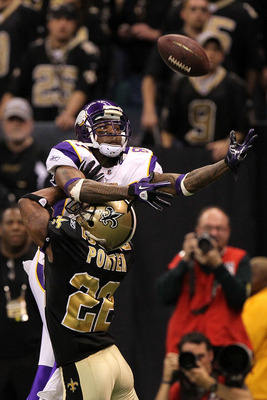 Jed Jacobsohn/Getty Images
The pass is in the air. The receiver has a step on the corner. A big play is in sight. Then just at the last moment, the opposing cornerback grabs on to a jersey, cutting off the pass opportunity and drawing a pass interference call.
In most leagues, this play never shows up on the scoreline. Why not?
In instances like this, the receiver and quarterback should be credited with the yards of the penalty—no touchdowns. In yardage focused leagues, this could be enough to swing a game.
Penalties!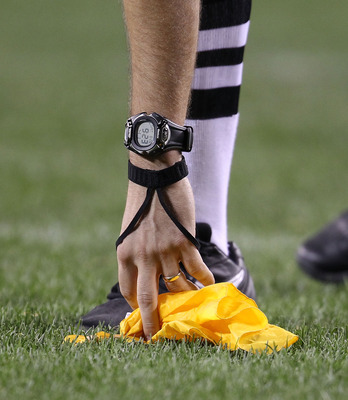 Jonathan Daniel/Getty Images
Penalties can be some of the biggest momentum shifting portions of a game. If it's so important out on the field, why can't it be brought into the fantasy game?
The reason it might not be so popular is it would result in negative points across the board. With that said, there has to be a way to punish players for sloppy play. Some examples include:
An offensive lineman gets called for holding—they're losing some points.
A cornerback causes a big pass interference— they're losing some points.
A quarterback called for intentional grounding— they're losing some points.
A linebacker puts on a helmet-to-helmet hit— they're losing some points.
While it will be important to scale the points so its not a huge game shifter, having some point reductions for penalties will encourage the drafting and starting of disciplined players to rosters.
Delivering in the Clutch!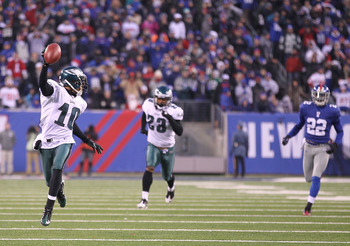 Al Bello/Getty Images
Almost as important as the number of points scored by a player is when those points are scored. I'm willing to put in a clutch bonus of two points for scores that come in the final two minutes of a half.
If a touchdown is worth six points regularly then a late in a half touchdown would now be worth eight points. A field goal kick to end the half or game would go from being worth three points to five points.
These scores would add some extra excitement, especially in a close matchup.
Keep Reading