Red Sox Getting Healthy As Dog Days Of August Start To Heat Up
August 5, 2011
Elsa/Getty Images
For the second consecitive year, the Red Sox have had to endure more than their fair share of injuries. This season has been better than last year's debacle (knock on wood), yet the ballclub has (amazingly) still had to endure trips to the DL from an astonishing number of players: RHP Matt Albers, RHP Clay Buchholz, LF Carl Crawford, OF J.D. Drew, RHP Bobby Jenks (3 times), RHP John Lackey, LHP Jon Lester, SS Jed Lowrie, RHP Daisuke Matsuzaka, OF Darnell McDonald, LHP Franklin Morales, SS Marco Scutaro and RHP Dan Wheeler.
This doesn't include OF Ryan Kalish, who was injured playing the outfield for Pawtucket at the beginning of the season and has been unavailable to the Red Sox all year.
Of all of those injuries, only Matsuzaka's injury was of the season-ending variety (unlike several of last season's injuries), though we are still waiting to see whether Buchholz recovers from the stress fracture in his back. Knuckleballer Tim Wakefield took Dice-K's slot in the rotation earlier in the year... but when a parade of candidates failed to prove worthy of replacing Buchholz, the front office went out and acquired LHP Erik Bedard minutes before the non-waiver trade deadline.
Beyond the injury bug, the team's on-field performance has been hampered by the sub-par campaigns supplied by several key members of the roster. RF J.D. Drew has been absolutely brutal in his final year in a Boston uniform, SS Marco Scutaro has performed well below the level that was expected, and the Bobby Jenks experiment has been an abysmal failure (maybe ChiSox skipper Ozzie Guillen knew what he was walking about).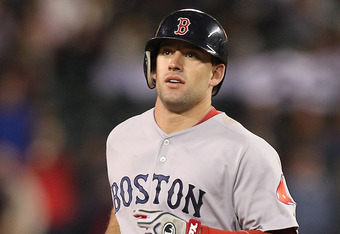 Otto Greule Jr/Getty Images
RF Josh Reddick has performed admirably in lieu of Drew, but he has started to come back to Earth in recent weeks. The black hole at shortstop has remained a constant drain on the offense since Lowrie went on the DL. The bullpen has been all right, but it has been nowhere as good as it would have been had Jenks provided ANYTHING in a setup role.
But hope lurks right around the next corner!
Lowrie moved closer to returning today with his third rehab appearance for Triple-A Pawtucket this evening. "Jedi" started at shortstop on Monday (0-for-2) and at DH on Tuesday (1-for-3). According to the PawSox website, he started at shortstop again tonight - playing seven innings and going 2-for-3, with two RBI.
He will play for the PawSox again tomorrow and be re-evaluated on Saturday morning in Boston... he could be activated by the Sox as early as Saturday, in the midst of the club's weekend series with the Yankees.
A little further north, Kalish made his first rehab appearance playing for the Lowell Spinners this evening (he went 0-for-2). Kalish' rehab is just starting, but it is likely he will be back before the end of the year - most likely as a September call-up, but possible earlier.
As for Jenks, Boston.com reports he was feeling pretty chipper after receivng a cortisone injection in his back last week... all seemed on track for his return until he suffered a setback after throwing a side session earlier this week. The Sox have determined it is in the player's and club's best interest to hold him back just a bit at this point... still, he could be just a week or two away from starting a rehab assignment of his own.