NFL Predictions: Top 10 New Quarterback-Receiver Duos in 2011
Stephen Dunn/Getty Images
The quarterback to wide receiver connection is maybe the most important duo in football nowadays. With passing attempts up across the board over the past few years, having a quarterback and receiver connection that can be consistent and productive is valued much higher than in the past when most teams were run-oriented.
With new quarterbacks and new receivers on new teams across the NFL, developing the chemistry needed to breed success for both players is not easy task, and something that likely will take years to develop. Still, for the sake of immediate production, these ten new duos will get their first chance to play in a new system together.
10. Joe Flacco to Torrey Smith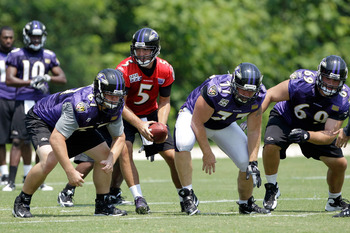 Rob Carr/Getty Images
Torrey Smith was selected in Round 2 by the Ravens in this past year's draft despite being a very raw receiver prospect. Smith was explosive in his career with Maryland, but his routes, physicality, and overall development as a receiver still left a lot to be desired.
Still, despite his shortcomings, the Ravens are desperate for some big play threats, and Smith for sure fits that mold. Expect Flacco to feel safe with Anquan Boldin, Dennis Pitta, and Ed Dickson in the short and intermediate routes, and Smith to be a vertical threat by midseason.
Prediction: 650 yards, 3 touchdowns
9. Mark Sanchez to Plaxico Burress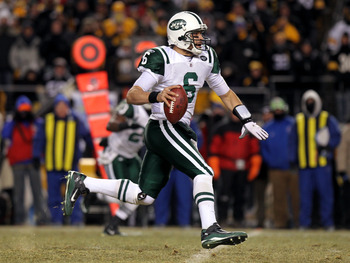 Nick Laham/Getty Images
The Jets made the choice to quickly re-sign Santonio Holmes in free agency and let Braylon Edwards sign with the San Francisco 49ers. To replace Edwards, the Jets signed both Plaxico Burress and Derrick Mason.
While both should be utilized in New York this year, Plaxico right now is penciled in to get the most playing time of the two, even though he's like to be injury prone, slow, and not defined as a receiver thanks to him being in jail for the past year and a half. Still he can't help but get chances on third down, second and longs, and in the red zone.
Prediction: 670 yards, 6 touchdowns.
8. Jay Cutler to Roy Williams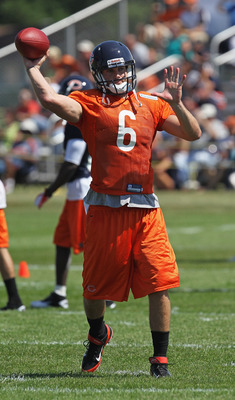 Jonathan Daniel/Getty Images
Adding Roy Williams isn't likely to be a major boost in the Chicago Bears offensive production, as he hasn't been consistently impressive since he was traded from Detroit to Dallas. However, he can add a dimension to this Bears receiving corps that they're missing in physicality.
Williams hasn't proven to be all that powerful in Dallas, but now that he's been cut from a team and needs to be productive and motivated to last in the NFL, he could have a fire lit under him and be more of an intermediate receiver who can been productive in YAC. Jay Cutler will be hoping that's the case, as he needs a reliable short game target, especially in crucial situations of the game.
Prediction: 700 yards, 6 touchdowns
7. Matt Cassel to Jonathan Baldwin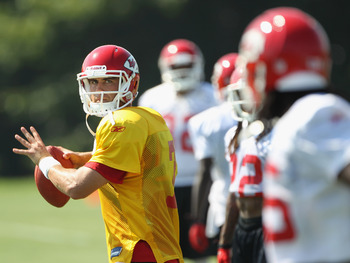 Jamie Squire/Getty Images
The Chiefs made the bold move to take the character question mark-laden receiver in Jonathan Baldwin from Pittsburgh at the end of the first round. While Dwayne Bowe was the NFL leader in TD receptions last year (and was ranked No. 47 among the "Top NFL Players" according to NFL network), he still is not considered an elite receiver and needs help opposite him.
Matt Cassel could utilize the big, long, deep threat receiver in Baldwin to stretch defenses. Steve Breaston also could have an impact, but more likely in the slot, and Baldwin should get more and more balls his way if he continues to improve, isn't a locker room issue and becomes reliable for Cassell.
Prediction: 725 yards, 5 touchdowns
6. Alex Smith to Braylon Edwards
Jed Jacobsohn/Getty Images
The most recent NFL big time signing was Braylon Edwards to a one year contract, giving Alex Smith (and Colin Kaepernick) another weapon for this offense. Edwards was hoping for a long term deal, but thanks to concerns about his locker room character as well as his legal troubles, teams like the 49ers were ready to give him a one year deal and see where it leads.
Edwards is arguably the best receiver on the 49ers roster talent wise, and if Alex Smith wants to hold onto his job, he'll need Edwards to stay focused and consistent down the field and make the catches he's shown the ability to bring down.
Prediction: 800 yards, 6 touchdowns
5. Cam Newton to Steve Smith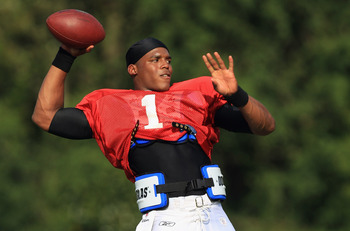 Streeter Lecka/Getty Images
Cam Newton steps into Carolina as the franchise quarterback and the staple of an organization on offense and in the media. To be successful, the Panthers have kept the running game firm with DeAngelo Williams and Jonathan Stewart as well as maintained three or even four players who, when healthy, have Pro Bowl potential.
However, protection and run support only go so far for a quarterback. He has to deliver when he's put in the opportunity. And with the arm strength of Cam Newton, finding deep receivers down the field should be a big part of his game. Having one of the best small, speedy receivers in the NFL should prove to help both players into very productive seasons.
Projection: 900 yards, 6 touchdowns

4. Donovan McNabb to Percy Harvin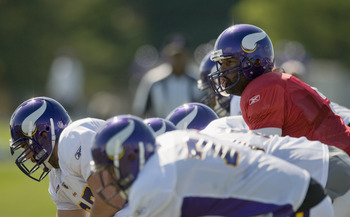 Hannah Foslien/Getty Images
I'm still a strong supporter of Donovan McNabb and his chances of having a short reliving of his past in Minnesota. He's likely frustrated with how things ended in Philly and even more aggravated that he didn't get a real chance in Washington.
Now that he's in Minnesota in an offense that is a much better fit for his skills, he'll have a chance to thrive and really show that at 34, he can still be a capable starter. His No. 1 option will be Percy Harvin, who appears to be fully healthy and ready for a breakout season. If McNabb can be protected this year, the Adrian Peterson, McNabb, Harvin triangle all should be very productive this year as the Vikings could really surprise in the NFC North.
Prediction: 900 yards, 5 touchdowns
3. Andy Dalton to AJ Green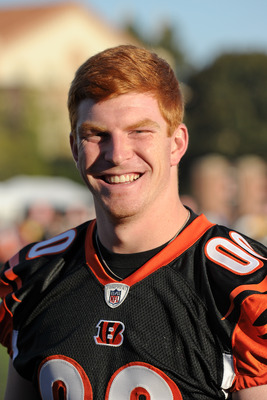 Noel Vasquez/Getty Images
At pick No. 4, I thought AJ Green was the obvious selection for this team, and too good to pass up on, especially if they weren't sold on Blaine Gabbert. Green is a raw prospect, and could have a Larry Fitzgerald/Calvin Johnson like career. However, at pick No. 34, I was not sold on Andy Dalton as a franchise quarterback for an NFL team.
However, as of now with Carson Palmer set to retire thanks to Bengals management not being willing to trade him, the offense is ready to move on with Andy Dalton as the starter and Jay Gruden excited about the potential. While I'm not ready to say Dalton will be a widely successful NFL quarterback, he is a good system fit and with AJ Green being the only receiver on that team that I truly trust, Green could be a very productive rookie this year, barring injury.
Projection: 960 yards, 7 touchdowns
2. Matt Ryan to Julio Jones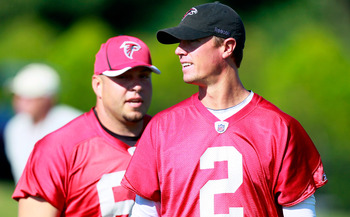 Kevin C. Cox/Getty Images
Matt Ryan was outstanding last year and seems on the cusp of leading his team to a very deep playoff run. The Falcons decided to add even more talent to a passing game that already featured one of the NFL's top five receiver's in Roddy White. The Falcons mortgaged the top of last year's draft and the 2012 draft to get Julio Jones from Alabama.
While it seemed like an awful lot for a No. 2 receiver, Jones was viewed by many as the No. 1 receiver in this class, and pairing him with Roddy White should make for some tough matchups for defenses (even for the "Dream Team" Eagles). Don't be surprised if team's double Roddy White still and Julio Jones gets close to if not more yards that White opposite him because of it.
Prediction: 1,100 yards, 8 touchdowns
1. Kevin Kolb to Larry Fitzgerald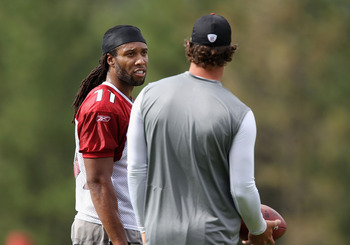 Christian Petersen/Getty Images
Since Kurt Warner retired before the last football season, the Cardinals offense has not been close to the same. Matt Leinart didn't work out for the Cardinals, and the Derek Anderson/Max Hall/John Skelton experiment didn't, either.
When reports of Kevin Kolb to the Cardinals began to surface back in March (even though trades could not happen thanks to the lockout), fans and team members of the Cardinals started to not only hope for it to happen, but almost expect it.
While the trade seemed to favor the Eagles (a second rounder and Dominique Rodgers-Cromartie) and was a major gamble for the Cardinals, finally having a capable passer again to get Larry Fitzgerald the ball should make him, Ken Whisenhunt, and Cardinals fans at least a bit more happy about their team's chances for the near future.
Projection: 1,400 yards, 12 touchdowns
Keep Reading