Bush League or Not Bush League? That Is the (Newest Baseball) Question
August 5, 2011
Leon Halip/Getty Images
What a week in baseball.
Thinking back on all of the drama that unfolded this week, it seemed as if I were remembering the last episode of a random soap opera, rather than a bunch of baseball games.
Enter eccentric narrator.
"Previously on 'America's Favorite Pastime,' Carlos hit a home run and rubbed it in Jered's face, which Jered was not happy about. Jered then took matters into his own hands by throwing at Alex's head. When Jered was thrown out of the game, the two gangs shouted back and forth as Jered had to be held back. Meanwhile in Milwaukee, Albert was hit in the hand by Takashi, after being threatened for the fourth time this week. Jason then came to Albert's aid by throwing his own fastball at the back of Ryan. Tony was also upset as Brewers fans made fun of his Mother. See what happens next."
Okay, so it was a pretty lame attempt to compare baseball with a soap opera but that is what it seemed like (except they were fighting over baseball, not girls.)
All of this "throwing at the other team" has raised the question of what is and what isn't "bush league?" I say that an action is bush league when there is no place for that action in baseball, much like the aforementioned soap opera plot.
Many people feel that if someone on the team gets hit, especially the team's best player, then the appropriate reaction is to throw at their best player, as was the case when Jason Motte plunked Ryan Braun in retaliation of Albert Pujols being hit by Takashi Saito the previous inning.
This was the fourth time that a Brewers pitcher had tried to pitch Pujols up and in. This one, however, hit him.
Motte also tried to make it seem like he hit Braun "accidentally," but if you look at the facts, I think you will feel otherwise.
The Cardinals had just tied the game in the previous inning at 7-7. Ryan Braun, one of the Brewers' best hitters, was first up for the brewers in the bottom of the seventh. The count was 2-0 after the first two pitches landed well off the plate to Braun. The next pitch was up and in and hit him, a few inches lower than where the ball thrown at Pujols was. Lets add this up...
Braun: good hitter. Braun: first Batter of the inning.
Pujols: good hitter. Pujols: hit by a high pitch in the previous inning.
I think it is pretty clear that the ball that hit Braun was meant to hit Braun. What makes me believe this more is that the count was 2-0. It would have been pretty obvious if he hit Braun on the first pitch, so he disguised it by throwing two intentional "unintentional" balls on the and then plunking him with the next. Motte claims that (paraphrase) "he knows what Braun can do so he was trying to not leave him one over the plate."
That's fine but if you are trying to work around him, work away. If you miss badly, you don't hurt anyone. By working inside and letting one "get away" he was throwing a pitch that had a good chance of hitting Braun. Whats worse, the pitch was not too far off from being the same exact pitch that hit Pujols.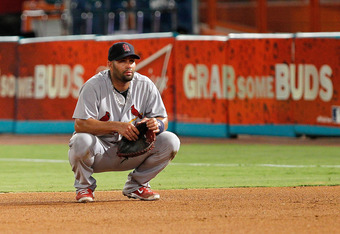 Mike Ehrmann/Getty Images
With all of this going on, Cardinals Manager Tony La Russa fumed about his superstar getting hit. He admittedly had a right to be upset. His best player could have broken a hand or a jaw. He lashed out at the Brewers pitchers, maybe a bit too quickly. Watch the video at the link below and stop it at second 23. If you do, you will see that the pitch that hits Braun is also "up and in" which is what La Russa was complaining about in the first place.
http://stlouis.cardinals.mlb.com/news/article.jsp?ymd=20110803&content_id=22702036¬ebook_id=22702038&vkey=notebook_stl&c_id=stl
True, it wasn't the fourth time that Braun was pitched high and tight to. Since that IS what happened to Pujols, La Russa has good reason to be upset. Pujols is the Cardinals best hitter and pitchers need to find ways to beat him. Apparently the Brewers thought he might have a weakness on pitches thrown up and in. That's baseball. I do think that when pitches are getting away from pitchers like that, then they should back off that area. If there is a chance of one 'getting away' and hurting someone, find another way to beat Pujols.
Neither pitch should have happened, but it went both ways and La Russa needs to understand that.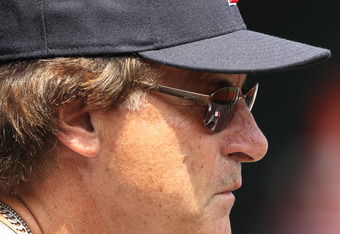 Al Bello/Getty Images
In the aftermath, however, Brewers fans showed little class in handling the situation, by insulting La Russa, apparently cursing out his family. The Brewers announcers in the video commented on how 'bush league' hitting Braun was but they failed to mention that the punks sitting behind the visiting dugout were acting in just as much of a 'bush league' manner.
Speaking of little class, and also switching to the American League, the game between the Tigers and Angels featured quite a show case of bush league actions and low class moves. When Magglio Ordonez hit his home run in the third inning, and stood there to make sure it went fair, he was not trying to show up the pitcher. As he put it, he "doesn't hit many home runs and he wanted to make sure it went fair" (again, I am paraphrasing). What happened after that was the first of many of these low class moves.
Angels pitcher Jered Weaver, thinking Ordonez was trying to show him up, had words for Ordonez as he rounded the bases following the home run and in his next at bat as well. This only escalated when Carlos Guillen launched a home run in the seventh, and followed it with a delightful stare down of the pitcher, bat flip, side hop (while maintaining eye contact with Weaver) and a slow jog around the bases.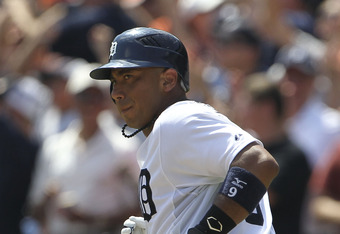 Leon Halip/Getty Images
Guillen claims that he was just trying to have Ordonez back, but he apparently didn't think the towering home run and a three run lead was enough to upset Weaver. He had to play with his mind too.
Don't get me wrong, I am a devout Tigers fan, but Carlos Guillen lost a lot of my respect after that stunt.
What followed the bat flip and stare down was very similar to our situation in Milwaukee. The next pitch was thrown directly at the head of Alex Avila who was able to get out of the way. Weaver was tossed and had to be corralled by teammates and coaches as he dared the entire Tigers dugout to come and fight him.
So, what is and what isn't bush league?
Up until now, I have given you mostly facts, now I will give my opinion.
As I mentioned before, many people feel it is okay to retaliate when a team's best player has been hit. I on the other hand do not feel that way. In my opinion, there is no room for intentionally hitting someone in baseball and if there was, the umpires would not eject those who do it. That is not the way the game is supposed to be played. In my mind, if you really want to get someone back, then beat them at the game you are playing, not the war they are trying to start.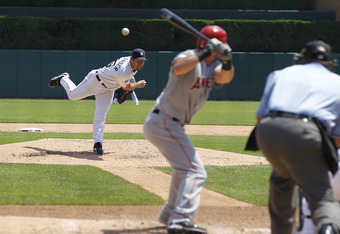 Leon Halip/Getty Images
While all of this was going on at the Tigers game, Verlander was busy going about his business, continuing his most recent no-hit bid and dominating for eight innings as he collected the win, not only for his potential Cy Young credentials, but for his first place Tigers as well. He did not try to hit the next batter for the Angels and put his team in jeopardy of losing the game. At this point in the season, every game is crucial, and JV's cooler head allowed him to focus on that, not the shouting match between two grown men.
Too many times people are too worried about retaliating but what they should do instead is focus on the game, much like Verlander did. Often times pitchers will put their team in danger (of losing the game) when they retaliate. Take Motte for example. He hit Braun, putting the lead off runner on base, in a tie ball game, in the seventh inning, in the visitor's ballpark (meaning they get last AB's.)
Not smart.
As any pitcher (or former pitcher, like myself) knows, getting the first out of the inning is crucial in any point in the game, let alone a tied ball game in the late innings. Lead off walks will kill pitchers and essentially that is what happened. Motte let his ego get in the way of trying to focus on winning the game the right way. It just so happens the Cardinals won the game but what if the batter behind Braun had doubled him in? Then they gave up the lead and a chance to win the game for a three inch bruise on Ryan Braun's back that he can't even feel anymore.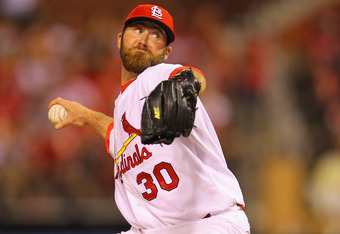 Dilip Vishwanat/Getty Images
It worked out in the end for the Cardinals, but in a tight playoff race, where every win matters, it was not a very smart decision.
The same goes for Weaver and the Angels.
He let Guillen get inside his head and tried to hurt someone else who had nothing to do with the situation. He got ejected (in another close game) and hurt his team's chances to win the game. I know the Angels actually held them scoreless for the rest of the game and scored a few of their own runs to make it a closer game, but Weaver hurt his team's "chances" to win, not the actual outcome of this particular game.
The desire to retaliate, whether it costs your team or not, is in my mind classless and something that I consider to be "Bush League."
To all the pitchers out there, things like this happen in baseball. Players get hit, pitchers give up home runs, other players act like idiots. Let it go and do your best to get the next guy out. Don't risk the health of another player just to take out your frustration.
To sum up my feelings on what went down this week in "America's Favorite Pastime"
Brewers pitching: Bush League. Don't throw high and tight to Pujols. We as baseball fans don't want to see him injured.
Brewers Fans: Bush League. Leave the players and coaches alone. There is no reason to be cursing their families over a baseball game.
Jason Motte: Bush League. If you were pitching around him, you would have at least been close. Instead, you let one "get away" up by his shoulders. There is no need for that.
Jered Weaver: Bush League. Keep your head on your shoulders and maybe you win that game. Then again, maybe not.
Carlos Guillen: Bush League. Weaver's beef with Ordonez had nothing to do with you. You are only trying to stoke the fire, and are putting your teammates (Avila) in danger.
Disagree with me if you will, but all of these things constitute as bush league in my mind and there is no place for them in baseball.