5 Most Overpaid Veterans on the Chicago Bears' Roster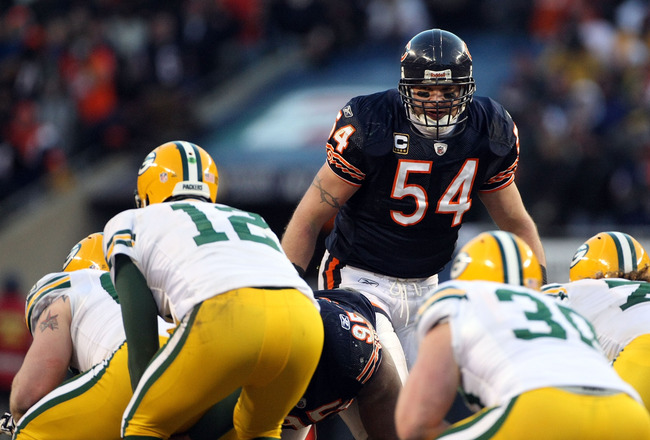 Doug Pensinger/Getty Images
Jerry Angelo, the Chicago Bears' General Manager, is a salary cap wizard. Regardless of how you feel about anything else Angelo does, he is fantastic on the contract end of his job.
Writing this article was quite difficult due to that fact. Looking across the contract situations for the members of this team, you see an awful lot done right and not much to complain about.
But there are some outlying contracts, that for whatever reason, leave one with questions regarding the amount a player is paid.
This isn't always an indictment of a player's abilities. Sometimes a great player is still overpaid. And sometimes a player doesn't live up to his contract. The market plays a role, as well. Players who are overpaid are often in that category because of the market for that player or position at the time of the signing. And some moves are head-scratchers.
So some of the players who made this list did so because of their own play, some made it because of free agent market issues and a couple made it because, even though their play was outstanding, their contracts are considerably larger than similar players at their positions.
And for my fellow Bears Feature Writer Bob Warja's perspective, click here!
Marcus Harrison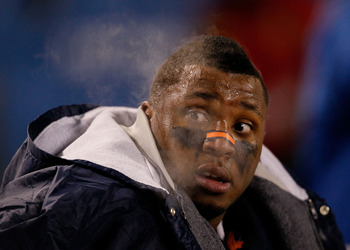 Don't look surprised, Marcus. You are overpaid.
Jonathan Daniel/Getty Images
Marcus Harrison could be getting league minimum salary and would still be overpaid.
In 2011, Harrison is set to make $1.2M. It is extremely rare that I would include a salary like that in the "overpaid" category. But Harrison qualifies.
Entering his fourth season, Marcus has produced three sacks and 55 tackles. Last year, though, he produced just three tackles and a defended pass while registering no other production while playing just 96 snaps, according to Pro Football Reference and Pro Football Focus.
Harrison also has made a habit of showing up to camp out of shape, coming in 11 pounds overweight in 2011 and 14 pounds above the Bears expectations for him in 2009.
Considering his lack of production and apparent lack of motivation, paying Harrison anything seems like over-payment. Paying him more than Henry Melton and Matt Toeaina combined would support that theory.
Chris Spencer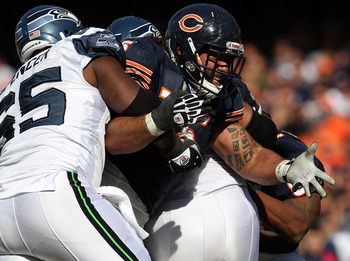 Spencer getting beat by now-teammate Matt Toeaina
Jonathan Daniel/Getty Images
Spencer was signed to a two-year $6M contract to replace Olin Kreutz. We'll leave the debate over whether that was a good move for the comment section.
But the shortage of good center in free agency this year was the culprit, here. Details of the contract haven't been released yet, but it's probably safe to assume that the Bears will be paying Spencer in the $4M range for 2011 after bonuses.
Spencer isn't coming into Chicago as a proven upgrade at the position, nor is he coming into Chicago as the proven best lineman on the roster. His past history is that of a below-average center who has also filled in as a below-average guard. Spencer does show some potential and could end up improving under the tutelage of Mike Martz.
Was Spencer's past enough to warrant $6M over two seasons? No. But the market set the price, not the player, so both Spencer or Angelo get a pass on this one.
Chester Taylor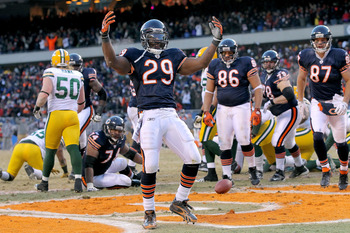 Maybe he wasn't celebrating from behind? Maybe he was celebrating making more money than he was worth?
Doug Pensinger/Getty Images
Chet got over. Plain and simple. But it wasn't his fault.
I'm not going to use this space to bluster over his 2.4 YPC from last year. I think Taylor was completely misused out of necessity and did the best he could with the opportunity given.
But the Bears signed him to a four-year $12.5M contract to spell Matt Forte. Worse yet was that he had the same skill set as the starter. Compare that to the two-year $4.6M contract that Marion Barber just signed with Chicago, and consider that Barber has a skill set that complements, rather than imitates, Forte's style.
The fact that Taylor has the same skill set as Forte is what led to his horrible year last season. It wasn't a lack of talent, but a lack of diverse talent. When the Bears needed a short-yardage back, they were forced to go with Taylor, who is more of a one-cut back than a power back, because they didn't have a true short-yardage back on the roster.
With Barber on the roster, Taylor should be able to return to form spelling Forte, as was intended. But that won't take away from the fact that the Bears over-paid for an aging Forte clone, who is only useful when Forte needs a rest.
Brian Urlacher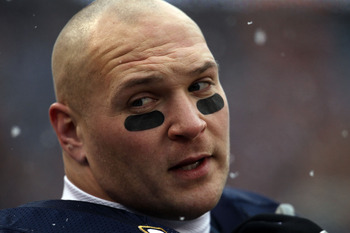 Brian, you are great. But you are also overpaid.
Jonathan Daniel/Getty Images
Before I get crucified here, let me explain that I know what Urlacher means to this team and I know how good he is. I am in no way demeaning his abilities or accomplishments.
That said, Urlacher is set to make $8.025M this season.
When we're talking in millions of dollars, sometimes it's easy to overlook the large amounts of money that are being talked about here.
So rather than just sticking with that number, let's put it into perspective, shall we?
Ray Lewis, who is arguably one of the best middle linebackers in the history of the game, is set to make $6.5M this season. Patrick Willis, who is arguably the best middle linebacker in the game today is going to collect $6.846M this season.
So Brian is going to pull in about $1.5M over one of the best in history, and in the area of $1.2M over the best in the game right now.
Like I stated above, Urlacher is still one of the best in the game today. He gets a bum rap occasionally from the media and fans, but his impact on the Bears defense cannot be ignored. The 2009 season, during which he only played half of one game, saw the Bears usually dominant defense allow the 6th most points in the teams 91 season franchise history.
But that being said, the Bears are still over-paying for his services.
Julius Peppers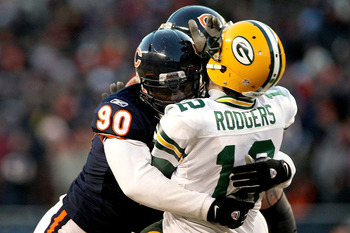 He's a vicious beast, but Julius is also over-paid.
Doug Pensinger/Getty Images
This one is hard. Almost as hard as naming Urlacher on this list. But it has to be addressed.
Peppers made in the area of $20M last season and is set to make another $11.4M this season. He was the prize of free agency last season, and the Bears were forced to pay a premium for his services.
Like Urlacher, this is no indictment of Peppers' skills or his impact. He most certainly made the Bears defense much better last year. And as with Urlacher, this is a straightforward look at the economics.
Peppers was signed to a six-year $84M contract, half of which was guaranteed, on the first day of free agency in 2010.
But compare Peppers salary this year with that of his peers, Trent Cole of the Eagles and Jared Allen of the Vikings. Cole will make $2.9M this year and was among the best defensive players in the game over the past four years. And Allen is arguably the best defensive end of the past decade and will make $9M this season.
Peppers high price was due to the market, and I don't fault the front office for paying it. But looking at strictly what Peppers makes in comparison to his peers, the Bears aren't exactly getting a great deal.
And now it's your turn to be heard. Step up on the soapbox, known as the comment thread, and let your voice be heard. Tell us what you think.
Keep Reading

Chicago Bears: Like this team?