Tim Tebow and the Role Race Plays with Quarterbacks in the NFL
August 5, 2011
Justin Edmonds/Getty Images
The overwhelming support for Denver Broncos quarterback Tim Tebow is understandable.
He is a likeable guy.
He says the right things, does the right things, and plays the all-American boy role very well.
But the facts are the facts, and right now, as we speak, Tim Tebow is not ready to be a starting quarterback in the National Football League.
I had the privilege of watching Tim Tebow in person during my college career at the University of Florida. I was fully in the epicenter of "Tebow Mania," or the "Tebow Love Fest," as I called it, so I can see perfectly how anyone could like the guy.
He was just like anyone else.
He walked to class in his signature orange-and-blue Crocs and rode a not-so-flashy scooter that you could hear coming from a mile away. No mobs followed him around; he just went about his business, and did not lead the rock-star lifestyle that he could have.
His popularity off the field has translated to a skyrocketing perception of him on the field in a way it never could for a black quarterback.
The stigma facing all black quarterbacks coming into the NFL from college is that they will never make it in the NFL, because they trust their legs too much, or they do not possess the accuracy to have success in the faster NFL game.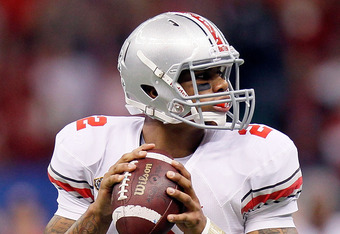 Kevin C. Cox/Getty Images
Most black quarterbacks don't even get the chance to prove themselves on the field. They are told immediately that they would be better served becoming a wide receiver or a "Wildcat" package kind of guy (see: Armanti Edwards, Pat White, Terrelle Pryor).
I guarantee you, when Terrelle Pryor enters the league (whenever that happens), he will not garner even half of the support Tim Tebow has. If you look at both players from purely a football standpoint, it can be reasonably argued that Pryor would be a better quarterback. He's taller, faster, has a great build and, like Tebow, there are concerns about his accuracy.
What is the difference between the two? One is a black quarterback with a marred past, and the other is a white quarterback which seems to have the whole sports world on his side.
This entitlement got Superman drafted 25th overall in the 2010 NFL Draft, when he was really a late-round pick solely based on his talent.
The main word used by Tebow apologists to describe his skills on draft day was "intangibles." But his intangibles do not put the ball on the money with a middle linebacker coming full speed at him through the A-gap with the game on the line. At some point, Tim Tebow's intestinal fortitude is not going to get him over the hump.
Tim certainly has not been given a pass by analysts when it comes to his elongated delivery and subpar accuracy. But he has been giving a pass in that, in spite of these flaws, the average white football fan who loves Tim Tebow wants him to start over the proven starter, Kyle Orton, when frankly, he is not ready.
Early practice reports out of Broncos camp even have Brady Quinn playing better than the former Gator star.
These views are not just confined to the average fan—even analysts have a skewed view on the "Mile High Messiah" (see: Woody Paige, Skip Bayless).
Fans will love Tim Tebow regardless, rain or shine, interception or fumble.
But the NFL is not a charity league. No. 15 will get the Broncos' starting job eventually, but only when he is ready. The Heisman Trophy winner has one shot to prove the doubters wrong, and Tim and the Broncos organization better be sure he is ready when the time comes.
The player who broke Tim Tebow's single-season rushing touchdown record, Ricky Dobbs, a black quarterback who played for Navy has a great story—maybe even better than Tebow's.
He played three seasons for Navy, and will begin serving our country in December.
He is a man of God.
He overcame divorced parents and a mother who fought drug addiction when he was a child.
I ask you this: where is his recognition?