NFL Trade Rumors: Should the Minnesota Vikings Trade for Safety Taylor Mays?
August 5, 2011
Streeter Lecka/Getty Images
Taylor Mays has an extremely rare skill set; he is built like a linebacker and has the speed of a cornerback. One of the biggest safeties in the NFL, Mays is entering his second year in the league.
Mays seems to have a bright future ahead; however, the San Francisco 49ers have decided to test the trade market for the youngster.
Yesterday afternoon, Adam Schefter tweeted:
"49ers sent out a mass email this afternoon to teams around the league to try and trade safety Taylor Mays."
Why the 49ers have given up on Mays after only one season is anyone's guess.
The 49ers acquired former Minnesota Vikings safety Madieu Williams and free agent Donte Whitner, who spent five years with the Buffalo Bills, so they must feel that Mays is expendable.
Matt Barrows of the Sacramento Bee suggests that the Vikings could be interested in trading for Mays, citing a video of the 49ers 2010 draft room in which then-head coach Mike Singletary got into a heated argument with general manager Trent Baalke prior to making their second-round pick (Mays).
Now that Singletary is gone and Mays is on the trading block, it's clear that Baalke was not in favor of drafting Mays. Baalke was thought to have been interested in Jimmy Clausen, but he went to the Carolina Panthers just one pick ahead of the 49ers' selection in the second round.
Singletary got the player that he wanted when the 49ers selected Taylor Mays, but he didn't even get one year with his pet project before being fired as head coach after a Week 16 loss to the St. Louis Rams.  
It just so happens that the Vikings, who hired Singletary as a linebackers coach and assistant head coach this offseason, could use some help at the safety position.
After the Vikings cut underachieving safety Madieu Williams, they are a little thin at safety, and Mays, who has tremendous upside, could probably be acquired for a late-round draft pick.
In Minnesota, Mays would be competing with Husain Abdullah, Jamarca Sanford, Tyrell Johnson and Mistral Raymond. The Vikings seem to like Abdullah, who started at strong safety last season, but there is no clear-cut starter at free safety. Sanford looks like the front-runner, but Tyrell Johnson, who started 15 games in 2009, is hoping for a bounce back year. Rookie Mistral Raymond will compete, but he will likely have a better chance at winning a starting spot next season (or possibly toward the end of this season).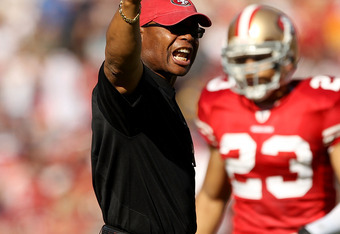 Ezra Shaw/Getty Images
With a 6'3", 230-pound frame and elite speed, Mays has intriguing potential. And Singletary might be able to convince his long-time friend and Vikings head coach Leslie Frazier that the team should pursue a trade to acquire the second-year safety. 
Mays is an aggressive, violent hitter with great sideline-to-sideline range. He still needs some time to develop, but he has an extremely high ceiling. The question is whether he can improve his coverage skills and ball-hawking ability enough to become an effective safety.
Prior to being drafted, many analysts believed that Mays would need to move to a 4-3 outside linebacker position in the NFL. He definitely has the physical skills for the job, and if the Vikings did move him to linebacker, Singletary would be his position coach.
If Mays moved to linebacker in Minnesota, he could compete with Erin Henderson, Kenny Onatolu, and rookie Ross Homan at weak-side linebacker. 
Whether at safety or linebacker, one thing is certain: Mays has a ton of room to grow. 
If the Vikings don't want to give up a late-round pick in next year's draft, they could always take the wait-and-see approach. The 49ers might decide to cut Mays if he is not traded, and the Vikings could attempt to pick him up through waivers.
Should the Vikings pull the trigger on Mays? Or should they wait to see if the 49ers cut him?
Please vote in the poll and share your thoughts below in the comments section.