Mike Patterson's Brain Condition Leaves Philadelphia Eagles in State of Concern
August 4, 2011
Otto Greule Jr/Getty Images
ESPN's Sal Paolantonio reported this morning that Eagles DT Mike Patterson has been diagnosed with a brain condition called AVM, arteriovenous malformation, after suffering a seizure Wednesday morning at training camp. The condition, which is an abnormal tangling of blood vessels, ultimately needs to be treated via brain surgery or radiation.
This obviously comes as quite a shock to the football world, as Paolantonio's report suggests the seizure was the first symptom. Let me say that my thoughts and prayers are with Patterson and his family.
Right now I'm sure that Patterson and the Eagles are going over all options regarding treatment. According to the National Institute of Neurological Disorders and Stroke, AVM can be managed with medication to alleviate symptoms.
They also say that the main concern with AVM is a brain hemorrhage. A potential bleed in the brain is extremely serious, so this leads me to believe that Patterson should opt to have this surgery immediately, but that's just my opinion.
At this point it is unknown what treatment he will undergo and/or how long the recovery time would be. Patterson is already in stable condition while undergoing further tests, the ESPN report says. It's also unclear whether football activities could cause or worsen the condition, as Paolantonio reported that team trainer Rick Burkholder said "we're pretty sure it's not football-related."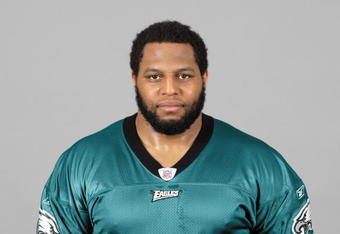 NFL Photos/Getty Images
What this means for the Eagles in terms of football reasons is that, if Patterson is to miss an extended period of time, they may have to scramble to get by without Patterson at defensive tackle. In a recent article, I graded the Eagles' moves so far in free agency and expressed that I didn't think trading Broderick Bunkley was a good move. Now it's even more important to add another defensive tackle.
Then we add on Trevor Laws' hip flexor and Antonio Dixon's knee sprain, and now we're down to undrafted rookies Cedric Thornton and Charlie Noonan running with the first team. Feels like 4 p.m. can't get here fast enough so that Cullen Jenkins can jump in.
The team did just pick up a pair of defensive tackles in Anthony Hargrove and Derek Landri. These guys have good starting experience and have been somewhat productive in recent seasons, but both are better suited in backup roles.
If Patterson ends up being out for an extended period of time, or all season, then we will have two new starting DTs this year.  More than likely it would be Jenkins and Trevor Laws. Antonio Dixon is still in the mix and could end up starting alongside Jenkins as well. 
However, Jenkins himself has a history with injuries, so if he goes down the Eagles could end up really struggling on the interior of the defensive line. 
In any case, the Eagles have to be concerned now about this position. But don't expect another major move for a DT at this point. If Patterson's condition causes him to miss this season, I could see the team picking up another DT once other teams start paring down their rosters.
For right now, though, the aspect of worrying about what the Eagles will do at DT pales in comparison about the worry for Mike Patterson. His health is by far the most important thing here. 
I truly believe he will be OK, but you can never take anything for granted.