Baltimore Ravens: Training Camp Observations from Wednesday's Practice
August 4, 2011
Rob Carr/Getty Images
The Baltimore Ravens had a break from the hot sun at their afternoon practice yesterday thanks to overcast skies throughout the practice. That's a welcome change since the team has been toughing it out through extremely hot practices since the start of camp.
Overall, the Ravens had a good practice despite a being short players. The following are a few observations from Ravens training camp on Wednesday.
Several players are still unable to participate.
The Ravens restricted free agents and signed free agents are not permitted to practice until tomorrow. Marshal Yanda, Oneil Cousins, Chris Carr, Jalen Parmele and Tom Zbikowski were all seen standing on the sidelines among others.
Zbikowski seemed to be annoyed at certain media members who had reported that he was not participating in practice because of a skin condition.
He was overheard saying, "I'm not practicing because I'm a restricted free agent…not because of a skin condition!"
Webb and Doss lead the return drills.
In the special teams' drills, the Ravens had Lardarius Webb, Tandon Doss and Damian Berry working primarily returning kicks. Webb is clearly the fastest player of the three. He also shows good vision and follows his blockers closer than the other two in drills.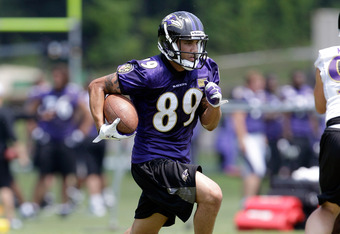 Rob Carr/Getty Images
Doss was also impressive on returns and runs much higher and stronger than Webb. Doss has good speed but takes longer to get up to his top gear. Doss is a long strider and could be dangerous if he can get past the initial wave of defenders.
Berry was noticeably slower than Webb but accelerated faster than Doss. Berry seems like a strong ball carrier and runs with a low center of gravity but will need some work as he doesn't seem as decisive as Webb and Doss following his blocks.
Tyrod Taylor looks impressive for a rookie.
Taylor looked impressive all day and showed remarkable touch on his throws. He seemed to have more success than Joe Flacco at lofting balls over defenders in the practice.
Taylor threw a perfect touch-pass past double coverage in the back of the end zone. The pass was thrown just above the two defenders and fell perfectly into the hands of his receiver for a touchdown.
Taylor also displayed good accuracy and timing in drills. In one drill, Taylor and Flacco accidentally threw to the same receiver, Anquan Boldin, at the same time.
Boldin caught Flacco's pass, and Tyrod's pass hit Boldin in the hip. Flacco's pass may have had more velocity, but both throws were released on time and thrown accurately.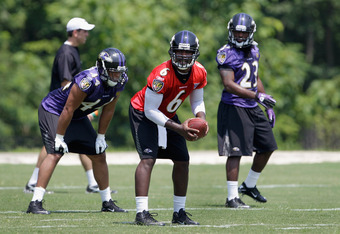 Rob Carr/Getty Images
Taylor is clearly an excellent athlete with good scrambling ability. When he struggled to find an open receiver, he could buy more time with his legs and would often tuck the ball and run. He had some success running the ball but was stripped from behind while scrambling on one play.
Overall, Taylor showed good accuracy and touch during plays versus the defense, but may need to work on his vision and decisiveness. On several plays, Taylor's passes were on target, but the defense was simply playing tight coverage.
He needs to learn to see open receivers and make better decisions since even the most accurate passes can be picked off if thrown into defenders.
As the offensive line struggles, the defense turns up the pressure.
Throughout the whole practice, it was very clear that the offensive line was short-handed, and the defense showed no mercy.
Both Flacco and Taylor were pressured throughout the entire practice, and the defensive players were playing with confidence and were not afraid to heckle the offense.
Pressure on the quarterback consistently caused incompletions, interceptions, fumbles and sacks. The center of the offensive line was getting man-handled by Haloti Ngata and Terrence Cody.
There were very few running plays that were practiced, but when the offense tried to run, the offensive line had very little push versus the defensive line. Cody did a remarkable job holding down the nose tackle position and made at least two one-armed tackles.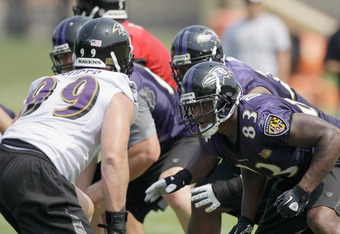 Rob Carr/Getty Images
Most of the offensive lineman and tight ends struggle to pass protect, but Ed Dickson in particular had a very hard time pass-blocking. There were several plays where the defender that he was assigned to block was able to pressure the quarterback.
Luckily, Dickson looks good as a receiver and was able to make a few good catches including a spectacular catch for a long touchdown.
Jarret Johnson was easily the most impressive pass-rusher on the day. It seemed like he was able to get pressure on the quarterback any time he wanted. He was playing with great speed and leverage, but his success seemed to be his ability to consistently exploit weaknesses and openings in the offensive line.
If an offensive lineman stepped out too wide, Johnson would spin inside and get pressure. If the lineman tried to get over-aggressive, Johnson would get his arm around the lineman and swim-move past him.
Overall, the defense probably looked better than it actually is because of the inconsistency of the offensive line, but there's no question that the Ravens were running a very aggressive scheme in practice.
It's impossible to tell how much of that scheme will translate to game day, but having a defense that's capable of pressuring the quarterback consistently will certainly help the team win games.
The offensive line short-handed at center.
It was clear that the offensive line was short-handed all practice and is struggling without Marshal Yanda and Matt Birk. Unfortunately, they probably will not have Birk available for the majority of training camp, and after neglectling to re-sign Chris Chester, the team is very thin at center.
After the practice, head coach John Harbaugh said that Matt Birk had surgery and would likely be out for three to four weeks.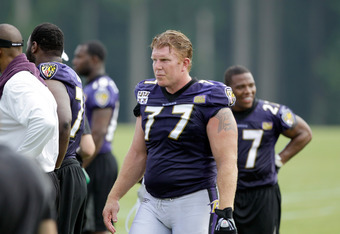 Rob Carr/Getty Images
"Matt Birk did not have an MRI yesterday—he had surgery. It is a minor procedure from what I am told," Harbaugh said.
"He will be out three to four weeks to clean up his bursa sac and some vascular issues in there. Otherwise, it would have been bothering him all year. It would have swollen up and stuff like that, so we decided to go ahead get that cleared up and cleaned up right now."
Obviously, having Matt Birk healthy for the regular season is much more important than having him for training camp.
Harbaugh said that the team is looking for a free agent center after Casey Rabach, a free agent center that the team was reportedly interested in signing, failed his physical. Matt Birk will still be their starting center in the regular season according to Harbaugh.
"Matt will be our starting center, but Matt is older," Harbaugh said. "I don't think he necessarily needs training camp, so that is my feeling. Let him get this cleaned up right now, and we will get a week or two of training camp with him and he will be ready to play."
Final thoughts
The Ravens clearly have talent on both sides of the ball right now. In particular, the defense looks very good, but it would be a mistake to take the offenses struggles too seriously.
The offensive line is missing two of their starters on the inside and is starting a rookie at right tackle. Depth on the offensive line is a serious problem. The team could probably use two to three good backup linemen, but it is a positive sign that the team is actively looking to fill this need.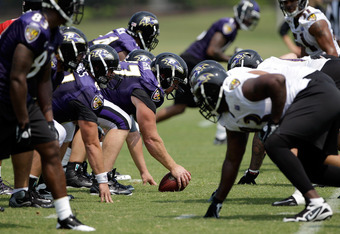 Rob Carr/Getty Images
The defense has talented pass rushers on the roster. Only so much can be taken from one practice, but Jarret Johnson seems to be back to his old form. Sergio Kindle looks explosive and was able to get to the quarterback on multiple plays, and it goes without saying that Suggs is more than capable of getting pressure.
Cody and Ngata were collapsing the pocket on a consistent basis. Sometimes they were so strong and violent that they were able to knock several interior offensive lineman onto their backs.
The point is that the defense has the players capable of putting tremendous pressure on opposing quarterbacks, especially now that Johnson is completely healthy and Cody and Kindle are able to contribute.
However, the biggest difference from last season seems to be the change in defensive scheme. In practice, the Ravens' defense seems to depend more on pressuring the quarterback than coverage, and that scheme seems to fit their personnel well.
Overall, the Ravens look great on defense but will need to work on their offensive line. Things should get better in practice once Yanda is able to return, and the quarterbacks and receivers will have better practices if the quarterbacks get better protection.
There's really no need for concern right now, but there's no doubt that the team needs to add some depth along the offensive line, especially at center.