ArIzona Cardinals Free Agency: Malcom Floyd to Join Larry Fitzgerald at WR?
August 4, 2011
Kevork Djansezian/Getty Images
First it was Braylon Edwards. 
Now it's Malcom Floyd on the Arizona Cardinals' radar. 
After an offseason in which the Cardinals sat back and got absolutely plundered, they are really taking it seriously this time around. 
Of course, the reason they can is because of what happened last summer. 
Because of all those contracts they lost, the Cards now have the cap room to make just about whatever move they want. 
In fact, rumor has it they made a play on Nnadmi Asomugha. 
That's right. The Bidwells. 
Shocking, right? 
And now, it seems that if they don't get Edwards, they could land Floyd. 
It's honestly tough to know which one I'd rather have. 
Edwards, for all his drops, is actually the safer pick. He'd make a great second receiver where he can just do his thing and not worry about being the "guy" like he did in Cleveland and New York—which is why I don't think he will sign.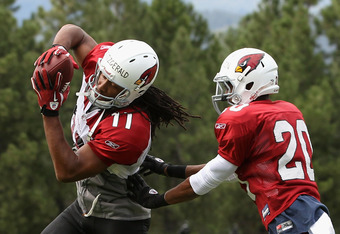 Christian Petersen/Getty Images
Unfortunately, I think he'll sign where he is the "guy," and that is San Francisco. 
So we turn our attention to Floyd, who—in my opinion—has the higher upside anyway. 
The only thing that worries me is if he's just a product of Philip Rivers, who has made some pretty ordinary receivers look pretty darn good (Patrick Crayton and Legedu Naanee, for example). 
So I'm wondering if Floyd's going to be a solid No. 2 guy next to Larry Fitzgerald. 
Again, I wonder if he wants to be "the guy" too. 
Although I think he would be used to playing second-fiddle with Vincent Jackson around (even though Jackson wasn't around last year). 
Let's compare to other teams that want Floyd: Carolina, Minnesota, San Diego, Baltimore and San Fran. 
Edwards is visiting San Fran tonight, so they may be more interested in him. 
I wouldn't think Floyd would be interested in playing for Carolina, but Minnesota has to be interesting with Percy Harvin and Donovan McNabb, not to mention Adrian Peterson.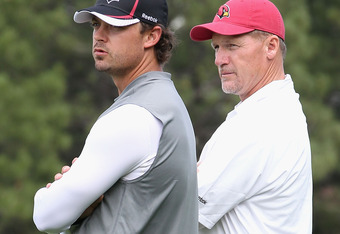 Christian Petersen/Getty Images
Baltimore too has to interest him, with a young gunslinger in Joe Flacco. 
No word on what he's decided, as NFL.com is reporting that Floyd's going to decide among his many options. 
If he does decide Arizona, they'll get a deep threat opposite Fitzgerald who may be better in the long run than Edwards without all the drops. 
Floyd won't come cheaper, but it would really help out Kevin Kolb in his first season. We all saw how much he liked Jeremy Maclin last year. 
We just have to wait and see now...