Ben Roethlisberger: More Than a QB and Certainly Better Than Michael Vick
August 4, 2011
Nick Laham/Getty Images
Winning isn't everything.  It's the only thing.
                       -Vince Lombardi
If the perceptions and opinions of NFL fans are persuaded by anything, it's the statement above.  Yet, for Ben Roethlisberger, the current championship era of the Pittsburgh Steelers still can't dissuade the passionate arguments of many fans that he is not an elite member of the quarterbacking fraternity.
Moreover, if one didn't know any better, to hear the criticisms of his game, a person might assume that he is a poisonous cheddar among a class of signal-calling pack rats statistically fattened by the modern rules governing the NFL passing game.  
To gauge the reactions of those who disagree, his mere presence along names such as Brady and Manning seems like a disease that must inexplicably diminish their quarterbacking greatness. 
Most Steelers fans will not dispute that Big Ben is not the quarterback that either Brady or Manning have proven to be, especially in their prime. Yet, for both his winning habit and fine statistical accomplishments, Roethlisberger must be heralded as one of the top five signal-callers in the game.
From the common misconception that his style of play is seriously flawed to the notion that he does not put up great quantitative numbers, fans who dislike Ben tend to come from one of a few subsets. 
There are those who are truly unaware of the statistics. 
Other fans simply dislike the Steelers, their ire preventing them from giving any member of the franchise deserved credit.  From Browns and Ravens fans to other envious fans of various allegiances, the Steelers franchise solicits great emotion, a tendency of great franchises. 
The more seriously a team is taken, the more powerful the correlating emotion. Or, in simple commandment: He who hates the 'Burgh will discredit the Ben.
Lastly, let's be honest, a large number of fans allow Roethlisberger's alleged misconducts to bias their perception of his ability on the football field.

Many fans may be unaware of Roethlisberger's incredible statistics:
-79-32 career record, including 10-3 playoff record
-career passer rating of 92.5
-yards per attempt of 8.04 (fifth all time)
-4,000 yards passing in a season and 30-plus touchdowns in a season
And...how about two Super Bowl rings?
At day's end, people form their opinions for reasons that they alone own. Perhaps, critics will cite Roethlisberger's tendency to hold the football as their rationale for his ranking—a sign that he is unable to effectively and quickly read NFL defenses.  In fact, his willingness to hold the ball may be his greatest strength. 
A constant quick release would negate a unique attribute—his size coupled with great mobility—thus eliminating a critical component of his game: completing deep passes down the field.  His ability to buy time in the pocket allows receivers to adjust their routes and find openings in the defensive secondary that would be otherwise unavailable.
Where Roethlisberger ranks among his peers has been a hot topic of debate. 
His statistics have been outlined. The groups and perspectives that drive these perceptions of his ranking have been considered, and each has their respectable opinion.
Or, more accurately, each has a respectable opinion....unless their opinion includes a quarterback ranking where Ben Roethlisberger is lower on the list than Michael Vick. Sadly, this has been a popular order.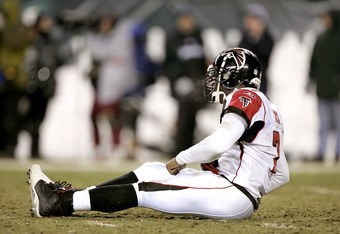 Brian Bahr/Getty Images
Any NFL fan that would rank Michael Vick ahead of Ben Roethlisberger is flat wrong.
Plain as white bread.
And simple as the period to end this sentence.
Vick began his career in Atlanta as an athletic phenomenon, a rare ability to make plays with his legs that no other quarterback preceding him could boast.
Yet, as defenses watched more and more of the human highlight reel, they developed new strategies, protecting the edges of the defensive front against Vick's uncanny ability to pick up first downs with his feet.
While this commitment would surely open up the secondary of most defenses, the Tampa Bay Buccaneers implemented the strategy.  Vick's success against the Bucs correlated to his playoff results:  losses.  Despite the increased focus on the edges, the acclaimed quarterback could never fully take advantage of undermanned secondaries. 
Barely completing 50 percent of his passes, Vick was often forced to scramble and use his elusiveness to gain yardage.  His 6.9 yards per passing attempt were actually improved by his running ability, as mentioned regarding Roethlisberger, as elusiveness in the pocket created opportunities for receivers to adjust and get open downfield.
I'd swap Vick's eight rushes per game for Ben's elusiveness and ability to throw with uncanny accuracy on the run any day of the week. 
As controlling the chains was concerned, Vick quickly became criticized in mass for subpar passing skills, inability to play quarterback with respect to progressive receiver reads, and worst of all, inability to read defenses.
The notion of Vick as an electrifying athlete who could sell tickets but never win the big game continued to manifest itself, as the Falcons made the playoffs with his presence in the lineup. 
The most productive element of the Atlanta offense did result from Vick's running ability.  It was the running game, as stretched defensive fronts were torn apart by Warrick Dunn and Michael Turner.  Even with the NFL's top ranked rushing offense in 2004, Vick's complete lack of passing prowess cost the team in the NFC Championship, a 27-10 loss to the Eagles.
We all know what happened next.
Ironically, by 2011, both Roethlisberger and Vick were working hard at repairing a damaged public image, a parallel between the starting quarterbacks of both Pennsylvania franchises.
For both, winning became the perfect tonic for any wrongdoing. 
Roethlisberger went 9-3 as a starter, and the Steelers returned to the playoff with a first-round bye week.  For Big Ben, the playoff marked an opportunity to win a third championship.
Michael Vick led the Eagles to an 8-3 mark during his starts, and Philadelphia exited in the first round. His offense struggled during a home loss, and a late season slide in the quarterback's passing statistics culminated in an interception that ended the team's hopes late in the fourth quarter.
Three weeks later, Roethlisberger would lose to the same team, the Green Bay Packers.  Yet, the result was unexpected for Ben. Through his first quarter struggles and into the fourth quarter of a near comeback, many fans expected Big Ben to produce his second game-winning Super Bowl drive of a stellar career.
Resulting from a fine regular season slide, Vick's result was practically predicted by experts across the board.
Some of those same experts now rank him ahead of Roethlisberger among the league's finest quarterbacks, a career of seven seasons and multiple championships somehow pale in the light of two months of career highs and another playoff loss.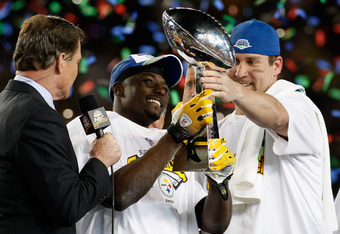 Chris Graythen/Getty Images
Truly, the "flavor of the week" phenomenon of the NFL has a far reaching influence on the minds of the many.  There is no doubt that No. 7 is an electrifying athlete, worth every dollar spent to witness entertainment at the most premium level.
To say that Vick is dangerous is accurate.
To label Vick as a better athlete than Roethlisberger is common sense.
To mention Vick as a better quarterback?  Rubbish!
In fact, both quarterbacks are phenoms inside the pocket;  it's Ben, however, that is the better passer, creating more damage with his throws than Vick has ever inflicted with his legs.
The notion of Vick as the better quarterback begs me to ask a simple question....
What is a quarterback?
Is it a man who can pass a football through a needle's eye? Surely not, as the Eagles star would certainly be disqualified!
A player who wins games?  How about one who wins playoff games?  Nope, can't be...
And, per the great Vince Lombardi's aforementioned quote, if winning truly isn't everything—but actually the only thing—then doesn't that truly have to define the position, at least to a degree?
Wouldn't a quarterback be...a champion?
For the Vick backers on this debate, apparently not.
Those willing to make the statistically unbearable argument that Michael Vick is a better quarterback can have him.  If that is the definition of a the better quarterback, then in every sense of the word, I'm glad the Pittsburgh Steelers have something more than that.
After all, Ben Roethlisberger will always be the better field general.  It's indisputable.  After all, he's a champion.
And I'd take a field general over a mere quarterback every time.