NFL Free Agency: Reaction to St. Louis Rams Signing RB Jerious Norwood
August 3, 2011
Kevin C. Cox/Getty Images
After the Rams signed wide receiver Mike Sims-Walker on Friday, it seemed as though they were just about ready to kick the season off, except there was one more small order of business remaining.
For most of Steven Jackson's career, the Rams have had nothing else at the running back position behind him, and for the past few years the Rams have been trying to find a No. 2 back to take some carries away from Jackson, who has been heavily overworked.
There was Darren Sproles prior the the 2009 season, but he decided to returned to San Diego; there was also Brian Westbrook before the 2010 season, but he felt the San Francisco 49er's would provide a more competitive environment.
There was also Shonn Greene in the 2009 NFL draft, but the New York Jets moved one spot ahead of the Rams in the third-round and stole him away, so the Rams took Greene's college teammate instead—cornerback Bradley Fletcher.
So up until today, the Rams were stuck with a very familiar problem, one that's been haunting them for quite some time.
They were able to find a solid receiver in Mike Sims-Walker, and they were able to beef up their offensive line with Harvey Dahl. They even replaced safety O.J. Atogwe with Quintin Mikell. However, they had not yet signed a running back. So Rams fans were sweating with anxiety, as training camp kicked off Saturday and the team still had not found help for Jackson.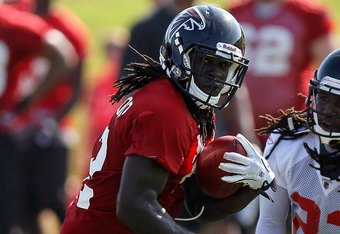 Kevin C. Cox/Getty Images
Rumors were flowing and changing everyday.
Ronnie Brown was said to be the primary target as recently as Monday, but he is now a member of the Philadelphia Eagles. Jason Snelling was another appealing option that the Rams were reportedly pursuing, but he still remains unsigned, and Tony Softli of ESPN 101 in St. Louis said that Snelling was "never an option" for the Rams. However, the Rams were able to pull through for the fans and Jackson by signing Jerious Norwood of the Atlanta Falcons.
Norwood, along with Snelling, has been a backup behind Michael Turner in Atlanta for several seasons now. He came on strong as a rookie in 2006 with a career-high 633 yards and a 6.4 yards per carry average, and he was able to repeat his success in 2007 with 613 yards and a 6.0 average.
His yardage dropped in 2008 to only 489 yards, but he had four rushing touchdowns, as well as a career-high 338 receiving yards. The 2008 season was also his second consecutive season with over 1,300 kick return yards.
Between 2006 and 2008, Norwood was considered one of the more valued backup running backs in the league, but his luck began to change in 2009. In 2009, Norwood missed a total of six games due to injury, and he saw his yards per carry average dip to an embarrassingly low 3.3.
In 2010 he was looking to redeem himself, but he was sidelined with a season-ending ACL tear by the second game of the season, and he only had two total carries before the injury.
Analysis
Norwood was looking to redeem his poor 2009 season last year, but the knee injury prevented him from doing so. Between the demoralizing knee injury in 2010 and the death of his wife several years earlier from cancer, it's a strong testimony to his character and resilience that he's still in the NFL.
The Rams would've preferred a running back who's not returning from a knee injury, but then again, they wouldn't have signed Norwood if they felt he was not ready to contribute.
Norwood is not an every-down back, so the Rams are still in trouble in Jackson gets injured, but Norwood will still provide a lot of value in a secondary role. At 5'11" and 209 pounds, Norwood is a speedy back who will provide a nice change of pace from the bruising run style of Jackson, and he will also be a weapon as a receiver in third-down situations.
However, Norwood will not only help to keep Jackson fresh for all four quarters, but he'll do the same for Danny Amendola. Last year we saw Amendola return kicks and punts, as well as catch passes out of the slot. But he was one of the best weapons the Rams had last year, so it would be risky to once again force return duties on him, which could result in injury.
If Amendola can surrender his return duties to Norwood, then it will keep him relaxed and rested for the entire game, and maybe even healthy for the entire season.
Norwood is not as appealing as Jason Snelling or Ronnie Brown, that's a given, but there's a chance the Rams are still looking for another running back. The St. Louis Post-Dispatch suggested today that the Rams are possibly interested in signing Cadillac Williams as well.
So while Norwood is not perfect, he is more than capable than getting the job done if he remains healthy. And if the Rams don't find another running back, they will still have enough to survive once the season begins.